Not just women
want to look good
It's a fact of life few of us want to face.
We are all getting older. However, if you have the desire – and more importantly, the money – you can attempt to slow the signs of aging.

Cosmetic surgery is the choice of many when it comes to postponing the visual effects of aging. Last year, according to USA Today, an American Society of Plastic Surgeons report found "Americans spent more than $16 billion on cosmetic surgeries and minimally invasive procedures in 2016, the most the U.S. has ever spent on such operations."
While women make up the majority of cosmetic surgery patients, you may be surprised at how many men choose to have a "nip" here and a "tuck" there.
Shreveport's Dr. Kenneth Sanders is a board-certified facial plastic and reconstructive surgeon who has special interest in cosmetic surgery of the face, head and neck, as well as hair restoration surgery. He says approximately 15 percent of his patients are men.
"There does seem to be some slight increase in interest now with the more minimally invasive things we do, such as injectables," Dr. Sanders said. "Men are having Botox treatments and other injectable treatments done in larger numbers, but this is still a largely untapped market in my opinion. We are noticing some of the aesthetic facial companies such as Allergan starting to target men with advertising."
According to the Smart Beauty Guide, injectables add volume, create angles and "freeze the hands of time" with cosmetic medicine.
The USA Today report said, "By far the most popular minimally invasive procedures of 2016 were wrinkle treatment injections, such as Botox. Americans underwent about seven million procedures at a national average cost of $385."
However, Dr. Sanders says men are also choosing to have certain surgical procedures – two in particular. One is upper eyelid surgery to remove excess skin.
"The Upper Blepharoplasty, or 'Eyelid Lift' as many people call it, is a simple, 30-minute procedure," Dr. Sanders said. "It does not require sedation or extensive prepping. Sutures are left in for a week and then removed, with only a small amount of swelling and redness remaining."
The second surgical procedure which Dr. Sanders says is popular with men is hair transplant. According to Web-MD, the surgery moves hair a patient already has, to fill in an area thin or without hair. WebMD says hair transplants have been performed in the United States since the 1950s. However, techniques have changed a lot in recent years.
"The hair plant procedure I transuse is near painless and with minimal recovery," Dr. Sanders said. "It looks completely natural now as compared to past techniques."
Dr. Sanders said his hair transplant patients can expect about five days of downtime.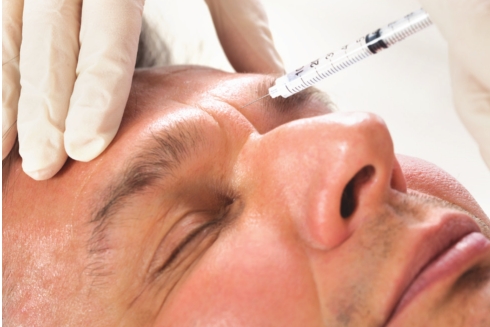 As with any procedure, one of the most common questions a patient asks is "What are the risks?" When one of Dr. Sanders' patients asks that question, they are likely to be pleased with the answer.
"There is very little risk with these two procedures," Dr. Sanders said. "Everyone will have some bruising and swelling, but this is usually minimal. They (the procedures) are more common now with the ability to do them without any deep anesthesia."
According to his biography, Dr. Sanders went to undergraduate school at Louisiana College in Pineville, La. However, before receiving his bachelor's degree, he was accepted to Louisiana State University Medical School. From there, Dr. Sanders began a six-year residency at Louisiana State University Health Sciences Center in Shreveport.
Dr. Sanders was then chosen for a fellowship, where he performed a year-long study of facial plastic and reconstructive surgery. During his fellowship, Dr. Sanders participated in the initial studies to have Botox FDA approved for cosmetic use.
Within the past year, Dr. Sanders, along with Dr. Daniel Knight, opened the Spring Lake Surgery Center, a Department of Health and Hospitals– accredited office space and CMS facility. In addition to the previously mentioned procedures and surgeries, the surgery center is home to facelifts, forehead or brow lift, neck lift and body lift.
"With a multifaceted approach, we can slow the onset of signs of aging," Dr. Sanders said. "This includes diet, exercise and to some extent, anti-aging treatments such as hormone replacement, aesthetic injectables and even minor surgery."
– Tony Taglavore
FOR MORE INFORMATION:
For more information on Dr. Sanders and the services offered at Knight and Sanders, you may visit www.knightandsanders.com.