Ninth North Louisiana Gay & Lesbian Film Festival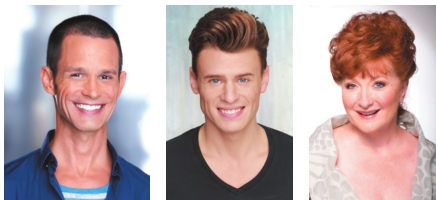 Tickets are on sale for the Ninth North Louisiana Gay & Lesbian Film Festival opening weekend reception and all of its films scheduled for Sept. 8 through 14 at Robinson Film Center in downtown Shreveport.
Film Festival Chair Sam Ortiz says last year's attendance was a record-setter with more than 1,000 in attendance, and she expects this year to be no different.
"Last year, we did a world premiere from a filmmaker from this area, and it helped a lot," she said. "We've been working really hard to insert even more diversity into every film festival we put on, and I think last year was a champion of that, and this year will be even better."
Armed with a selection committee of 12, Ortiz, her co-chair Brad Campbell and PACE Political and Communications Director Adrienne Critcher viewed 80 films between April and June.
"Our film selection committee gets films from all over the world," Ortiz said. "Our mission is that the film needs to be LGBT-based, and it needs to be positive from the LGBT community and have something in it that brings about conversation and educates people about the LGBT community. That's the most important part."
The number was eventually narrowed down to 10 feature films and several short films. A complete list with description can be found on the film festival Web site, www.nlglff.org, as well as the Robinson Film Center's Web site.
"We are running a panel after one of the films – 'Handsome Devil' – on LGBT coaches and athletes and their experiences. That's a conversation that we've never had in this community before," Ortiz said. "We really like to run a program like that and believe it will engage people and make them think and make them ask questions and get involved."
The opening reception with heavy hors d'oeuvres and cash bar will be from 6 until 7:30 p.m. Saturday, Sept. 9. Reception tickets are $25 ($30 at the door) and can be purchased online.
The spotlight film, "A Very Sordid Wedding," will follow the reception at 7:45 with a Q&A afterward with some of the cast members.
Reviewing "A Very Sordid Wedding" online at Film Threat, Bradley Gibson wrote, "This sequel to [Del Shores'] uproarious film 'Sordid Lives' finds the residents of Winters, Texas (Shores' actual hometown), in a kerfuffle over a gay couple who are coming back to town to see family and to announce they are having a baby via a surrogate. The church is holding an anti-equality rally led by a pastor who declares the Supreme Court and the Constitution subordinate to his faith. It's almost as absurd as real-life news in 2017."
The festival is sponsored by PACE, "People Acting for Change and Equality." In the past, ticket sales for the film festival were strictly for individual films; however, this year PACE is trying something different, Ortiz said.
"We are selling a 'festival pass' this year on our Web site," she said. "A pass is for five films at $40, or if you want to see every single film, you can buy two passes. It's a savings of $12.50 on your tickets, and you get entered into a drawing to win dinner for two at Abby Singer's Bistro. Then you get an invitation to the cast party at the end of the festival for the announcement of the winners and to celebrate everything that's happened the week before."
Proceeds from the North Louisiana Gay & Lesbian Film Festival support PACE.
"PACE helps to push through legislation that could be positive for LGBT people and combats legislation that's not positive for LGBT people," Ortiz said. "We host a number of social events throughout the year that try to get people involved."
She said PACE has grown quite a lot within the past year.
"There's a large LGBT community in this area," she pointed out. "And PACE is there to be able to meet their needs and help them to socialize with each other and be there for each other."
For more information about PACE, visit www.pacelouisiana.org or find them on Facebook at www.facebook.com/pacelouisiana.