New and improved events, attractions sure to draw crowds
The Louisiana Holiday Trail of Lights was established in 1992 with the goal of collectively promoting holiday tourism in eight of North Louisiana's most festive cities: Shreveport-Bossier, Minden, Monroe-West Monroe, Natchitoches and Alexandria/Pineville. Each year, cities along the trail work hand-in-hand to increase awareness of events like festivals, parades, shopping extravaganzas and more, encouraging locals and visitors alike to experience the holidays in North Louisiana.
"Shreveport-Bossier has been a part of the Holiday Trail of Lights since its inception," said Stacy Brown, president of the Shreveport-Bossier Convention and Tourist Bureau. "We see this partnership as extremely critical to boosting a peak need time for overnight visitation in November and December."
In Shreveport-Bossier, families can enjoy new attractions, including Shreveport Aquarium and Gator Raceway. Shreveport Aquarium opened on Nov. 1 in downtown Shreveport and is home to 270 different aquatic species including sharks, rays, octopi, crabs, jellyfish and more. At Gator Raceway, which opened in October at Gators and Friends Alligator Park and Exotic Zoo, teens and adults can race highspeed go-karts that travel at speeds up to 40 miles per hour.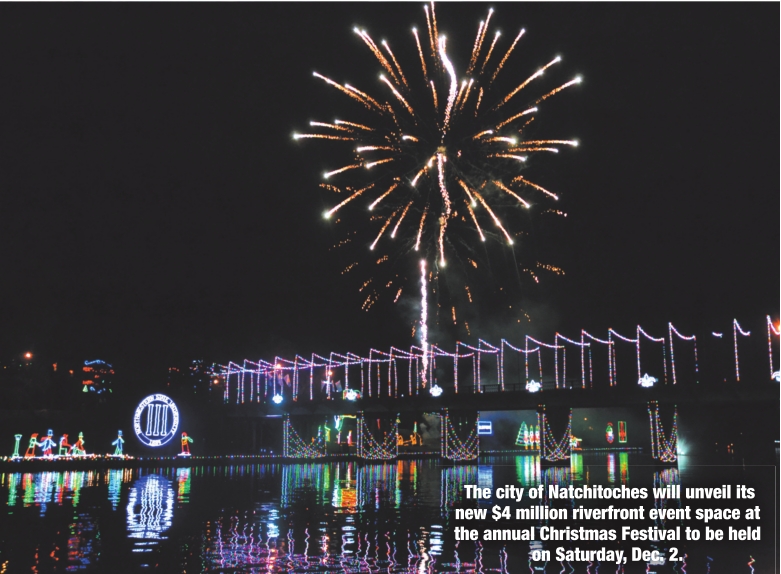 New and returning holiday events in Shreveport-Bossier include: Rockets Over the Red Fireworks Festival at River- View Park and the Louisiana Boardwalk Outlets, Saturday, Nov. 25; Christmas in Roseland at the Gardens of the American Rose Center, Nov. 24-Dec. 17; Christmas on Caddo Fireworks Festival at Earl G. Williamson Park in Oil City, Saturday, Dec. 2; the Highland Christmas Home Tour in Shreveport's Highland neighborhood, Dec. 9-10; and more. Shreveport-Bossier has released the 2017 edition of its annual holiday events guide, The Holly Jolly Handbook, which can be downloaded at Shreveport-Bossier. org or picked up at the Downtown Shreveport Visitors' Center at 629 Spring St. The guide lists more than two dozen annual holiday events planned in Shreveport- Bossier and the surrounding communities.
In Minden, the Historic Residential District's annual Christmas Tour of Homes will feature four historic homes on Saturday, Dec. 9, including two homes that have never before opened for public tours. The tour will be held from 2-7 p.m., and tickets are $10. For more information, contact Leslie Daniels at (318) 294-0238. Other popular annual holiday events in Minden include the Christmas on Main shopping extravaganza, planned for Saturday, Nov. 9, and nightly holiday lights in downtown Minden beginning on Nov. 16 and running through New Year's Day.
The Monroe-West Monroe region will also have new and improved attractions for families to enjoy. Candy Cane Lane, a drive-through Christmas tour, will feature one million Christmas lights as well as lighted displays and tunnels. Located at 170 Highway 151 North in Calhoun, Candy Cane Lane will be open to visitors from Nov. 23 through Dec. 31. Monroe- West Monroe is also adding an additional walk-through Christmas lights display in the downtown area to enhance the Antique Alley shopping experience.
The city of Natchitoches will unveil and dedicate the Rue Beauport Riverfront, a new, $4 million riverfront event space on the Cane River, just in time for the 91st Annual Christmas Festival of Lights, Nov. 18-Dec. 30. The park's new features include a new festival stage, amphitheater seating, handicap ramps, restrooms and a brick promenade along the riverbank. Turn on the Holidays, Nov. 18, marks the official start of the holiday season in Natchitoches, and the annual Christmas Festival will be held on Saturday, Dec. 2.
Alexandria/Pineville's largest annual holiday event, AlexWinter Fête, will be held Nov. 30-Dec. 2 in downtown Alexandria. AlexWinter Fête was named 2016 Festival of the Year by the Louisiana Travel Promotion Association. The three-day event includes ice skating, live holiday music, arts and crafts vendors and the official lighting of downtown Alexandria. The kick-off of AlexWinter Fête will culminate with an acrobatic performance by New York City-based acrobatic production company Cirque-Tacular. The performance, entitled "Snowcus Pocus," will be held at 7 p.m. on Thursday, Nov. 30, at Coughlin- Saunders Performing Arts Center. Tickets to "Snowcus Pocus" are $10-$18.
These events and dozens more like them can be found at www.HolidayTrailofLights. com. Website users can sort events by city, cost, date and other categories, and can create and print personalized travel itineraries using the site. Now through Nov. 10, the site is also hosting a sweepstakes giveaway with a holiday prize package valued at more than $800. The sweepstakes prize includes hotel stays, restaurant dining gift certificates, free tickets to holiday attractions and more.
Follow the Louisiana Holiday Trail of Lights on social media or visit www. HolidayTrailofLights.com for more tips on enjoying the holidays in North Louisiana as well as giveaways and holiday event announcements.