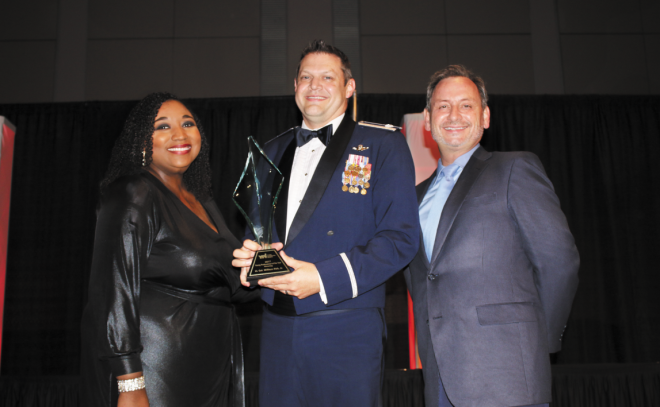 Young professionals honored
Each year 40 young professionals under the age of 40 are honored by the Northwest Louisiana Young Professionals Initiative (YPI) for their accomplishments and professional achievements as outstanding members of the Shreveport-Bossier community. This year the 11th annual 40 under 40 Gala took place on Saturday, Dec. 5, at the Shreveport Convention Center.
Out of the 40 nominees, one is awarded the title of Young Professional of the Year by a committee. At the Gala this award was presented by 40 Under 40's presenting sponsor – The Forum – to a hardworking individual that exudes dedication to his community. Lieutenant Colonel of the United States Air Force William Fish Jr. of Barksdale Air Force Base received the 2017 Young Professional of the Year award. He was selected based on his exceptional professional and community accomplishments.
Currently, Lt. Col. Fish is the commander of the 11th Bomb Squadron at Barksdale AFB. He has served in a number of community organizations. Fish was a catalyst in helping establish the Roots for Boots Airman Sponsorship Program, which matches first-term airmen at Barksdale AFB with sponsor families in the local community. He has shown dedication to improving quality of life for members of the United States Air Force.
Lt. Col. Fish is originally from Flagstaff, Ariz. He pursued his lifelong dream of flying by joining the Air Force after graduating with a B.S. in education from Northern Arizona University.
After navigator training, Lt. Col. Fish received his assignment to Barksdale AFB. His first weekend at Barksdale would prove to be one of the most lifechanging. While attending an LSU football game, he met his future wife, Jennifer. In the years to follow, they would add two children to their family.
As a member of the 2d Bomb Wing, Lt. Col. Fish has been deployed multiple times to the Pacific. He has also had deployments flying combat operation in Iraq and Afghanistan. Lt. Col. Fish continued his education earning a M.A. in industrial and organizational psychology from Louisiana Tech. He also graduated from the U.S. Army Command and General Staff College. He has served in multiple leadership positions including 2d Bomb Wings Director of Staff. Lt. Col. Fish has represented the Wing as 2d Bomb Wing liaison to both the Shreveport and Bossier Chambers of Commerce.
When asked what career advice he would give young adults just starting out in life, Lt. Col Fish said, "Find what you're passionate about. Find something you love and it's very easy to excel because you love what you do every day."
This year 264 nominations were submitted to the YPI for consideration. This is a record-breaking number for the YPI of Northwest Louisiana. YPI Chairman and Director of Sales and Marketing at the CenturyLink Center Kourtney Washington says it is a pleasure to highlight, herald and honor this amazing group of young professionals.
"The Young Professionals Initiative of Northwest Louisiana is thrilled to be able to once again highlight and honor this region's best and brightest young professionals," Washington said. "The 2017 class fuses their professional lives with community involvement and volunteerism in a way our judges have never seen before. This year, not only did we have a record number of nominees, the impact these nominees have made on their communities resulted in our most difficult judging year yet."
The 40 Under 40 Program would not be possible without the generous support of its sponsors such as The Forum.
2017 marks the 11th year that The Forum has served as the presenting sponsor. Publisher Jay Covington speaks on the importance of this event.
"It is so important that we recognize and nurture our young professionals," Covington said. "It's wonderful to look into these eager faces and see that spark of passion and excitement they have about business, their community and the many ways they participate and give back to Shreveport-Bossier. These honorees are all winners, and I am delighted with the opportunity to get to know these exceptional people. I am very proud that our company has been a part of YPI and this prestigious event for 11 years now."