Changes coming to science center
Sci-Port will be ringing in the New Year in a big way on New Year's Eve night from 8 p.m. to 1:30 a.m. with plenty of food, fun and fireworks for the whole community.
Matt Snyder, member of Sci-Port's Toast Committee, is looking forward to the big event. "We have an amazing team in place to throw an amazing New Year's party and give the public a sneak peek at the new Sci-Port Discovery Center," Snyder said.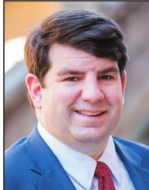 Mark Crawford, board member for Sci-Port, hopes the community will get involved and participate. "This is the third year for the event, and I have attended each year," Crawford said. "It's always been a fun party and a great fund-raiser for Sci-Port."
"We will be leaving the lobby this year and having a threetiered party that will excite attendees all night long," Snyder said. "We'll be utilizing the planetarium, observation floor and the rooftop. Food and drinks will be included!" Claire Childs, Sci-Port board member who is also on the Toast Committee alongside Crawford and Linda Biernacki, hopes the community will get involved. "We really need the support of the community!" Childs said. "Buy a ticket and come dance the night away."
The community can get involved with the fund-raiser by buying tickets or tables and sponsoring various parts of the event. Funds raised will go toward the operating expenses of Sci-Port.
"With all the exciting changes that are coming to Sci-Port in 2018, and in celebration of our 20th year, we thought it was time to step up the offerings of the party," Crawford said.
Guests' tickets will include an open bar and a rooftop champagne bar. "There will be an amazing spread of festive party food," Childs said. "Next, there will be a full breakfast buffet after the fantastic fireworks display, because what goes better with champagne than chicken and waffles?" "There will also be live entertainment to cover everyone's interest, a DJ so attendees can dance in the planetarium, live music throughout and a few more fun surprises – you'll just have to wait and see!" Childs said.
The attire for this year's event is "New Year's Festive," which translates to black-tie optional. "Of course, sequins are mandatory," Childs joked.
"Our main goal for making sure this party is a success is to make sure the public knows Sci-Port is not going anywhere," Crawford explained.
"We're very excited to show the changes that we're making to make Sci-Port better than it's ever been."
Rich Lamb, attorney at Wiener, Weiss & Madison, APC, is also a board member for Sci-Port. "Education in our community is extremely important," Lamb said. "I can help education in our community by supporting Sci-Port and its mission."
Effective December 2017, Lamb will be the new president and chairman of the board for Sci-Port. He and his wife served as co-chairs of Toast last year in 2016.
"Supporting an educational attraction that encourages science, technology, engineering, arts and mathematicsbased learning is essential to cultivating a workforce for the future," Lamb said. "Sci-Port is unique in that we are one of the few places in our region that provides STEAMbased learning to people of all ages and backgrounds, which we all hope translates into equipping patrons with the educational background they need to make our community a better place."
"Even if you are out of town that weekend and can't attend the party, you can still make a donation," Childs explained. "We want to remind the community that Sci-Port is an amazing asset to all of Northwest Louisiana and worth fighting for."
For more information or for ticket purchasing, please visit www.Sciportevents.com.