[FOOD-TASTIC!]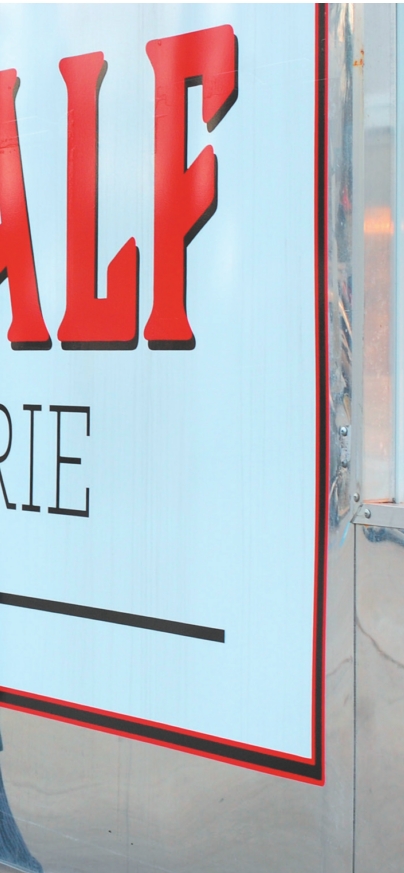 Chef's partnership offers robust experience
Talking with Chef Anthony Felan about his latest endeavor, the Fat Calf Boucherie, it is easy to tell something really special is happening at 1200 Marshall St. in Shreveport. First of all, the food is great. After years helping open restaurants and working as executive chef, he is ready to step back and enjoy cooking again without the pressure of running a full kitchen.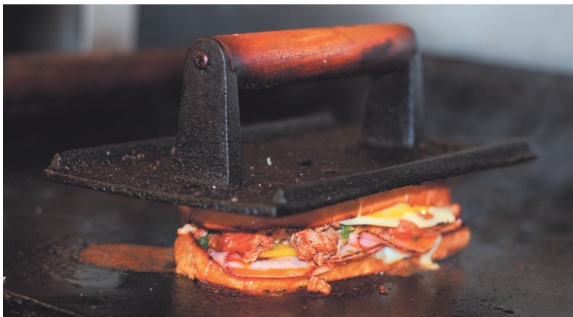 The shiny, silver, airstream-style food trailer emblazoned with the Fat Calf logo gives him the versatility to offer a staple of favorite dishes, while keeping his seasonal menu creative and cutting edge.
An impressive aspect of Chef Felan's new business is the chemistry with Smith Family Farms and Red River Brewing Company that have come together in partnership to offer their patrons a full and robust experience. Chef Felan's flat iron steaks and smoked lamb sammys are made with beef and lamb raised without use of hormones or antibiotics by Smith Family Farms, based in Doyline, La. This working relationship led to Smith Family Farms sponsoring Felan's food trailer. Their partnership will continue to flourish as Smith Family Farms anticipates opening a processing facility and possible butcher shop near the Red River Brewing property.
Location can be everything, and the Fat Calf Boucherie's placement in front of Red River Brewing Company seems like a perfect match. As owner Jared Beville anticipates the release of five new porters, such as a deliciously dark Captain's Reserve with flavor elements of vanilla with bourbon-infused oak, Chef Felan is contemplating his next recipe that will pique diners' interest and pair with these releases.
Asking Chef Felan about the naming of his food venture, he explained that "Boucherie" does mean butcher shop in French, but has a broader meaning in South Louisiana. Whether they slaughter an animal and each prepare dishes, roast a suckling pig or boil crabs, it's about friends and family coming together and hanging out over good food and libations. That is the atmosphere they strive to create here with RRB, and they are on the road to success. Keep an ear out, because there's already talk about the possible progression of these two entities into a gastropub.
The family-friendly atmosphere of Red River Brewing is bolstered by a clean industrial look with ample space for everyone to eat, drink and play games. Plus, their new indoor "Order Here" window lets patrons order food without standing outside in the elements, and have it delivered to their table.
But, what about the food? Cubano sandwiches made with locally sourced Mahaffey Farms ham are charred to flavorful perfection using an old-fashioned press on the grill. Savory slices of flat iron steak crown delicate spiraled strands of golden and red beets served over greens that have been topped with golden raisins, pumpkin seeds and goat cheese. Even the hand made Boucherie Burger rises to a higher level topped with smoked tomato aoli and bacon onion marmalade, all topped with a sunny fried egg.
The breads and buns are made special for the Fat Calf by a local baker. Chef Felan said they will soon be adding wholegrain bread made using spent grain from the RRB's brewing process, which should add an interesting depth of flavor.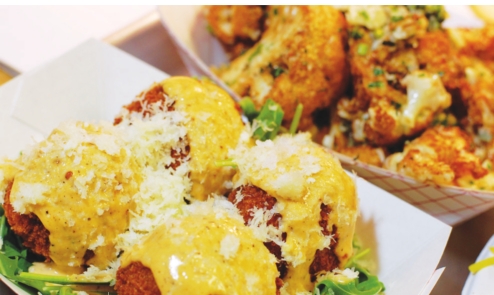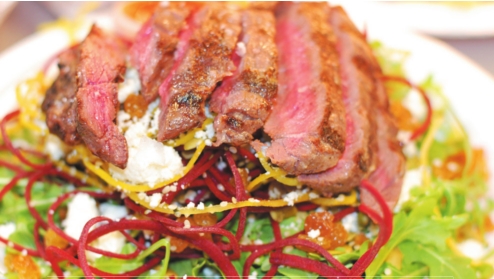 With all this talk about meat, vegetarians will be happy to know that Chef Felan is creating new dishes for them, too. His famous Brussels sprouts are so delicious everyone at the table was snacking on them like popcorn. The lightly charred, deep-fried delights are tossed with flavors like Korean chili pepper, fish sauce, soy sauce, Himalayan black salt, golden raisins and pumpkin seeds. The cauliflower bites tossed with shaved shoshito peppers, parmesean, lemon and garlic are equally tasty. He also mentioned making some soon tossed in buffalo sauce topped with bleu cheese, hot-wing style.
Chef Felan is also specially importing jackfruit. He said the texture naturally mimics that of pulled pork, and its neutral flavor will lend itself well to recipes. Certainly, something for vegetarians to anticipate.
Chef Anthony Felan says that it's all a gamble. They have a great location and food, but they need our support. They just made this even easier with the recent addition of weekday lunch hours starting at noon Wednesday through Friday. Follow the on FaceBook for the latest specials and updates. Enjoy!