[DREAM-COME-TRUE MOMENTS]
Presenting the third annual Memories in Wonderland Dance
The third annual Memories in Wonderland Dance for special needs children will be held from 6-10 p.m. on April 14 at El Karubah Shriners' Temple in Shreveport.
Ashley Henning, executive assistant at Margaritaville Resort Casino and lead volunteer for Tia's Hope Foundation, is looking forward to the event.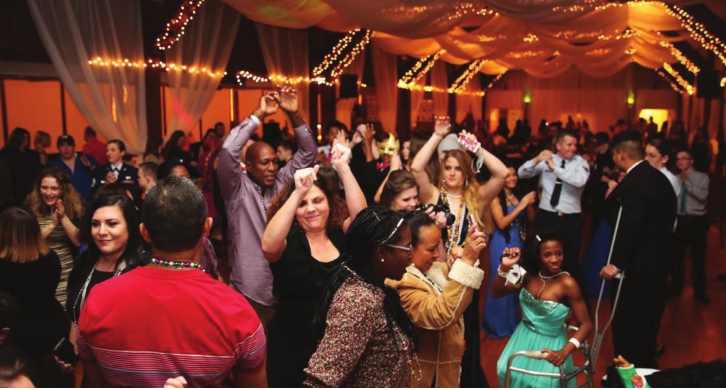 "The Memories in Wonderland Ball is a magical night for all children with special needs, ages 5-21, to dress up and dance the night away," Henning said. "This night is particularly special for the inpatient children at the Shriners Hospital, because this is a chance for them get away from their hospital rooms, dress up in something other than their hospital gowns, and have fun."
The night will include a limo dropoff at a red carpet entrance, where the children will be escorted in by the 307th Bomb Squadron. The children will get to dance with their favorite "Alice in Wonderland" characters, princesses and comic book characters from the awardwinning NWLA UberGeeks Cosplay team. There will also be a photo booth provided by TapSnap and video games provided by Bayou Xtreme Gaming video game truck, along with food, drinks and lots of music, dancing and fun.
"We wanted to make sure these kids get to experience the entire package, from picking out that special dress to primping and putting on the finishing touches," Henning said. "With that in mind, we created the Dress and Beauty Shops."
These Dress and Beauty Shops enable girls prior to the dance to pick out a dress from a collection of formal wear donated by the community and local shops such as Azarue's Bridal and Formal, Branded Boutique, and Hers Bridal and Special Occasions.
"This year, the girls may choose from over 210 dresses collected," Henning said. "Beauty industry professionals from the area will provide their hair, makeup and nail services to ensure that these girls look their absolute best. The boys will also get their chance to strut their stuff and step out in style, thanks to Squire's Tuxedo Rentals donating the last three years in a row."
In 2015, Margaritaville became a sponsor of the Tia's Hope Foundation. "Margaritaville didn't just want to sponsor the foundation; they took an active role in creating these special memories," Henning said.
For the next five years, Margaritaville has committed to donating $75K each year to the foundation's efforts. This sponsorship allows the foundation to partner with two local children's hospitals – the Shriners Hospital and the Children's Hospital at University Health.
The is dedicated to creating special memory moments for children who are or have spent a part of their life in the hospital. The hospitals receive goodie bags for their patients, complete with a $75 gift card to help families facing difficult times.
"When your child participates in the Memories Dance, it helps them and their loved ones escape from the trials they face every day brought on by illness," Henning said. "They will leave with wonderful memories and souvenirs that will last a lifetime."
Without donations and sponsorships, Tia's Hope would never be able to create these dream-come-true-type moments. For more information on how you can support the foundation, please visit http://tiashope.org/.
Event sponsors include Tia's Hope Foundation, Margaritaville Resort Casino and El Karubah Shriners.
Special thanks as well to Azarue's Bridal & Formal, Hers Bridal and Special Occasion, Branded Boutique, Squire's Tuxedo Rentals, Bayou Xtreme Gaming, TapSnap, 307th Bomb Squadron, Rose-Neath Funeral Home, NWLA Uber Geeks Cosplay, Roots and Boots Salons' Christy Smith, Bridgette's Salon's Melinda Matt, The Cutting Corner's Margaret Greening, CLTCC Natchitoches students and all the women of the community who donated formal wear gowns.