[ELEVATE THE MEAL]
Chef John Strand "cooks it up" for you anywhere
Chef John Strand owns a thriving personal chef business. Considering his accomplishments as a two-time finalist in the LA Food Prize - Golden Fork competition, and a food columnist for The Forum News and City Life sharing
tips and techniques the home cook can use to elevate the everyday meal, bringing his humor and experience to television audiences seems a natural progression. The vision and talent of Michael and Lillian Campisi, Michael Campisi Productions, have made that a reality with the filming of "Cooking at the Cottage" featuring Chef John Strand as the host. The show can be seen on Fridays at 9 a.m. on KSHV Channel 45.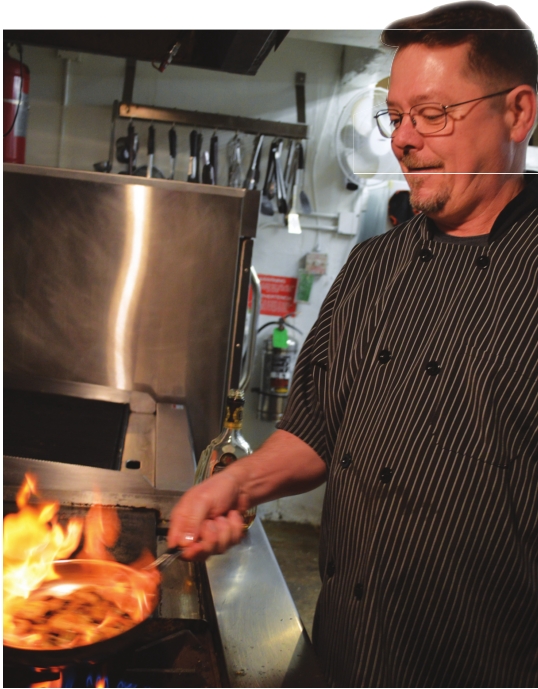 While the show's production is based at Kitchen & Bath Cottage, they will also feature special locations around Shreveport- Bossier. Chef Strand says that more than anything they hope to bring attention to SB's culinary community. Two recent episodes filmed on location feature Blake Jackson at Whisk Dessert Bar and Nick Simon of Wine Country Bistro.
As host, Chef Strand wants to highlight the complete Shreveport- Bossier culinary scene, including eating, drinking, farm to table, and local products. He said they are "really, really focusing on local. Mass-produced food will always be cheaper, but the positive tradeoff for buying local is that the money stays in the local community offering much more benefit than sending money to out-of-state corporations."
Hosting is easy, he says, when you find a person that is passionate and let them go. Like a much more conservative version of "Diners, Drive-ins & Dives," Chef Strand likes to find people with the passion and let them feature themselves.
On set at Kitchen & Bath Cottage Chef Strand will take dishes that we think are complex and present them in a way that can be prepared by any home cook. If the recipe is complicated or certain ingredients not readily available in the average kitchen, he will show us accessible alternatives to make a great dish.
On a recent episode, Chef Strand recreated New Orleans BBQ Shrimp with an SB BBQ Shrimp twist using Great Raft Beer as the base, while keeping the lemon and Worcestershire in the sauce. Instead of traditional French bread, he served the shrimp over mouthwatering Creole butterbasted biscuits.
There will be a strong emphasis on eating with all of the senses. Chef Strand has a reputation for preparing high-end elegant dinners. With these episodes he will simplify the elegance. Fresh ingredients are key to flavor, but there might be occasions when substitutions are necessary, like replacing fresh garlic or herbs with dried or powdered versions. If you don't have fresh goods, he will show how to help make up for it with presentation. We are enticed by the smell and look of a dish before we ever taste it. The show will teach us to prepare and present food in a way that makes our family happy to sit down at the table.
Michael Campisi has many years of experience as a videographer in film and television, including an episode of "Shreveport Metro Talk" years ago that featured Chef John Strand as he began his personal chef pursuits. With the support of sponsors like Hummer & Son Honey and Hebert Town and Country, Chef Strand and the Campisis are beaming the highlights of our community's culinary culture right to your home. If the time slot has you recording "Cooking at the Cottage," it's possible that Haley Reggio, The Social Media Lady of Shreveport-Bossier, will help the show become more easily accessible for ondemand viewing via the Internet soon.
If you prefer entertainment live, Chef John Strand, owner of Accents Personal Chef Services, does make house calls. He specializes in private dinners for two to 20, bringing everything needed to prepare the meal to your home, except the stove. An advantage is that he can design a personal menu featuring anything you would like served as long as it's in season and available. Served in the privacy of your home, often for less than you would spend at favorite high-end restaurants. He also offers a weekly prepared meal delivery service. Through television or personal service, Chef John Strand's goal is "making your home your favorite place to eat." Learn more at www.accentpcs.com.