For Miss USA, Miss Teen USA events
For the first time in history, the Miss USA and Miss Teen USA competitions will be held back-to-back in the same host cities – right here in Shreveport- Bossier. While many locals are aware that these prestigious events are coming to town this May, most do not realize that the excitement consists of nearly two weeks of events, several of which will be ticketed and open to the public. Complete information on these events, including how to purchase tickets, will be posted at www. SBFunGuide.com as details become available.
The first public event of Miss USA 2018 will be an opening night reception held at Silver Star Smokehouse in Bossier City on Mother's Day, Sunday, May 13, at 6 p.m. A limited number of tickets will be available for sale to the public for this kick-off party with the contestants, sponsors and organizers in attendance.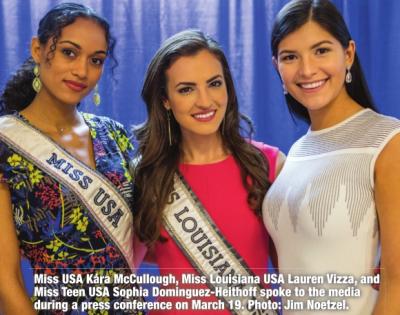 A Mardi Gras-style parade will be held in downtown Shreveport at 12 p.m. on Monday, May 14, to officially welcome all 102 contestants. All of the Miss USA and Miss Teen USA contestants will ride on floats in the parade, which will begin at the head of Texas Street near First United Methodist Church and proceed east toward the Red River. The parade will also include local dignitaries, as well as the reigning 2017 Miss USA Kára McCullough and 2017 Miss Teen USA Sophia Dominguez- Heithoff. The parade, which is expected to last about 30 minutes, is open to the public. Everyone is invited to help welcome these 102 outstanding young women to Shreveport-Bossier.
The Shreveport-Bossier Convention and Tourist Bureau is currently collecting beads and other throws to be provided to the Miss USA and Miss Teen USA contestants to throw in the parade. Individuals and businesses looking to donate beads or throws to the parade effort can drop off their donation, 8 a.m.-5 p.m., Monday through Friday, at the Shreveport-Bossier Convention and Tourist Bureau's Downtown Visitor Center located at 629 Spring St. in Shreveport.
What many people think of as one event is actually a series of four separate, ticketed events: The Miss Teen USA 2018 Preliminary Competition, 4 p.m., May 16; The Miss Teen USA 2018 Finals, 7 p.m., May 18; The Miss USA 2018 Preliminary Competition, 7 p.m., May 17; and The Miss USA 2018 Finals, 7 p.m., Monday, May 21. The Miss Teen USA 2018 Preliminary Competition will take place at the Horseshoe Casino and Hotel
Riverdome, while all other ticketed events will be held at George's Pond at Hirsch Coliseum.
Once they are made available, tickets to all events can be purchased by visiting the individual event listings at www.SBFunGuide.com.
For those unable to attend in person, the Miss USA 2018 Finals will be broadcast nationally on FOX beginning at 7 p.m., Monday, May 21. Other event coverage leading up to the finals can be streamed on the Miss USA and Miss Teen USA Facebook pages as well as www.MissUSA.com.
Throughout their time in Shreveport- Bossier, the contestants will make numerous public appearances. Their families, sponsors and supporters will be exploring Shreveport-Bossier beginning with the first arrivals on May 11. The local organizing committee asks that anyone who owns or manages a local business with a façade or signage that could display a welcome message for the Miss USA and Miss Teen USA contestants, please consider doing so. It lifts the spirits of everyone involved to see widespread community support for the events.
Sponsors are also being sought at a variety of levels. Restaurants are needed to provide healthy meals (no fried food) for 65-75 people in exchange for event tickets and promotional opportunities. Traditional cash sponsorship opportunities start at $1,000 and offer a variety of benefits including event tickets, inclusion in event programs and more. Volunteers are also needed in about a dozen different areas. Complete information on volunteering and sponsorship can be found at www.Shreveport-Bossier.org/MissUSA.
It has been 20 years since Shreveport- Bossier last hosted Miss USA. In that time, the advent of social media has meant that these events will shine an even larger spotlight on Shreveport-Bossier as a host city. Whether through volunteering, sponsoring or simply buying a ticket to an event, the success of Miss USA 2018 and Miss Teen USA 2018 will require a community-wide effort.
– Chris Jay