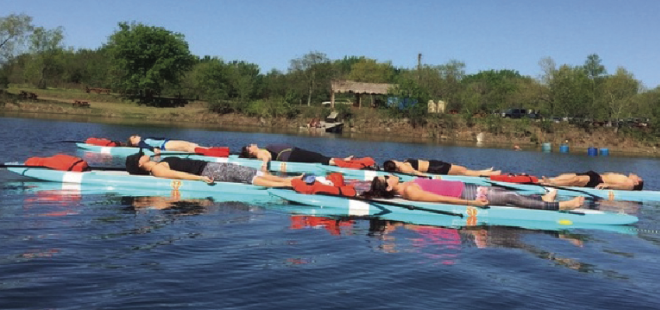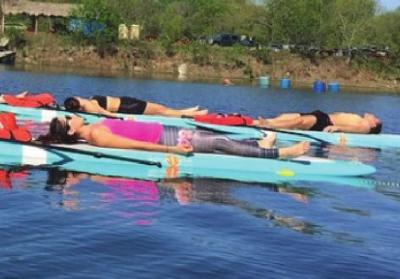 Therapy for the body and mind
Breathe in. Breathe out. You are outside feeling the cool breeze on your skin and you hear birds chirping. This outdoor setting is ideal for practicing yoga. From April 13-15, people will have the chance to enjoy the fresh air along with live music, yoga classes and much more at the first-ever in Shreveport.
This three-day festival will take place at 10560 Ellerbe Road (known as the Perkins Property). It will be a weekend filled with yoga, meditation, live music, farm-totable food and stand up paddle boarding.
Emily Sample, Sarah Sledge and Haley Bagwell are the organizers for the event. All three love the festival feel and wanted to bring the experience to Shreveport.
"I've been going to yoga festivals for the past three to five years, and every time I go I just think that it is the most amazing thing," Sample said. "I thought it would be such a cool thing for Shreveport to have."
The festival grounds will include a retail therapy village, healing village, kid's village and a farm-to-food village. Sample says the retail therapy village will be set up like a farmer's market with vendors selling items. The healing village will include massage services and even acupuncture. As for the farm-to-food village, there will be a variety of fresh food options for festival-goers to choose from.
"We looked into our community to see who serves the healthiest and the freshest food," Sample said. "We reached out to those people, and they were super onboard."
Sample has enjoyed reaching out to the community and utilizing the gifts and services they've had to offer the festival. She has had the chance to talk to people from different backgrounds and learn more about them. One of her favorite things about organizing the festival has been recruiting vendors and services for the event.
"It's a good way to show everyone in our community what is out there from different yoga instructors to wellness advocates," she said. "If we can all come together for a few days, then the city of Shreveport can see what all is out there."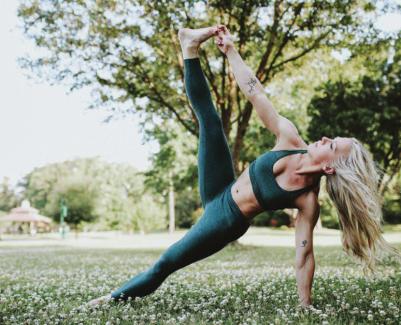 Another thing that Sample loves about the festival is that they are playing live music. Some of the yoga classes will be accompanied by live music, which really adds to the festival experience.
"One of my favorite things about these yoga festivals is that they have live music. I think that's a key component to helping people relax and enjoy themselves."
Sample owns Breathe Yoga Studio in Shreveport. She enjoys doing yoga in the studio, but she also says the festival is a great opportunity to experience yoga in an outdoor setting.
"Life doesn't have to be perfect all the time," Sample said. "You don't have to do yoga on hardwood floors or where the temperature is exactly right. You just go out and enjoy nature. You enjoy hearing the birds chirping and hearing the live music. It's a different atmosphere, but just enjoying the beauty of that instead of being inside and doing the same thing."
Yoga is not only great for the body, but it is also great for the mind.
"The physical benefits are huge. It's also healthy for the mind. Just a sense of a moving meditation. You're breathing and focusing on the posture. It helps us calm the mind and restore the body."
For those who are beginners at yoga, Sample says don't be intimidated. As long as you can breathe, then you can do yoga.
"Yoga really is accessible for everyone whether you can touch your toes or can't touch your toes," she said. "If you're just breathing and trying your best, then that's enough. That's all that yoga asks of you. You don't have to be a dancer or a gymnast."
Yoga Farm Fest will kick off on Friday, April 13, from 5-8 p.m. at Great Raft Brewery. Festival-goers are invited to pick up their swag bags and T-shirts there. They can also register for specialty classes. Everyone is invited to come out, even if you don't do yoga.
"Even if you don't do yoga, this festival is not just for yoga people. There's live music and paddle boarding you can enjoy."
Overall, Sample hopes it is a relaxing time for participants.
"One of the goals of yoga is to settle the mind and to get out of the busyness of everyday life," she said. "We wanted people to be able to take fun and energetic yoga classes to help get ourselves back into check—back into balance. I hope they come out with an open mind and enjoy some sunshine. I hope they can connect with people in our community, relax and overall just have a good time."
If this festival is successful, then Sample says they hope to do it again next year.
"We would love to make it an annual thing if people come out and it is successful."
Tickets for Yoga Farm Fest are $75 each for Saturday- or Sunday-only tickets and a ticket for both Saturday and Sunday is $125. Kid's tickets (18 & under) are $20 each. Tickets are on sale now. You can purchase your tickets and look at the complete festival schedule online at yogafarmfest.com – Jessica Carr