LOSING WEIGHT, GAINING HOPE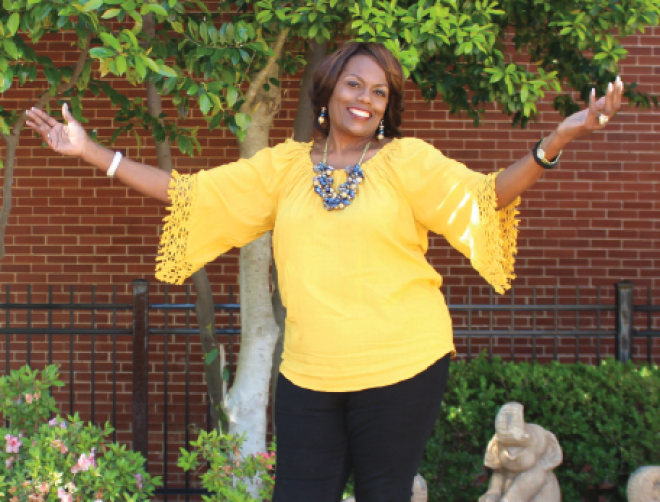 Shreveport Woman Sheds 92 Pounds Through Non-Profit
Vivian Andrews says she struggled with her weight her whole life. She has been up and down losing weight and gaining it back for years. One day while Andrews was at a retreat for the Shreveport Leadership Program in 2009, she had to climb up a wall using a rope as a trust exercise. Andrews, who weighed 335 pounds at the time, says she just couldn't do it. She was embarrassed, and that's when she made up her mind.
"I thought, you know what, I've been overweight all of my life," Andrews said. "I've been up and down – have lost hundreds of pounds and gained it back. I decided I'm gonna lose this weight for the last time."
Two years later, Andrews had already lost more than 30 pounds by the time she decided to join a non-profit weight-loss, education and support organization called "Take Off Pounds Sensibly," or TOPS. A member of her church was the leader of a TOPS chapter. She thought it would be beneficial for their church to start a chapter there.
"What was different about it [TOPS] was that it wasn't a diet. It was a lifestyle change. You come every week and you have that accountability, but also you have that support group that, in a lot of other things I've tried, you don't have that support group other than yourself."
Andrews enjoys the spiritual aspect of her TOPS chapter because they are a part of her church, but she says that not all chapters are associated with a church. TOPS is a nonprofit that welcomes everyone.
Soon this native of Shreveport started seeing more and more progress. She was recognized as a division winner in her TOPS chapter, as well as a division winner in the state of Louisiana for her weight loss success.
"It was inspiring. It provided me more and more motivation to keep going on my journey."
Today, she is 92 pounds lighter than when she started TOPS in 2011. She has lost a total of 135 pounds since that day she decided she was going to lose the weight for the last time.
"Anybody can do it. It's just making your mind up to do it."
But the weight-loss journey wasn't always easy for Andrews. She says that her husband is the cook at the house, which always made it a little harder to resist temptation. However, Andrews kept her eye on her goal and says she would eat in moderation.
"It can get hard sometimes because he would decide, 'I'm gonna bake a peach cobbler or I'm gonna fry some fish.' Eating that in moderation is hard. I learned how to make sure I'm still moving and still drinking my water."
The great thing about TOPS to Andrews is that they teach to eat in moderation and not to deprive yourself of your cravings.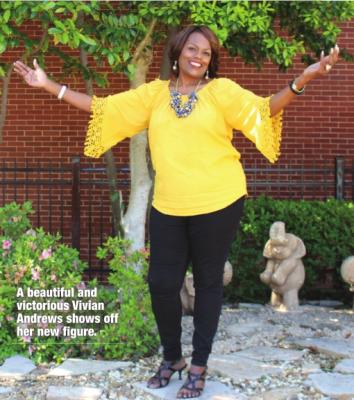 "It's a matter of portion control and eating in moderation. If you want something, eat it. That way you won't eat the whole pie, you will just eat a slice."
TOPS has taught her to look at the serving size when she prepares food. She says she can still eat Blue Bell ice cream, but instead of a whole cup, she will only eat half a cup.
Another key to losing weight is to consistently stay active. Andrews says she walks five miles a day every day. She also goes to the gym three times a week.
"I've been a member at a fitness club for 40 years," Andrews said. "There were times when I would pay the membership, and I wouldn't show up. When I realized that I needed to be consistent with what I was doing, that made me more active."
Anytime Andrews needed support during her weight-loss journey, she knew that she had her friends in TOPS to help her persevere.
"You talk about the struggles that you have, and you talk about the successes that you have. And you feed on each other's feedback. Because weight is so personal, you develop this strong support system in your chapter."
Technology has also helped Andrews reach her weight-loss goals. She has logged a total of 1,100 continuous days on her Fitness Pal app. She tracks her fitness activity and what she is eating. She says it has really helped her on her journey. Andrews says she still hasn't hit the weight goal that she made for herself when she started TOPS, so she continues to strive to meet that goal.
"Think about the fact that you only get one body, and that body is to last through your lifetime. Think about how you want to live. If you have any way of helping that body last as long as it can so that you can live the happiest life that you can, then the best thing you can do is to take care of that body."
After retiring from 36-plus years at SWEP- CO in 2010, Andrews has been able to focus on her journey to be healthier. She has advice for others who also want to adapt a healthier lifestyle.
"A lot of people make the mistake of losing weight for other people. You need to lose weight for yourself. Do what makes you happy and not what makes everyone else happy.
Losing weight is an emotional thing, too. Because a lot of the time, we eat how we feel."
She says she tries to share her story so that others can know they can do it, too.
"I am going to continue on my journey to reach my goal and continue to share my journey with others hoping it'll help others to reach their goal as far as weight loss and being happy with themselves."
– Jessica Carr