Lively New Dining Additions to Downtown
Frida's Bar and Grill – Proud Mary 360° Grill
Two new ladies are adding their vivacious energy to downtown Shreveport. Frida's Bar and Grill at 200 Travis St. has recently opened serving their fresh take on Mexican/ American favorites. Then coming soon, Proud Mary 360° will be rolling on the river serving Louisiana cuisine at 450 Clyde Fant Parkway in the Red River District.
Hugo Torres and Javier Quiroz, who bring us Frida's Bar and Grill, both have extensive backgrounds in restaurant management. Hugo explained the namesake of their business, Frida Kahlo, is an example of persistency, of following your dreams. "She fought for so many, as an activist for women and others. Even in a patriarchal society, and for me as a man, she inspired us. When people told her she couldn't, she did. Like this, people say we can't, but we can."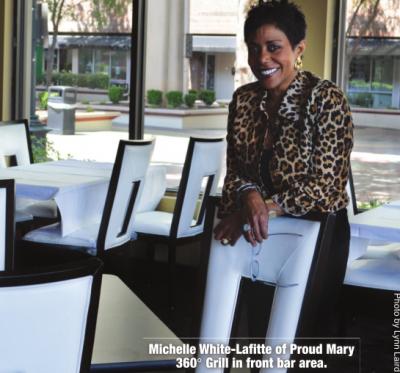 Javier said in Mexico she's a huge part of their popular culture, important to the people, to the country, to humanity. Highlighted by the warm woods, vibrant colors and natural light from the large windows, they have installed a large, oneof-a-kind, dyed-tile mural in Frida's honor.
While Hugo in recent years specialized in Italian food, Javier could see that our area has a love for fine Mexican food. They challenged themselves to create a quality menu and beautiful atmosphere everyone could enjoy. Where many restaurants have trucks delivering frozen inventory, Frida's strives to use fresh seasonal ingredients.
In tune with downtown diners' wish to have good food fast, they have worked with Executive Chef Gustavo Villagas Llamas to refine their menu and techniques to provide consistent quality quickly. Hugo and Javier believe that presentation is also key, along with service, because people eat with their eyes first.
Their menu has a few notable differences, one being the use of black beans instead of refried beans. Then there's the flavorful addition of mushrooms, bacon and chorizo to their fajitas. They will also have green sauce, a spicy blend of tomatillo and cilantro, on the table with their salsa.
Coming soon to the Red River District, Proud Mary 360° will offer exciting new Louisiana flavors and live jazz, bringing Big Easy style to Shreveport. Miles Lester, recent business graduate from Southern University – Baton Rouge, brings a rich family history to this new venture. Assisting as GM, his father, Stan Lester, is a noted real estate developer with experience in entertainment and restaurants.
When Miles asked to stay in Baton Rouge, feeling there was no future for him in Shreveport, the mayor offered him a summer internship. It delayed his graduation, but with the prospect of working with his father, encouraged his return. Miles benefits from five generations of experience in business and culinary skill. "It's a challenge, but I have the opportunity to gain more experience faster than many my age. They have me make decisions someone 30 – 40 years old might be making. It's good."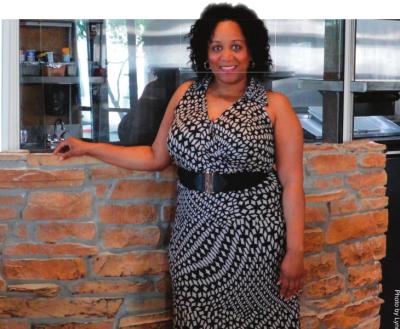 Stan tells me Proud Mary is named for Miles' grandmother, the backbone of the family. "When things were thin, she held things together." She worked to build the Allendale YMCA, where she was program director before becoming a teacher in the Caddo Parish school system. "There are a lot of Marys out there that took care of their families, supporting and keeping them together, providing stability." Like the song, the restaurant's name denotes energy and vibrancy.
The Lesters brought in Cassandra Johnson as executive chef. Stan says the self-taught chef has great taste buds. Cassandra looks forward to serving her signature halibut with Chinese black rice, braised oxtails and Proud Mary seafood platter, along with Louisiana classics, gumbo and Oysters Rockefeller.
Chef Devlin Newhouse, who trained at Johnson & Wales College of Culinary Arts and worked with Wolfgang Puck, oversees catering. He may be recognized from the Shreveport Country Club and the University Club.
From working for Commander's Palace and other NOLA classics to her considerable media career, marketing director Michelle White-Lafitte adds energy and valuable experience to the team. She anticipates offering great entertainment and is particularly proud of the Green Room, which can be reserved for optimal privacy.
Miles Lester prefers a low-key profile, handling business, but he's investing blood, sweat and tears in this restaurant. Miles and Stan want to ensure that everyone who enters will get five-star treatment in a casual, fun atmosphere.
Both businesses have persevered with passion, planning and persistence. It will be exciting to see the impact these lively additions have on downtown.
–Lynn Laird