Treatments for combating the signs of aging
The expansion of social media platforms has resulted in a tremendous upswing in acceptance and interest in facial cosmetic procedures. Many people begin their self-improvement journey with less invasive techniques such as Botox, fillers and skin surface rejuvenating treatments. Ultimately, however, gravity and years of sun damage will lead some to explore other options to find the fountain of youth.
I always advise my patients that the best treatment of all is prevention. In your 20s and 30s I recommend early treatment with neurotoxins (most commonly known as Botox®) to decrease wrinkles caused by repetitive movement. Preventative Botox is an important investment to prevent more permanent signs of aging. Dermal fillers are another widely used option for improving signs of aging.
As we age, our skin loses elasticity and becomes lax. Additionally, gravity takes hold of the fat pads in our faces and draws them down, giving a sunken appearance to the cheeks, eyes and "jowl" region. Early use of fillers can help camouflage these signs of aging. I also like to endorse a good skincare routine to help improve skin quality and texture – a board-certified dermatologist or skin-care specialist can make suggestions in regards to chemical peels, lasers, and topical treatments and skin-care routines to help keep your complexion bright.
Over time, however, these less-invasive treatments may not be enough to combat signs of aging. Genetics, sun exposure, diet and tobacco use can all play a role in how resilient our bodies are in regards to the aging process. When the aging process can no longer be addressed with nonsurgical options, we turn to surgical options for rejuvenation. Over time, the skin of our face and neck simply becomes too loose to be addressed by any means other than surgery. A facelift and neck lift procedure addresses jowls that occur on the jawline, loose neck skin, nasolabial folds (also known as marionette lines) between the nose and mouth, midface drooping, and when combined with liposuction can address a double chin. As opposed to non-surgical options which may at best last two years, a facelift surgery typically should provide acceptable results for up to 10 years. I typically recommend taking 10-14 days of down time for recovery.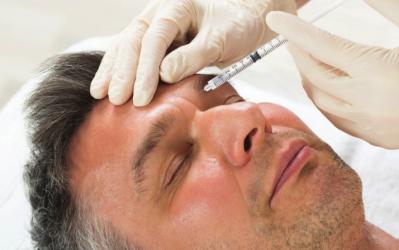 There are many variations of face-lifting procedures, from mini-facelifts to full-on face and neck lifting. Seeing a board-certified facial plastic surgeon or plastic surgeon can help determine the best treatment for you. As with every surgery, there are risks, which your surgeon will go over with you thoroughly.
Other options for facial rejuvenation include brow lifting and blepharoplasty (eyelid lifting). In women the eyebrow should arch nicely just above the bone of the orbital rim, and in men it should sit just at it. There are many different options for brow lifting, including minimally invasive endoscopic techniques and several traditional open surgical techniques. Your surgeon will take into account your hairline and the height of the forehead when choosing the right technique for you.
Blepharoplasty, or eyelid lifting, can be a simple and easy way to achieve rejuvenation. Addressing excess skin and fat herniation from around the upper and lower eyelids can take years off of the face. Addressing the eyelids does require a very thoughtful eye, as repairing the muscles that control elevation of the eyelids is an important step that should only be done by a very experienced facial plastic surgeon or ophthalmologist.
The most important step in pursuing any surgical procedure is to find a surgeon you trust and are comfortable with. Such a doctor will be willing to take time and explain the different options and be honest about meeting all of your expectations.
Dr. Paige Bundrick is an assistant professor of facial plastic and reconstructive surgery and co-director of the Department of Facial Plastic Surgery at LSUHSC. She currently sees patients in south Shreveport in Ashley Ridge, Willis-Knighton South, Feist-Weiller Cancer Center and University Health. Please call 318-675-6262 for appointments.