New cafés open to help you start the day; or restart!
Four best friends have come together to bring us The Coffery, a haven for coffee lovers and lunch dates, just minutes north of downtown at 3820 N. Market St. Located on a lush, green lot, their coffee shop offers a lovely respite from the daily hubbub nearby. But if you need service in a hurry, they have a drive-thru, and will even have call-ahead orders ready when you arrive.
The 4 BFFs, LLC, a local, womanowned, veteran-owned company, combined their friendship and business experience in several ventures over the years before renovating this property to house the Louisiana Roasting Company and its new café companion. Patty Cramer and Cate Hunter, with over 25 years' experience in the coffee business, have been producing smallbatch, organic, fresh-roasted coffee in Shreveport for nine years. Sourced from 11 different countries across the equator, they have a rich variety of specialty blends like the medium Magnolia Morning and the darker Blend of the Bayou. With the help of Donna Vinson and Jeannie Edwards, the recent addition of The Coffery seemed a natural progression. The freshness of organic coffee beans roasted right next door with no fillers is definitely a difference you can taste.
In addition to espresso and cold brews, they serve the latest coffee obsession, Nitro brew, featuring their coffee infused with nitrogen in a kegerator. The frothed blend of black coffee with nitrogen opens the flavor, creating a slightly sweet note without added sweetener. Iced teas, smoothies and Italian sodas are also available. Harry Potter fans can even order a big mug of Butterbeer.
Not just a coffee shop, The Coffery offers breakfast and lunch. To start the day they have pastries, homemade biscuits and breakfast sandwiches with croissants. They also prepare fresh sandwiches and homemade daily lunch specials like red beans and rice with bread, quiche and salad with crepe, and taco soup with cheese quesadilla. A local favorite is the shrimp salad, a creamy, flavorful dressing filled with large shrimp from Farmer's Seafood on a buttery, toasted croissant served with a delightfully deviled egg and chips.
Walking in, guests are greeted by a large bistro counter with a cozy retail space off to the right. The dining room to the left, offering a variety of seating, has an open feel aided by natural light from French doors on two sides. If you love a patio, one set of doors leads out to a lovely wide deck with shaded tables overlooking a tree-lined, lush, green lawn. There is also a more formal brick-paneled boardroom with a large TV monitor available for meetings or special events.
Unassuming from the outside, the 4 BFFs created a welcoming atmosphere that will tempt you to stay a spell. With so many options available to customers, these ladies and their lovely staff strive to offer their community the best personal experience.
South of town, transplants from South Louisiana are getting a taste of home with the two new CC Coffee Houses opening in Shreveport on Youree Drive and Ellerbe Road. The Ellerbe Road location has a clean, contemporary look, which is clearly reminiscent of Starbucks, until you notice the chickory coffee on the menu board. Developed in New Orleans in 1995 under the Baton Rouge-based parent company of Community Coffee, CC's Coffee House has branched off into its own division and is working to dramatically increase their presence across the southern Gulf states. Their coffees, roasted in Louisiana, feature a medium Cypress Sunrise Blend, a dark Uptown Jazz and a special 504 blend. They also offer a selection of specialty frozen coffees, teas and pastries.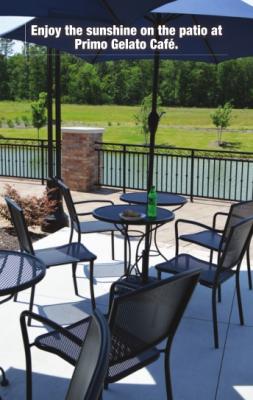 Just up the street, Robin and Wayne Hogue, local owners of Primo Gelato Café located at 9462 Ellerbe Road, have a cooler full of fresh gelato and sorbet flavors to help you keep your cool as the warm weather finally arrives. The gelato has a silky, creamy texture, while the sorbet has a slightly icier, refreshing taste. Both frozen delights were equally smooth. For those who cannot decide which of the many flavors to scoop in their cup, Primo offers a flight of four samples.
In addition to frozen treats, they serve macarons imported from France and cannoli shells, imported from Italy, piped fresh with gelato at the café. Fun desserts like Choco Tacos and gelato-style spaghetti and meatballs are in the freezer.
If you would like a bite to eat before dessert, or after, they serve tasty, toasted paninis and other lunch items. They also offer an array of coffee drinks for our favorite jolt of java. However, the new excitement is the notice posted announcing application for a liquor license, which will lead to some fun new products on the horizon.
Very enthusiastic customers were gushing about how connected the business is to the community and how much they have enjoyed live music events held there recently. A bonus attraction is the lovely patio out back with shaded tables overlooking the bayou, a perfect spot for enjoying your Primo experience.
Shreveport is growing with more options available than ever for everyone. Each venue fills a niche offering its own special experience. If you truly enjoy local businesses, the best thing you can give them is your support.
– Lynn Laird