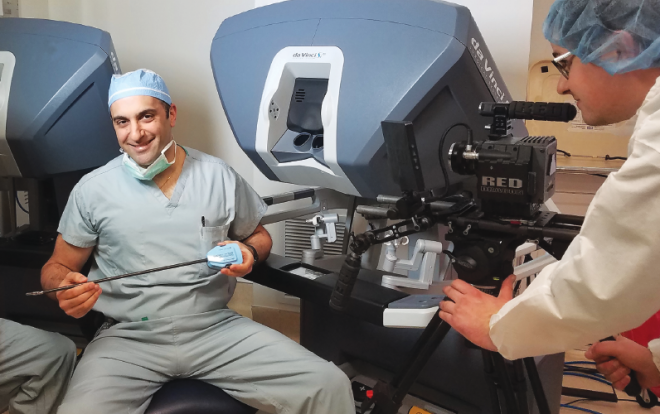 Less-invasive procedure for prostate cancer
Prostate cancer originates from the prostate gland, which is located in the male reproductive system just below the bladder. The prostate produces fluid that constitutes part of the semen. It is almost the size of a walnut. Around 16 percent of American men will be diagnosed with prostate cancer in their life. If you are one of the 200,000 men diagnosed with prostate cancer each year, you may be a candidate for a lessinvasive approach to prostate surgical removal, the da Vinci® Prostatectomy.
This robotic-assisted surgery is performed for removal of prostate cancer. This technique has the latest advancements in robotic-assisted technology, and allows the surgeon greater high-definition visualization, enhanced dexterity, precision and superior ergonomics. The da Vinci ® Robotic Surgical System allows the surgeon's hand movements to be filtered, scaled and translated into accurate movements of micro-instruments within the operative site, through small surgical incisions (not large incisions like in traditional open surgery). The system cannot be programmed nor can it make decisions on its own. Therefore, it is not a "robot alone that performs the operation"! It requires that every surgical maneuver be performed with direct input from the surgeon.
The benefits of robotic prostatectomy include:
• Improved visualization with enhanced high-definition imaging with 10 times the magnification and 3D vision.
• Motion scaling with tremor filtration that eliminates tiny, uncontrollable movements in the surgeon's hands. There is less tremor, so more accurate precision in dissection.
• Improved cancer control because of better visualization of planes and meticulous dissection.
• Faster return of urinary continence The anastomosis, or the suturing of the connection between the bladder and the urethra, and the conservation of certain tissues allow the patient to have better urinary control.
• Faster and more complete return of sexual function. Magnification allows the urologist to identify and preserve the neuro-vascular bundles on both sides, allowing a better erectile function. Patients are happier and are offered higher chances of maintaining their sexual activity post-operatively when compared to open traditional surgery.
• Decreased pain. Smaller skin incisions, allowing less injury and less trauma to the tissues, resulting in less pain and less pain medication, therefore faster healing and return to normal physical activity.
• Less blood loss. Because of the magnification, vessels are well identified, preserved, and hemostasis is better achieved.
• Shorter hospital stay. Patients are usually discharged home the next day following the procedure, while having a normal post-operative course.
• Lower risk of infections. Smaller incisions and faster recovery both result in a decreased risk of infections.
• Faster recovery and return to regular activities. Patients are able to return faster to their jobs, or exercise earlier.
In summary, robotic surgery for prostate cancer offers great outcomes in terms of cancer control, urinary control, and sexual activity and postoperative expectations. Each patient should have proper counseling and indepth discussion with their urologist in order to plan for the surgery and discuss outcomes. Every stage of prostate cancer has different aggressiveness, though, which results in differences of outcomes. Robotic-assisted prostatectomy has been successfully used in thousands of prostate cancer procedures worldwide.
Dr. Nazih Paul Khater is an assistant professor of urology in the Department of Urology at LSU Health Shreveport. Dr. Khater is an American Fellowship-Certified Urologist by the Endourological Society and holds a full Unrestricted Louisiana & California Medical Board Physician and Surgeon's License. He is specialized and has an area of expertise in advanced endourology and robotic surgery for urological cancers. Dr. Khater is a member of the American Urological Association, the Endourological Society, the Society of Urologic Robotic Surgeons (SURS) and numerous other societies and organizations. He is also a reviewer for the Journal of Urology of the AUA, the Journal of Endourology, and numerous other peer-reviewed prestigious journals. Dr. Khater is also a national and international lecturer in his field. He has visited several cities around the world, including Taiwan, London, San Diego, Turkey, Jordan, New York and Beirut, where he gave conferences and podium presentations at the AUA and WCE meetings.