Meet Our 2018 Men In Business! (PT.2)
Joseph Guin
JOSEPH GUIN BARBER
6018 Line Ave,Shreveport, Louisiana

(318) 865-2525
josephquinbarber.com
John Pickens
JOHN PICKENS CUSTOM CLOTHIERS
6022 Line Ave,Shreveport, Louisiana

(318) 629-2080
johnpickens.com
When two of the sharpest business minds in town join forces, you can expect the perfect combination of fashion and style. Shreveport will have to look no further for such a collaboration when Joseph Guin, opens his latest venture – Joseph Guin Barber next to John Pickens Custom Clothiers this August.
For Mr. Guin, who also owns Joseph Guin Salon downtown, opening a barbershop was the culmination of a dream, but also a call from the public. "I am building this barber shop on the request of so many of my clients," said Mr. Guin. "This is not about some brotherhood of 'I do business with you, you do business with me' – it was a union of the community asking us to do this." Mr. Pickens had a similar vision. "We wanted some kind of concept of barber/ hot towel shave shop next to us for a long time now. It is a trend that's happening all over the country, and the barber shop just elevates the whole shopping experience for the Shreveport/Bossier area." They both had the idea separately, but the union really came together under one factor. "Matt Snyder was the bonding agent for John and I to come together – he was really pivotal at putting us at the same table. From there, John and I have brought it to fruition," said Mr. Guin.
John Pickens Custom Clothiers has been taking care of the well-dressed man for 15 years, and adding the barbershop component was the next step to expand upon the full-service experience for his clients. "We have evolved over time from a custom clothier to become heavy into sportswear. When you have a grandson, son and the father coming in together, it leads back to the complete shopping experience. It's the highest compliment I am paid," said Mr. Pickens.
Joseph Guin Barber and John Pickens Custom Clothiers will be side by side, creating a new level of luxury for clients. "We are opening a wall between our two businesses so that our clients can shop with him and his clients can come in to the barbershop," Guin said. "The well-dressed man can also be the well-groomed man in a one-stop shop." Joseph Guin Barber will offer a range of services to clients. "JGB will be a vintage style barber shop with services, including hot towel shaves with a modern twist," said Mr. Guin. "I'm currently building the menu – gentlemen can come in to get a hot towel steam shave or an express haircut and get out the door in 20 minutes."
Mr. Guin summed up the strength of the partnership. "There is bravery in union. We both use our names as our business, so that really says something about the integrity of what we do – we put our names on the line. We are answering the call of our clients."
Joseph Guin Barber will open in August at 6018 Line Ave. right next to John Pickens Custom Clothiers, 6022 Line Ave.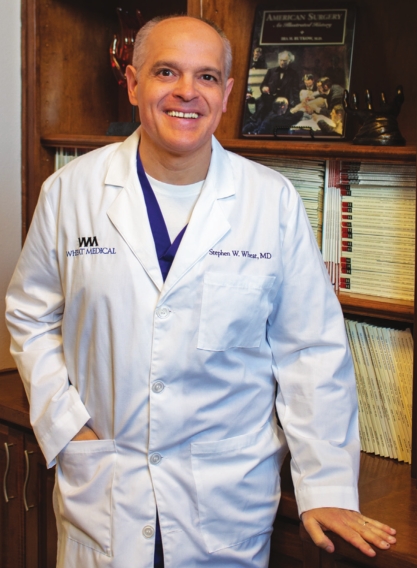 Stephen W. Wheat, MD
WHEAT MEDICAL NERVE & MUSCLE DIAGNOSTIC TESTING SINCE 1991
385 West Bert Kouns Industrial Loop, Suite 500, Shreveport, La (318) 352-4477 wheatmedical.com

Dr. Stephen W. Wheat is one of the top physicians in the region specializing in electrodiagnostic medicine to diagnose the cause of nerve and muscle pain and the only physician in Northwest Louisiana to use ultrasound as a non-invasive, visual approach to diagnosing the cause of neuromusculoskeletal pain. He is dedicated to helping patients receive an accurate diagnosis so that they can quickly return to an active, pain-free life.
"Diagnosing the exact cause of a patient's pain is why I do what I do. Twelve million people are being misdiagnosed each year in the United States. The answer to why a patient hurts hinges on an accurate diagnosis," said Dr. Wheat. "I want my patients to know that they are being heard and that they are being diagnosed by one of the most experienced and highly credentialed physicians in Northwest Louisiana. I'm the only physician in the region who uses evidence-based, fact-based tools to provide answers to a patient's pain symptoms. I have performed greater than 14,000 electrodiagnostic procedures and 10,000 neuromuscular and skeletal ultrasound procedures in more than 25 years as a physician. That level of competence along with a triple board certification in electrodiagnostic medicine, internal medicine and physical medicine enables me to provide a service to patients that no one else offers," added Dr. Wheat.
Dr. Wheat has been recognized as one of Louisiana's Top Docs by Louisiana Life Magazine. He uses advanced diagnostic capabilities including ultrasound, Electromyography (EMG) and Nerve Conduction Studies (NCS) to diagnose chronic pain issues. His treatment plans are derived from the latest scientific advances. Dr. Wheat has trained extensively at leading institutions and teaches and lectures at some of those same leading institutions.
"I teach physicians at the Baylor College of Medicine: Department of Neurology, Houston, Texas. I have found that is one of the best ways to keep current with up-to-date pain diagnostics," said Dr. Wheat. "Teaching others what they need to know to be skilled, knowledgeable physicians requires that I keep current with the latest in electrodiagnostic medicine. The benefits transfer directly to my patients," added Dr. Wheat.
The electrodiagnostic tests in which Dr. Wheat specializes are used to determine how well the body's electrical signals travel to nerves and muscles. These tests are used to help diagnose or rule out nerve and muscle disorders including, but not limited to, carpal tunnel syndrome, sciatic nerve problems, herniated disk disease, polyneuropathy/neuropathy, peripheral nerve injury and pinched nerves.
"I have spent almost three decades working to find the most reliable tools to diagnose people's nerve and muscle pain and to help them, as well as their physicians, get them back to their normal lifestyles as quickly as possible," said Dr. Wheat. "Patients come to my office with a specific concern and that becomes my #1 concern. I don't believe there is anything worse for patients than not knowing why they hurt. No one in the state is as qualified or committed to giving these patients a more comprehensive assessment and answers than I am," added Dr. Wheat.
Dr. Wheat is a graduate of Louisiana State University Medical School, Shreveport. He earned a residency in physical medicine and rehabilitation at Louisiana State University Medical Center, New Orleans. In 1997, Dr. Wheat completed an internal medicine residency at Louisiana State University Medical Center, Shreveport, and then earned a board certification in electrodiagnostic medicine. Dr. Wheat has served as a member of the Mayo Clinic Professional Practice and Professional Program Committees of the American Association of Neuromuscular & Electrodiagnostic Medicine and is a regular guest lecturer at the Baylor College of Medicine: Department of Neurology, Houston, Texas.
Dr. Wheat's Shreveport office is located at 385 West Bert Kouns Industrial Loop, Suite 500. He also practices in Natchitoches at 138 East 5th Street. To find out more about his practice and how he can help find the source of your pain, call 318-352- 4477 or visit www.wheatmedical.com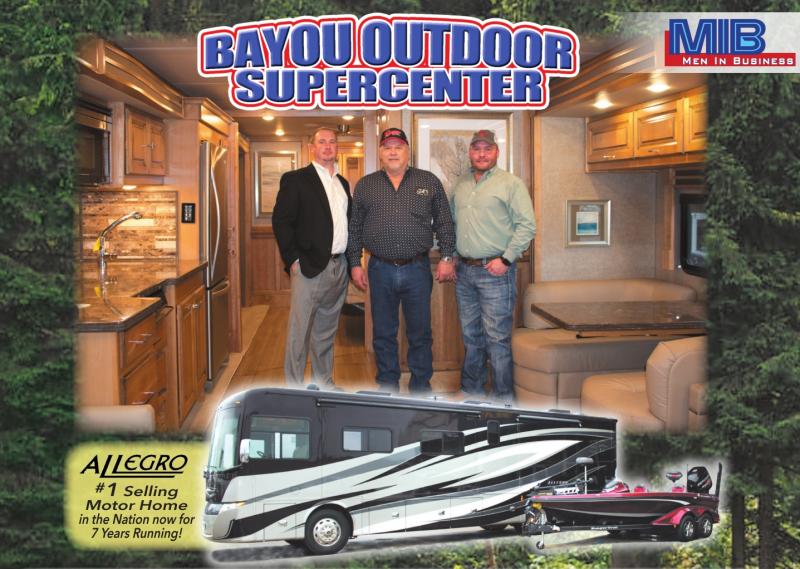 Bayou Outdoor Supercenter
Bayou Outdoor Supercenter, LLC is helping the Ark-La-Tex gear up for the spring season – one boat and RV sale at a time!
Bayou Outdoor Supercenter, located in Bossier City, is a family owned business. Larry Brazzel and wife Barbara of 42 years have three sons: Chad, Cody and Clay. "Cody and Chad have grown up at Bayou Outdoor Supercenter" said Larry Brazzel. In 2002 the boys joined their dad by becoming partners in the business. "I wanted to make sure my legacy would continue. Both Chad and Cody know the value of the meaning of quality service as well as offering the number one Boat and RV lines in the market," said Brazzel. You will always find one of the owners on the premises making sure things are properly taken care of. They want their customers to know they are welcomed and appreciated!
Larry Brazzel first opened as Bayou Marine and Trailer Sales on North Market in October 2002. Back then, they only sold boats and boat trailers. Brazzel moved the company to Barksdale Boulevard in 2004, increased his employee count to 25 and changed the entity.

Within a few short years, Brazzel outgrew the fence lines at Barksdale Boulevard and needed more space for service. He purchased a lot a half a mile from the Barksdale location and built a building with 12 service bays. Located on the corner of 1025 Central Park Drive and Barksdale, it is now dedicated specifically to RV Service and is managed by his son, Cody Brazzel. Chad Brazzel, his other son, manages the RV Sales and Parts Division at 1800 Barksdale Boulevard.

Knowing that more space was still needed, the Brazzel family saw an opportunity to expand further, and in December 2009, purchased the building and property on East Texas Street which houses all marine sales, parts and service. Bayou Outdoor Supercenter now has eighty-seven employees.
"I have such pride working with my dad and brother in our family business", stated Chad Brazzel. A family-owned business usually has a different approach as well as values. Brazzel stated that he personally would like to expand the business by opening another location within a 200-mile radius. Brazzel's goal is to exceed his dad's expectations not only in service but to grow the company to the next level.
Bayou Outdoor Supercenter offers many of the top-ranked boats and RV's in the market to date, with a large selection of individual products to choose from. They also include service after the sale and a personalized experience for each individual.
"We bring families together with the great outdoors," stated Cody Brazzel. He feels what sets their company apart from the competition is their family values. Brazzel will back his Service Department for both RV and Boats 100%. When asked why his conviction was so strong about service he stated, "I see generations, not individuals, leaving our business with a smile and a purpose – living!
Larry Brazzel, founder, feels he has placed Chad and Cody in the right chair. Brazzel feels his traditions and values will continue now for years to come.
Thank you, The Brazzel Family
RV Sales & Parts

1800 Barksdale Blvd.
Mon. - Fri. 8-5 & Sat. 8-3 (318) 629-2628 Fax (318) 626-1219
RV Service

1025 Central Park

Mon. - Fri. 8-5 & Sat. 8-12 (318) 629-2628 Fax (318) 626-1219
Marine Parts, Sales & Service

4306 E. Texas Street

Mon. - Fri. 8:30-5 & Sat. 8:30-3 (318) 213-2628 Fax (318) 213-7879
www.BayouOutdoor.com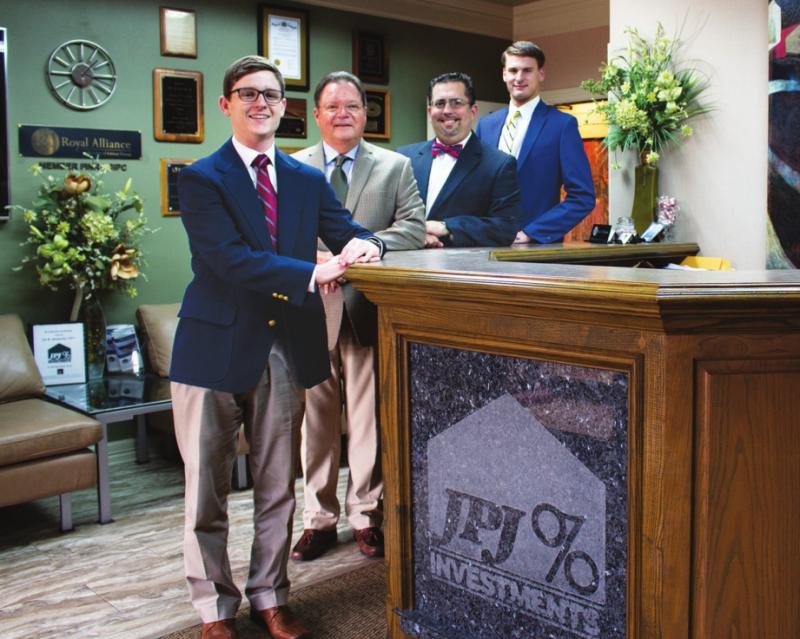 Hunter Greene, Joe Psalmonds CFP®, President, Beau Williams and Rob Harper
Financial Advisors
3201 Dee Street, Shreveport, LA 71105 • 318-222-8999 • jpjinvestments.com • facebook.com/jpjinvestments
JPJ INVESTMENTS
Established in 1984 as an independent wealth management, growth and capital preservation financial company, JPJ Investments now serves clients in 13 states across the USA. Because we're independent, our clients choose from a vast array of resources , representing the full spectrum of available products such as stocks, bonds, mutual funds, ETF's, UIT's, annuities and traditional insurance options. Through our broker-dealer, Royal Alliance Associates Inc., we specialize in fee-based portfolios, where we eliminate commissions and focus on your goals. Whether you are an individual, family or small business, we're confident that we'll exceed your expectations. We look forward to meeting you!
"YOUR TRUST IS OUR MOST VALUABLE ASSET!"
Securities and investment advisory services offered through Royal Alliance Associates, Inc. (RAA), member FINRA/SIPC. RAA is separately owned and other entities and/or marketing names, products or services referenced here are independent of RAA.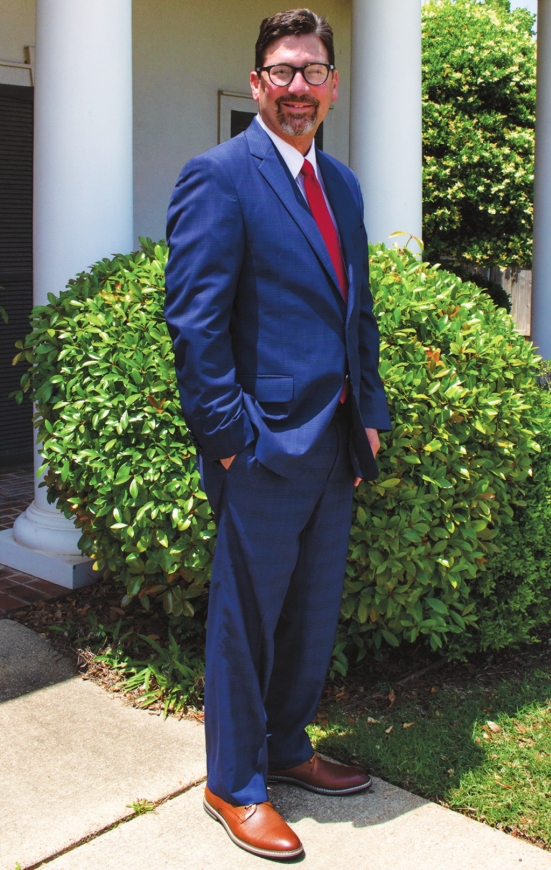 H. Lyn Lawrence, Jr.
ATTORNEY AT LAW
3985 Airline Dr, Bossier City, LA 71111

(318) 741-9595
H. Lyn Lawrence Jr. is one of the foremost trial lawyers in the Shreveport/Bossier City area, representing individuals and families throughout Northwest Louisiana for over 25 years.
Lyn is an aggressive advocate for his clients and dedicated to helping members of his community with their legal problems. He refers to his staff as his "team" and they all work closely together to assist clients in navigating through the complex and intimidating issues that surround the areas in which he focuses his practice, including personal injury, family law and criminal defense, as well as an additional range of general civil litigation matters. He calls it a "People's Practice", and he and his staff enjoy representing people and solving their problems.
Lyn is an active member of Grace Community United Methodist Church and other organization and foundations, such as the Pro Bono Project of the Shreveport Bar Foundation, the Providence House and the Gingerbread House, as well as local sports foundations.
His memberships include the Louisiana State Bar Association, Shreveport Bar, Bossier Bar and the Louisiana Association for Justice. He enjoyed his reign as Tribune of Justinian XXIV, as well as serving as Captain of Justinian XXV. The Krewe of Justinian serves not only as a social avenue, but also donates funds to the Pro Bono Project of the Shreveport Bar Foundation, as well as sharing the spirit of Mardi Gras with several local elementary school students.
Born and raised in Shreveport, Lyn graduated from Woodlawn High School in 1985 and earned an academic scholarship to Louisiana Tech University, where he graduated in 1990 with a degree in accounting, and met his wife, Angela, of 25 years. He attended law school at LSU, where he earned his law degree in 1993. Shortly after graduating, he and his wife relocated back to the Shreveport area and have established firm roots for their family and business relationships.
He and Angela are the proud parents of their three children: Peyton, 22; Harrison, 19; and LauraLeigh, 16. The whole family enjoys attending LSU football games and other sporting events, as well as spending time with friends and family at their camp on Lake Bistineau.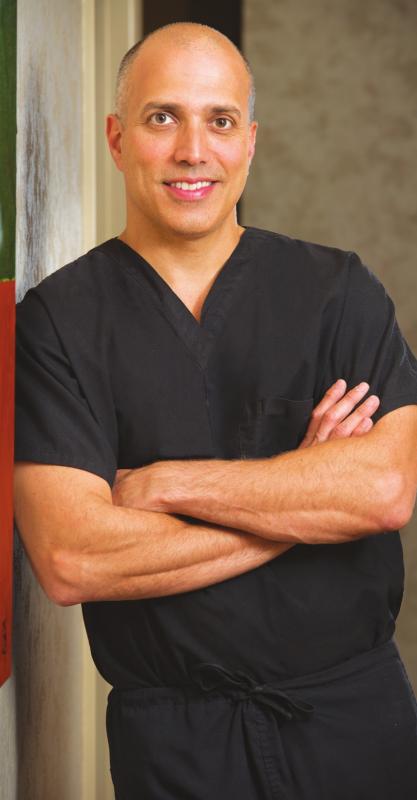 Bryan Vekovius M.D.
CERTIFIED BY THE AMERICAN BOARD OF OPHTHALMOLOGY
Dr. Bryan Vekovius, M.D., Oculoplastic Surgeon and Neuro- Ophthalmologist is one local businessman dedicated to helping his patients receive the finest in eye care.
"I have a passion and unique fervor for taking on and solving difficult problems for my patients," said Vekovius. "I often have patients coming to see me who have very little, if any, hope left for their situation." He enjoys the challenge, and the chance to help make a huge difference in someone's life. "I enjoy treating patients' tearing problems, eyelid malpositions, and I have a great deal of experience making uneven eyelids more symmetrical," said Vekovius.
Vekovius is committed to quality, compassionate care, superior patient satisfaction and excellence in cosmetic and reconstructive surgery. He's known as an expert in aesthetics and treatment of diseases and syndromes involving the eye, eyelid, tearing system and the optic nerve. He's performed over twelve-thousand procedures on the eyelid alone, and is one of the few cosmetic surgeons who is a member of the American Board of Ophthalmology.
"I've always been a very technical person," said Vekovius. "With my engineering background, I feel confident in my problem solving ability and am very fortunate to have a good eye for aesthetics, which is important in making an eyelid look good and, of course, function correctly."
Vekovius completed his Ophthalmology training at Louisiana State University in 2001. "I was always intrigued by this field," said Vekovius. "I love helping improve the quality of life for patients. It's very rewarding." He then went on to complete his fellowship training in Oculoplastic surgery, specializing in techniques of plastic surgery as it relates to the eye and the related surrounding structures, such as eyelid repairs, brow-lifts, tear duct surgery and treatment of thyroid eye disease.
The health of the patient is always Vekovius' number one concern–and he hopes his patients will keep that as their number one priority as well. "I direct all patient care toward not only the cosmetic appearance of the eye and eyelid, but also on the health of the eye," said Vekovius.
Trained by Thomas C. Spoor, M.D., Vekovius also was taught the art of laser skin resurfacing and treatment of facial veins and blemishes, as well as the use of Botox and fillers. He then sought further training in Neuro-Ophthalmology, which is the subspecialty of Ophthalmology and encompasses the optic nerve, the nerves which control eye movement and the connections with the brain. In addition, Vekovius is an expert in skin cancer excision and reconstruction. Today, he continues to perform multiple surgeries each month to remove cancer from the eyelids and face and rebuild the defect to produce an aesthetically pleasing result.
Some think of cosmetic surgery as something for movie stars and the very wealthy. That's not the case. "This isn't a glamorous profession–it's for everyone," said Vekovius. "What I do in my practice is really serviceoriented. I'm truly dedicated to my patients' vision and overall health."
Despite the lack of glamour, for Vekovius, his chosen career is akin to a dream job–he gets to help others and make a difference. "I'm really here to help people in need," said Vekovius. "My staff and I are wholly committed to providing quality, compassionate care, while using the most current and up-to-date techniques."
"You want to see better and look more rested and attractive, while still maintaining a natural look. No one wants to appear to have had cosmetic surgery." Vekovius adds, "Look Better, See Better!" Not all issues are cosmetic. There are many common eye diseases that can cause pain or vision problems, as well. Dr. Vekovius is a specialist of treatment of tearing, watering eyes, dry eye syndrome and ophthalmic manifestations of neurologic disease such as Multiple Sclerosis and Parkinson's disease. Other conditions which Vekovius treats on a daily basis are eyelids which turn out (ectropion), eyelids that turn in (entropion) and misdirected eyelashes (trichiasis).
Dr. Vekovius' Shreveport office is located in Ashley Ridge Business Park at 450 Ashley Ridge Boulevard. To learn more, call 318-675-3733 or visit www.drveko.com.
450 Ashley Ridge Boulevard | Shreveport, LA 71106 | (318) 675-3733 | www.drveko.com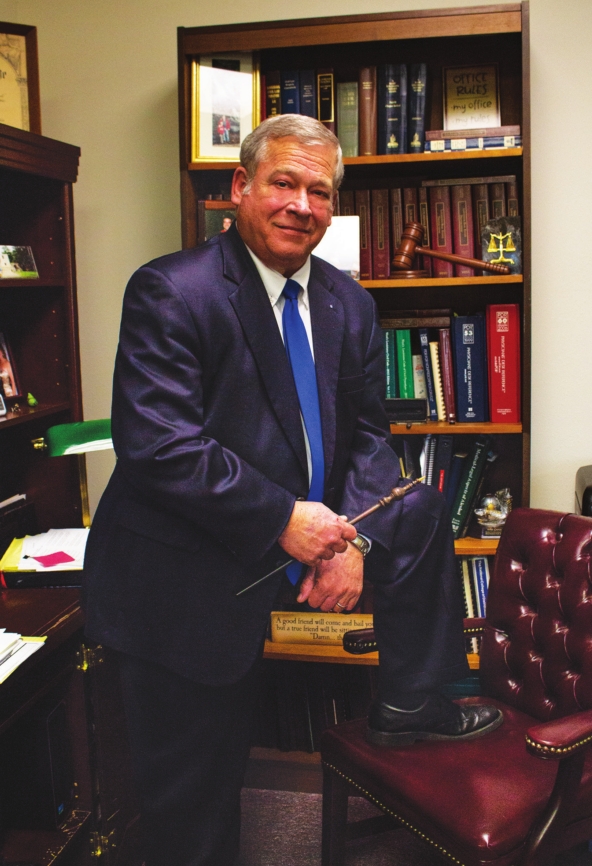 Whitley Graves, APLC
DWI/DUI
318-965-5001 4705 Palmetto Road, Ste. 3 Benton, Louisiana 71006
whitgraves.com
After graduating from LSU Law Center with his Juris Doctorate in 1988, Whitley Graves immediately went to work as an Assistant District Attorney for Henry Brown, who was the District Attorney for Bossier/Webster parishes at the time (now chief judge of the Court of Appeals, Second Circuit). In 1999, after rising to the position of Chief Prosecutor, Graves left the District Attorney's Office and set out on his own, opening his own office between Benton and Bossier City, where he has been for over 18 years.
Graves said he was concerned about opening his own business instead of joining an established law firm, but that he had learned budgeting and management from other attorneys he associated with that were successful, and he quickly recouped his initial investments. Even though he earned his law degree from LSU, Graves' other experiences include a degree in Law Enforcement and a degree in Criminal Justice from LSU-S, and a career with the Louisiana State Police, which he retired in 1985 to attend law school. As a former trooper and prosecutor, it was easy for Graves to select the field of DWI/ DUI to restrict his business to, having vast experience in the area.
Graves is a member of the Louisiana State Bar Association and is licensed to practice in all Louisiana courts, the Federal Court for the Western District of Louisiana, the U.S. Fifth Circuit Court of Appeals and the United States Supreme Court. He is an active member of the Masonic Lodge, the Scottish Rite, the Royal Order of Jesters and the El Karubah Shrine, where he has served as an Ambassador and Master of Ceremonies for the Shrine Circus for over a decade.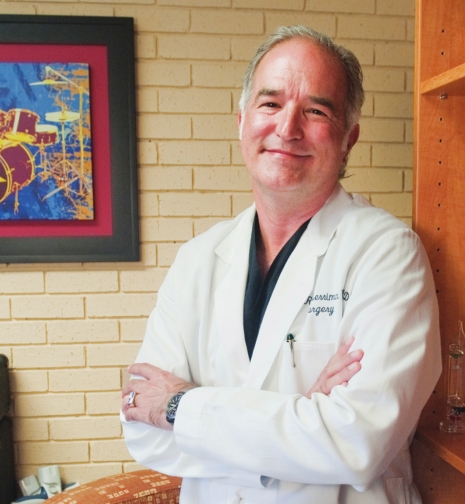 George R. Merriman II, MD
SURGERY, GASTRIC BALLOON & MEDICAL WEIGHT LOSS
FREEDOM FROM OBESITY ® (318) 222-3132 freedomfromobesity.com
BODY SCULPT SHREVEPORT (318) 222-4282 bodysculptshreveport.com
949 Olive Street , Shreveport, LA 71104
George R. Merriman II, MD, FACS, FASMBS is an independent physician working at Christus Highland and Willis-Knighton North. A rare breed of independent doctors left in this community, Dr. Merriman has prided himself on running an independent practice for over 25 years. As Dr. Merriman explains, "Having my own practice allows me the freedom to hire and train the employees that I need and run my business up to my standards and to never have to answer to a hospital administrator. The highest quality patient care is number one to me and that means making some decisions to support our patients in a way that does not always improve the 'bottom line' of the business." Dr. Merriman's wellrounded life experiences foster his commitment to treating his patients as more than their disease by following a simple philosophy — always treat people as an end unto themselves, and never as a means to an end.
Dr. Merriman was born in Louisiana but grew up all over the South, including Arkansas, Texas and Alabama. Dr. Merriman did his medical training in Birmingham, Ala. at the highly ranked UAB General Surgery residency program. After his medical training, Dr. Merriman returned to his roots in Louisiana and joined The Mason-Itzig Clinic in 1992. "I was really blessed to have the opportunity to work with two fantastic surgeons and business partners, Dr. Keith Mason and Dr. Charles Itzig, who taught me, amongst other things, the timeless value of private practice medicine and surgery," says Merriman. He has always been interested in all things technological, fostering his early interest in laparoscopy as well as surgical robotics. He is dedicated to remaining on the "cutting edge" of knowledge and innovation in his area of surgery. Merriman has continued to push forward the trail blazed by Dr. Itzig and Dr. Mason, who led the movement to introduce Laparoscopic, minimally invasive surgery to the Ark-La-Tex region in the 1990's. Upon Dr. Itzig's retirement in 1996, the practice's name was changed to Surgical Specialists of Shreveport, LLC and remains the legal name of the clinic today.
Today Dr. Merriman specializes in bariatric weight loss surgery, which he began doing during his training at UAB. In the late 1990s, he continued to learn about this life transforming surgery in association with Dr. Kenneth "Buddy" Jones, one of the national founders of the specialty of bariatric surgery. Under the registered trademark Freedom From Obesity®, Dr. Merriman transformed his general surgery practice into a safe place for those who suffer with obesity to both come and learn about the latest research in obesity and to have multiple options for treatment including surgery, non-surgical devices, such as intragastric balloons (OBALON, ReShape and Orbera) and medical weight loss. Dr. Merriman performs the Vertical Sleeve Gastrectomy, Roux-en-Y Gastric Bypass, Lab Band, Lap Band with Plication, SIPS, and revision surgery of failed prior bariatric surgeries. In addition, he still performs certain general surgeries which have an intrinsic association with bariatric surgery but may not be limited to those who suffer with obesity. These include antireflux or heartburn surgery such as the LINX device or Para Esophageal Hernia Repair, as well as gallbladder removals, and all nature of abdominal hernia repairs.
In 2017 Dr. Merriman also added noninvasive body sculpting to his service line,and started his additional brand, Body Sculpt Shreveport. Dr. Merriman explained, "I have resisted adding – aesthetic – procedures to my practice for many years, but when I found this non-surgical technology and saw how effective it is in terms of reducing limited sections of fat around the waist, hips and thighs, I knew this was a logical addition to my practice."
Dr. Merriman entertains FreedomFromObesity.com himself with his inborn love of music (he has been an accomplished drummer since the age of 12), movies (especially sci-fi and westerns), speaking (he was the national college debate champion of 1983) and the Green Bay Packers (having made several "pilgrimages" to the frozen tundra of Lambeau field), and travel. He and his wife of more than 30 years, Katy, now run the medical practice together keeping the highest standards of patient care and service as their top priority.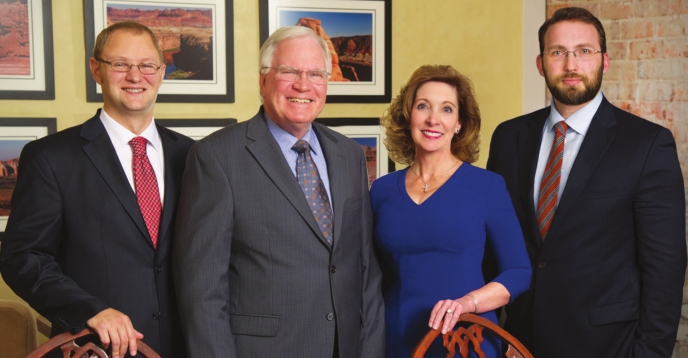 William W. Murray, Jr. John L. Hammons, Cornell R. Flournoy and Phillip S. Prejean
NELSON & HAMMONS
Louisiana Medical Malpractice Law Firm
705 Milam Street, Shreveport, LA 318-227-2401 • www.nelsonhammons.com
Nelson & Hammons is a Louisiana medical malpractice law firm, and its attorneys have championed the rights of victims of serious medical malpractice for over 30 years. Pictured above, the firm includes John L. Hammons, Cornell R. Flournoy, William W. Murray, Jr., and Phillip S. Prejean. The firm emphasizes a team approach, so each client benefits from the experience and energy of every attorney.
The attorneys of Nelson & Hammons work diligently to be advocates for the patients. The attorneys are committed to providing professional guidance and representation for those patients, and families of patients who have been seriously injured as a result of substandard medical care. With all four attorneys emphasizing medical malpractice, Nelson & Hammons is specially situated to thoroughly investigate and effectively handle such cases. In order to better help people throughout Louisiana, the firm has offices in Shreveport and Lafayette.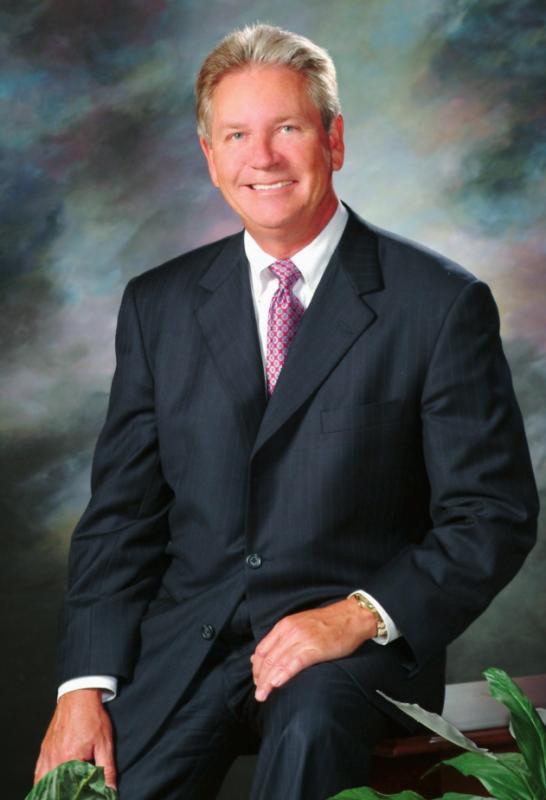 T. Craig Lewis III, CPA, CFP ®
T. Craig Lewis III, CPA, CFP®, has been named fourteen times as "One of the Nation's Best Financial Advisors for Doctors" by Medical Economics magazine. Lewis and his professional team offer all the traditional, professional wealth management and investment services. They specialize in IRA rollovers and in retirement distribution planning, and utilize an Income for Life Model ® . This asset allocation strategy is designed to maximize retirement income and minimize risk aversion. www.tclewis.incomeforlifemodel.com.
They also use patented risk alignment software that objectively calculates an investor's true risk tolerance level. Every investor should know their Risk Number determined by utilizing a scientific framework that won the Nobel Prize for economics. Then portfolios can be custom created based upon each client's Risk Number. Many investors are invested wrong. This objective analysis aligns their portfolio with their Risk Number. Do you know your Risk Number? Complete the risk number questionnaire at www.lewisfinancialgroup.com.
Lewis is uniquely qualified as both a CPA and a Certified Financial Planner (CFP ® ). Unlike other financial advisors, he is not an employee or representative of any one company. This independence allows him to best serve his clients without any conflicts of interest. His clients' concerns are his only concerns. Lewis has more than 30 years experience in the financial services industry. Lewis began his career with KPMG, one of the largest international CPA firms. He is currently the owner and principal of Lewis Financial Group, L.C., which is a member of FINRA and SIPC. www.lewisfinancialgroup.com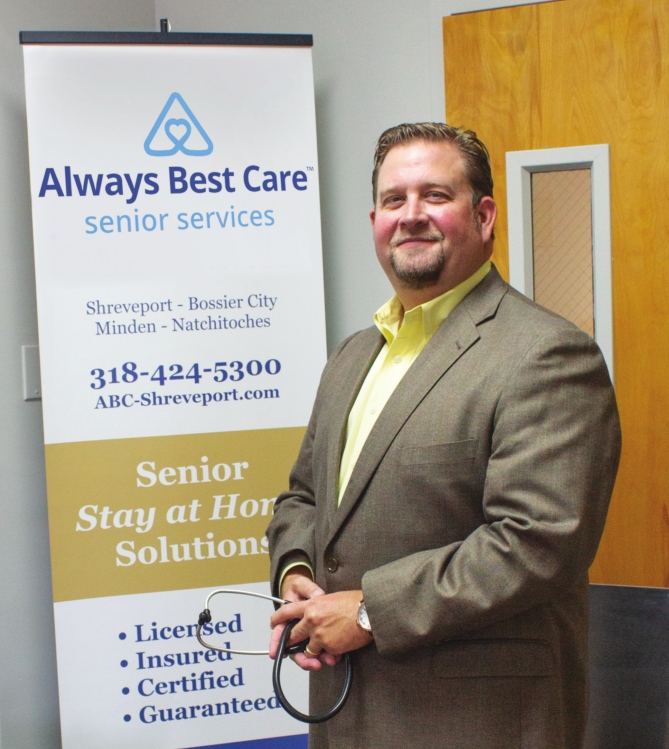 Keith Carter
OWNER & CEO
Always Best Care senior services
4700 Line Avenue, Suite 111 Shreveport, LA 71106
(318) 424-5300

abc-shreveport.com
As owner and CEO of Always Best Care (ABC) Senior Services, Keith Carter leads an outstanding team of managers and caregivers. They help achieve ABC's goal of providing the best in caregiver services for the Shreveport/Bossier area. ABC has eight outstanding managers and over 75 welltrained and certified caregivers. They provide the most advanced senior care in the market. Carter also adds that with the addition of their CNA staffing service and "Mom Care," they are the preferred caregiver service for hospitals, families and the VA in Northwest Louisiana.
Since 1996, ABC has helped thousands of families with non-medical, in-home care and assisted-living referral services. ABC takes pride in helping community members age with dignity. They are able to assist their clients' needs with a variety of services. Carter says it is very important that they provide the best care for seniors.
"The ability to 'age in place' is so important, we are able to fill the void in the health-care system by providing four to 24 hours of care in the home, rehab or hospitals," Carter said. "Patients need the gentle art of having a caregiver to assist them in their activities of daily living and ABC prides ourselves in being the 'Senior Solution.'" Forming strong relationships with area hospitals, social workers, senior communities and senior resources has been a great tool for ABC. It enables them to make sure they have all the resources they need to meet the needs of their clients.
When Carter isn't providing great service for his clients, he is spending time with his wife, Kimberly, and their two daughters, Kennedy and Karrington. He enjoys spending time golfing, along with other outdoor activities. Going forward, Carter will continue to work with his team at ABC to provide comfort and support for seniors in the community.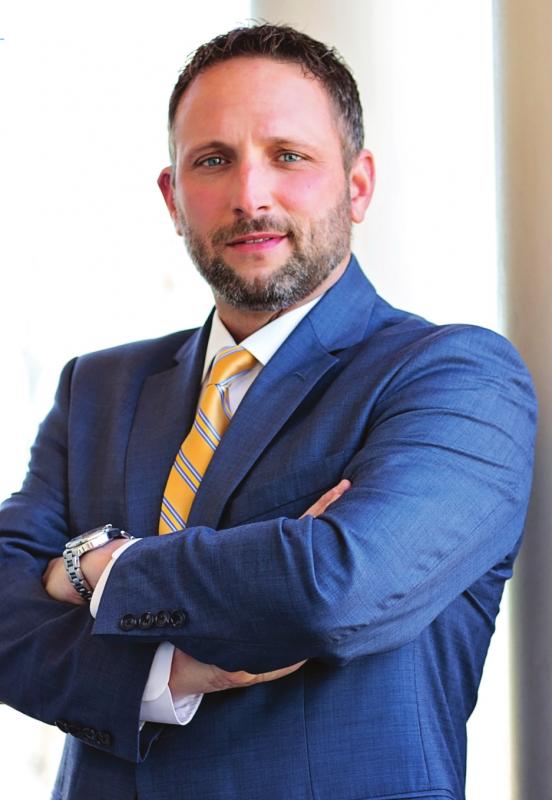 Yves M. Verret III
ATTORNEY AT LAW
3985 Airline Dr, Bossier City, LA 71111 (318) 742-7474 verretlawfirm.com
Yves M. Verret III is a local attorney with a passion for helping people in need.
Yves is a Louisiana native and a veteran of the U.S. Marine Corps. He obtained his B.A. in criminal justice from Northeast Louisiana University, and subsequently entered the work force, prior to attending Southern University Law Center in Baton Rouge, La., where he obtained his Juris Doctor. Upon completion of law school, Yves moved his family to Shreveport, where he started working as a law clerk at the First Judicial District Court in Shreveport, La.
Yves now maintains a successful private practice located at 3985 Airline Drive in Bossier City, La. 71111. His practice is primarily focused on personal injury/ motor vehicle accidents, criminal defense and domestic matters. "Each case presents its own unique set of circumstances/facts necessitating creativity and critical thinking. Every client matters to me, and I strive each day to communicate same to clients through my actions, by zealously advocating for their best interest."
In addition to his trial practice, Yves started a new business venture in 2018, recently opening the doors to Sevy Title, LLC, located at 1000 Benton Road, Bossier City, La. 71111, providing Northwest Louisiana with title insurance and closing services for residential, commercial, refinanced properties, as well as a new construction. Sevy Title is fully staffed, and is managed by a seasoned escrow officer with over 20 years in the title industry. For more information, contact Sevy Title, LLC, at (318) 900- SEVY(7389) or visit his website at www. sevytitle.com.
Through his life experiences and as a practicing trial lawyer, Yves has become acutely aware of the importance in hiring driven people with experience, who share his passion for helping those in need. "I am incredibly fortunate to have such great support staff at both my law office and title company. Amanda Tucker, Courtney Leggett and Dee Dee Papenhausen make it possible for me to focus on the client/task at hand, and without question are a crucial component to my success."
In his spare time, Yves enjoys spending time with his wife, Bridget, and 11-year-old son, Ethan, traveling, and giving back to his community through organizations such as March of Dimes and Easter Seals, where he has served on the local boards of both organizations, and is now currently serving on the Easter Seals Board of Directors for the State of Louisiana. Verret is also an avid outdoorsman.
For his professional achievements and commitment to the betterment of Shreveport-Bossier City, Yves was nominated and subsequently selected as a member of "Shreveport-Bossier's 40 under 40 class of 2012". He has also been recognized on numerous occasions in SB Magazine's annual "Top Attorneys" edition.
Yves is a member of the American Bar Association, the Louisiana State Bar Association, the Shreveport Bar Association, the Bossier Bar Association, the Louisiana Association for Justice, the Krewe of Justinian, and is also a member of the Marine Corp Association and the National Rifle Association.