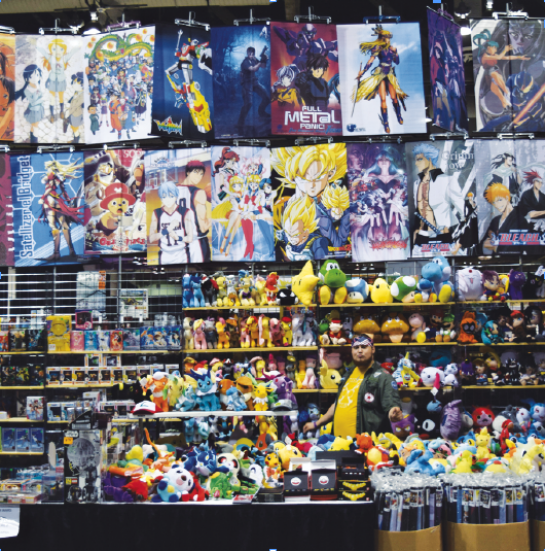 Louisiana's fastest-growing nerd event returns Aug. 17-19
The fastest-growing comic con-style event in Louisiana will bring stars including WWE Hall of Famer Mick Foley, MTV Superstar Bam Margera, actor Erik Estrada and more to downtown Shreveport Geek'd Con, a popular annual fan convention will return to Shreveport Convention Center Aug. 17-19. The three-day convention welcomes more than 10,000 attendees annually to browse vendor booths, meet celebrity guests, attend panel discussions and more. Single-day admission to Geek'd Con ranges from $10 to $20, with adult weekend passes available for $25, and VIP Passes available as well. Children ages 10 and under will be admitted free of charge, and Friday night is Military Night, where anyone with a military ID will be able to get in for free. For complete event details, including a link to purchase tickets, visit www.GeekdCon. com.
Celebrity guests scheduled to appear at Geek'd Con include: Chris Sarandon, the voice of Jack Skellington from "The Nightmare Before Christmas," Prince Humperdinck from "The Princess Bride," as well as starring roles in horror classics "Fright Night" and "Child's Play"; Mick Foley, WWE Hall of Fame member, former WWE champion during the "attitude era"; Bam Margera, from MTV's "Jackass," "Viva La Bam" and "Bam's Unholy Union"; Helen Slater, the original screen version of Supergirl from the 1984 movie "Supergirl"; John Wesley Shipp, TV's original Flash, as well as Jay Garrick in the current CW TV show "The Flash"; Matthew Wood, actor known for "Star Wars: Episode III – Revenge of the Sith"; Daniel Logan, Boba Fett from "Star Wars Episode II" and "Star Wars Clone Wars"; Erik Estrada from the TV classic "CHiPS"; Mike Grell, legendary comic book artist known for his work on characters like Green Lantern, Batman, Superman, The Flash, Green Arrow and more; Shreveport's own Tim J. Smith, who appeared earlier this year in Marvel's box office smash "Black Panther"; John Lucas, artist known for Deadpool; and many more.
In addition to celebrity guests, Geek'd Con will include vendors of all shapes and sizes selling collectible items including comic books, clothing, video games, original works of art, handmade items and more. The event will also welcome a variety of professional cosplay groups and will include a full-scale cosplay competition.
Geek'd Con hours of operation will be: 6-9 p.m., Friday, Aug. 17; 10 a.m.- 7 p.m., Saturday, Aug. 18; 11 a.m.-5 p.m., Sunday, Aug. 19. The Shreveport Convention Center is located at 400 Caddo St. in downtown Shreveport, and free parking will be available all weekend long. For more information on Geek'd Con, visit www.GeekdCon.com.
For more information on planning a visit to Shreveport-Bossier, visit www. Shreveport-Bossier.org or call (800) 551-8682 to request a free copy of the Official Visitors' Guide to Shreveport- Bossier.