... to get a new, lofty life as apartments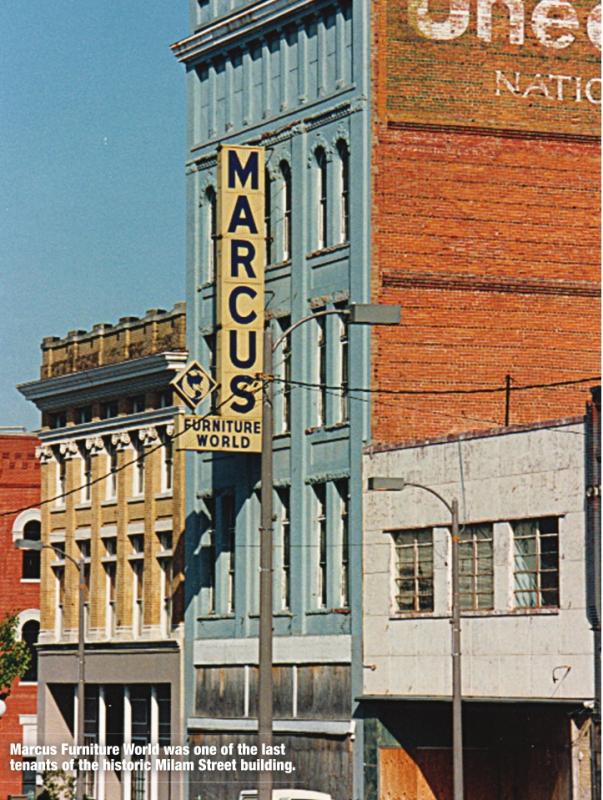 It's ironic that one of downtown's most loved structures is known for a painted ad for an item that was never sold there.
Prior to becoming the building, 711 Milam was known as the Vordenbauman-Eastham Company building, and later as the Marcus building for the furniture store that did business there. When it was constructed in 1902, the five-story, orange-brick structure overshadowed everything around it, and for a time it was the tallest privately owned building in the city.
Over the years, you could purchase everything under the sun there – from horse-drawn carriages and brass cuspidors to shotguns and screen doors. It was home to a carriage and hardware shop (1913), an armory for the National Guard (1917), a warehouse (1923), a grocery (1926), a furniture store (1933- 1952), and an art gallery (2006), but its next incarnation is likely the one that will save it.
For several years, the building has suffered the ravages of roof leaks and wet timber, and earlier this year, more of the roof collapsed inward, taking additional 100-year-old structure to the ground. The building needed a hero or two, and it needed them quickly.
For a year prior, developers Edward Taylor and Wayne Brown had been interested in the building – the looks, the lines, the history. Their interest was piqued after an Artspace Projects Minnesota report on the space needs of local artists that showed the Uneeda could fill a creative sweet spot in the area known as Shreveport Common, a nine-block art and culture district downtown.
The building was not without significant challenges – it was a bit small, a fair amount over-priced, and it was suffering from deferred maintenance of the sort that encouraged other potentially interested parties to flee. For Taylor and Brown, the daunting Uneeda was nothing compared to a project they had just completed in New Orleans, the Josephine Lofts, a historic conversion with many more structural issues and red tape. Bigger than the Uneeda structural challenges were getting the sales price to the point that it made sense to them to continue, and acquiring the financing needed to complete it.
Final approvals for state and federal historic tax credits are being ironed out, and initial work to stabilize the interior of the building will begin soon. When finished in late 2019, the Uneeda Biscuit Lofts will house at least 32 600-squarefoot one-bedroom apartments with brick walls, wood floors, natural light and high ceilings.
Upon entrance to the building via a large, glass front door on Milam Street, you will be greeted by a leasing office and other open offices, including possible commercial rental space and tenant amenities such as a lounge and artist work space. A stairwell on the first floor will lead to a mezzanine that will feature gallery and display space for the artist residents. A full basement will also include artist work space.
Half of the 32 apartments will be for those creatives with limited salaries; 16 will be available at market rate. Applications for all will be available two to three months prior to completion at the end of 2019, and rental rates will be announced then.
The vacant lot next door, once home to another historic building, will be used for parking and perhaps a tenant greenspace. The lofts are really perfectly situated on one of the prettiest blocks downtown with amenities such as the beautiful Asian Gardens, the Strand Theater, Emmett Hook Performance Center, Central ARTstation, artspace, Robinson Film Center, Rhino Coffee and the Shreveport Common park all within quick walking distance.
The rehab is a much-needed new day for the old Uneeda building. We are thrilled to see it not only saved but put back into use as an art-filled residential hub in downtown's western edge.
– Liz Swaine