New dining options offer Cajun fare, cool vibes and quality service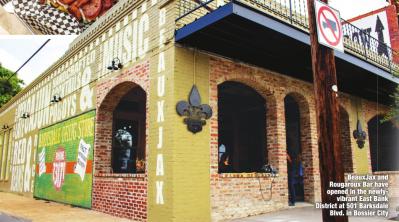 and Rouxgaroux Bar are two new tasty offerings available in the Shreveport-Bossier area.
"The mission at BeauxJax Crafthouse is to make our home your home," Beau Hays, owner of BeauxJax, said. "We have great food, handcrafted cocktails, friendly service and Cajun libations!" Located within walking distance from Shreveport-Bossier casinos and also with easy access to Interstate 20, BeauxJax Crafthouse is the perfect dining locale for both locals and tourists.
What started as a food truck in 2016 changed to include a dining facility located at 501 Barksdale Blvd. in Bossier City. The Crafthouse, which opened in July, has seen enormous success already. Currently, the Rouxgaroux Bar plans to open at the end of July. What first started as a quick service for nightlife morphed into a fun dining experience and full office and festival catering.
The Crafthouse offers a bar, Cajun-Creole food such as po-boys, muffalettas, etouffee and jambalaya, and entertaining live music. The Rouxgaroux Bar will also include an age-21-and-up bar with video poker.
"My favorite part of my job is meeting new people and creating mouthwatering dishes," Chef Peanut said. "We bring a locally owned business, where the owner visits every table to ensure everyone is satisfied. We offer Creole-Cajun food, hurricanes and gator bombs."
With a modest start-up budget, BeauxJax managed to create a solid reputation as a delicious, dependable go-to for hungry locals. "We're centered around simple, flavor-packed Cajun fare and high-energy quality service," Hays said.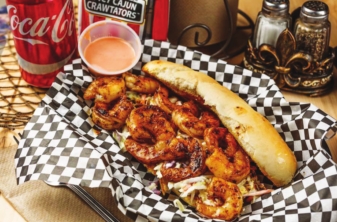 The popularity of food trucks in the community also helped contribute to the quick success of their crafthouse. "Diversity in food truck setup has lent itself nicely to the natural growth to a full-service catering company," Chef Peanut said. Creating a welcoming atmosphere along with their Cajun, unique recipes have become the rock that BeauxJax firmly stands upon.
Today, BeauxJax is servicing an array of different style setups, including homeowner associations, office complexes, hospitals, farmers' markets, apartment complexes, concerts and festivals. Their food truck now travels within a 200-mile radius.
"In the near future, we hope to expand into Little Rock and Fayetteville, Ark., as well," Hays said.
For more information on BeauxJax Crafthouse and Rouxgaroux Bar, find them on Facebook or visit https://www.beauxjax.com/.
– Besty St. Amant Haddox