Finding the right countertop design and material to fit your lifestyle
Bruce and Cody Waters, president and general manager of Waters Specialty Countertops Inc., run a family-owned business and have enjoyed getting to bring unique styles and beauty into clients' homes since 1980.
Waters Specialty Countertops (WSP) offers tile floors, showers and backsplashes as a one-stop service, but countertops are their specialty. "Our bread and butter are granite, marble, quartz, quartzite, Corian and Formica countertops," Waters said.
"My favorite part of the job is helping people make good choices of products to fit their style, as well as their lifestyle, such as in how much they clean and cook," Waters said. "I help them decide if they need natural granite and quartzite, or if they'd rather have non-porous, engineered surfaces like quartz or Corian. We're also careful to help clients stay within their budget and not even show items they can't afford."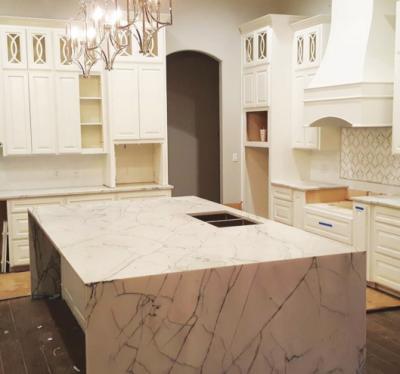 Waters also shows clients color options that coordinate with their overall color schemes, and helps them steer clear of potential color clashes. The company offers over 100 colors of granite, over 30 colors of exotic quartzite, and quartz and marble, all in stock at their location at 600 W. 62nd Street in Shreveport.
"I really enjoy hand-selecting all of our natural stone slabs from various sources," Waters said.
"The slab you pick is the slab you get," Waters guaranteed. "You can hand-pick your slab and not have to go off a small sample, so you can actually see what you are getting. This slab yard we offer is the biggest in Shreveport and sets us apart from competitors."
WSPoffers the backlit Patagonia quartzite, which contains LED strip lighting in the cabinets. This is one of Waters' personal favorite features. "This lighting can be turned off and on with a small push-button switch on the countertop," Waters said. "It's the quartz in the stone that is transparent." Waters installed one with red lights that could be turned on when entertaining. "We also did the Allure Ultra Bar on the second floor of the Eldorado years ago, and it has a backlit orange bar with Corian Solid Surface Illuminated and thick granite crown on the edges."
Currently, quartzite is very popular and is serving as the new granite. "We have the largest quartzite selection in town," Waters said. "Also, quartz is becoming very popular because they are non-porous slabs and don't require any maintenance."
Waters Specialty Countertops Inc. is a family affair. Waters' grandfather, dad and brother all worked for Stephenson Floors in the 1970's before starting their own company in 1980. "After a few years, they stopped crawling on floors and did the coved Formica laminate countertops for nearly everybody until the late 1990s," Waters said. "Then they were the first to do Corian solid surfaces and later in the mid-2000s, granite, quartz and marble fabrication."
Though his uncle and grandfather retired, Cody and his father still continue to work together. "A lot of the houses we update with granite have Formica laminate that we installed 20 to 40 years ago," Waters laughed. "A lot of our business comes from folks walking into our showroom and granite yard and wanting to take off the old Formica and install granite or quartz with a tile backsplash."
Waters and his father stay busy, and more importantly, stay keeping customer service and satisfaction their number one priority.
For more information, visit www.wstops.com and click on virtual kitchen and virtual bath.
– Betsy St. Amant Haddox