Top Business of the Year: Maxim Watermakers
Maxim Watermakers, LLC is one of four local businesses to be honored as 2018 Small Business of the Year.
"We are honored to be receiving this recognition," said owner Brian Hebert, who also manages the company.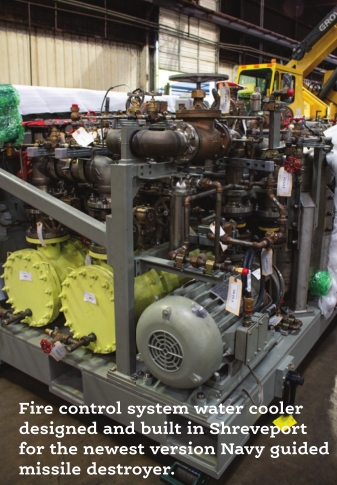 Maxim Watermakers designs, engineers and manufactures water treatment equipment, specializing in distillation and membrane technologies. Maxim has 70-plus years of experience working with clients to provide solutions for waterrelated needs, both onshore and offshore.
"A significant part of our growth comes from work we are doing with the U.S. Navy," Hebert said. "We have worked very hard to secure this contract award from the Navy, and this (award) is a tribute to the talent, dedication and hard work by the Maxim team."
"As a small business, Maxim is able to be efficient and responsive to customer needs, which is a good fit with what the new Navy is looking for," he continued.
Maxim offers a broad range of services to clients, including technical assistance during equipment installation, system commissioning and start-up, operator training and troubleshooting.
"Due to the depth and diversity of Maxim's experience, we are able to serve clients in the marine, offshore and landbased oil and gas, and military industries," Hebert said.
The company utilizes a one-on-one, customer-focused approach with each client, working to build a long-term relationship after the sale and providing personalized service and support through in-house engineering and maintenance professionals.
"We are hopeful that this recognition will build awareness locally of Maxim's water-treatment technologies and knowhow, and we look forward to serving local industry," Hebert said.
Maxim's revenues have more than doubled from 2016 to 2018, and the company has nearly doubled its employee base, growing from nine employees in 2016 to 17 employees in 2018.
As part of its growth plan, Maxim is investing in building improvements and the purchase of manufacturing equipment using local suppliers.
Hebert says Maxim makes every effort to bolster the local economy.
A resident of Shreveport, Hebert is a member of the Manufacturers Council of Northwest Louisiana. He also actively supports local fund-raising initiatives, including the Salvation Army and the Caddo Parish Sheriff's Office.