Celebrating 40 years of providing Shreveport with tasty soul food
On July 14, Eddie's Restaurant, a humble Shreveport eatery located at 1956 Hollywood Ave., celebrated 40 years in business. The restaurant was founded in 1978 by Chef Eddie Eugene Hughes. Prior to opening his own restaurant, Hughes had worked for many years in the kitchen of Shreveport's historic Freeman & Harris Café. He is believed by many to have created or helped to create the original recipe for Shreveport-style stuffed shrimp while working there. While Eddie Hughes died in 1995, the restaurant is still operated by his family, including his widow Lois, his daughter Mavice, and his son Geno.
For many years, Eddie's flew under the radar, quietly feeding the neighborhood, family and friends. The restaurant received a jolt of new life when Southern Living magazine listed it among the "Best Soul Food Restaurants in the South" in their October 2015 issue. This high-profile bit of publicity seemed to renew interest in the eatery, especially in their "Shreveportstyle" stuffed shrimp, which makes the restaurant unique among so-called "soul food" eateries. Louisiana Cookin' magazine out of New Orleans profiled – with a particular focus on their stuffed shrimp recipe – in their May 2017 issue.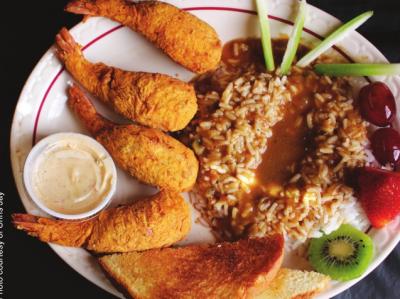 "For a city like Shreveport to have a dish like this is really important for its history and for its future as a food destination," said Daniel Schumacher, editor of Louisiana Cookin'.
History provides plenty of examples of dishes or recipes that have become major tourist attractions in their cities of origin. It would be hard to imagine a trip to Philadelphia without a Philly cheese steak, a trip to Buffalo without chicken wings, or a trip to Nashville without a sizzling platter of Nashville hot chicken. It is not difficult to envision a future in which "foodies" from around the world make the trek to Shreveport to experience authentic, Shreveport-style stuffed shrimp.
"People come from miles around to get these stuffed shrimp," said Mavice Hughes Thigpen. "They come from Dallas, Arkansas, Texarkana – everywhere. And we get a lot of people who come in because they've read the article in Southern Living."
Currently, there are about a dozen local restaurants that serve some version of the Shreveport-style stuffed shrimp, making it possible for visitors to sample several interpretations of this unique recipe – a "Shreveport stuffed shrimp trail," if you will. Among the restaurants serving stuffed shrimp are the recently reopened, outstanding Orlandeaux's Café (formerly Brother's Café), which also has deep roots in the community and historic ties to the origins of Shreveport-style stuffed shrimp. Orlandeaux's Café is a phenomenal eatery that must be included in any conversation about stuffed shrimp.
But there is something magical about Eddie's Restaurant.
Despite its humble exterior and small dining room, the restaurant radiates warmth and hospitality. On any given day during lunch, almost every table is occupied by "regulars" who greet one another and inquire after one another's families. Family photos cover the wood paneling walls. Plates are piled high with candied yams, steaming hunks of cornbread, greens and stuffed shrimp surrounded by mountains of rice and gravy. Their smothered fried chicken – fried to order and drowned in rich, brown gravy – is one of the most outstanding "soul food" dishes in northern Louisiana.
Despite its outstanding food and an increasing amount of media attention, many local culinary enthusiasts have not dined at Eddie's Restaurant. On some level, it is possible to understand why. The neighborhood surrounding the restaurant has seen better days, and the hours of operation are limited to 11 a.m.-6 p.m. The simple, down-home comfort food found on the menu at Eddie's Restaurant has resulted in its omission from many of the heavily hyped food events in Shreveport- Bossier. You won't likely see Eddie's Restaurant competing at the Louisiana Food Prize or spotlighted at an upcoming farm-to-table gastronomy event. In other words, Eddie's Restaurant – one of the most historically significant restaurants in northern Louisiana – has, largely, been left out of the conversation.
The simplest and best way to remedy this problem is by stopping in for lunch and experiencing the delights of an authentic neighborhood eatery. The restaurant is also sometimes featured on Chef Hardette Harris's "Us Up North" Food Tours, which are wonderful tasting tours highlighting many of Shreveport-Bossier's most unique restaurants. Eddie's Restaurant is also available for delivery via Waitr.
"Shreveporters ought to expand their awareness of this signature dish," said artist and educator Robert Trudeau. "Discuss stuffed shrimp. Have a conversation about Shreveport stuffed shrimp!" To view a short documentary film about Shreveport-style stuffed shrimp, visit www. Youtube.com and search for "Shreveport stuffed shrimp." To learn more about the food culture of Shreveport-Bossier, visit www.Shreveport-Bossier.org/EatHere.
– Chris Jay