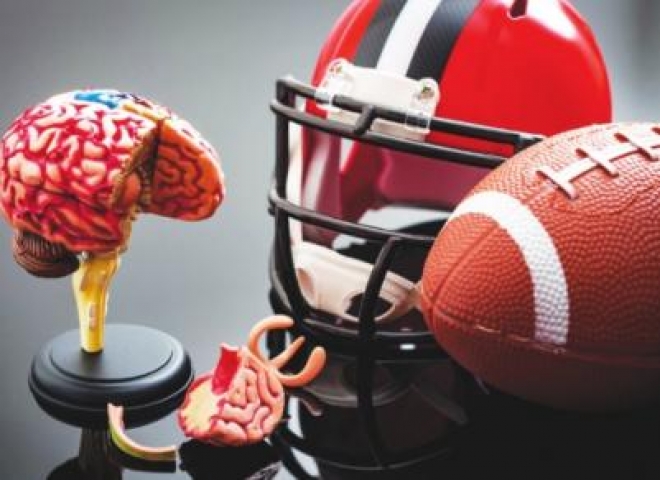 Concussions: A silent and deadly injury
Sunday, Sept. 2, marked the beginning of LSU football season. While the news is filled with the latest football rankings and fans dressed in their favorite team apparel, this time of year also brings about more and more coverage of the increasing number of sportsrelated traumatic brain injuries (TBIs), namely concussions.
A traumatic brain injury (TBI) is defined as a blow or jolt to the head or a penetrating head injury that disrupts the normal function of the brain. TBI can result when the head suddenly and violently hits an object, or when an object pierces the skull and enters brain tissue. TBI is often classified as mild, moderate or severe (based upon the neurological status of the patient at the time of hospital admission). Concussions are a mild form of traumatic brain injury, and many people with concussions do not seek medical care for the condition.
Milder sports-related TBIs, specifically concussions, have received significant media coverage in recent years, in part due to increased reports and growing concern surrounding their long-term effects. According to the University of Pittsburgh's Brain Trauma Research Center, 34 percent of college football players have had one concussion and 20 percent have endured multiple concussions. The risk of a concussion in football is three to six times higher in players who have had a previous concussion.
The evaluation of the athlete suffering from the concussion in the emergency department must also include the determination of the need for emergency neurological imaging, which can help in identifying the rare instance when a lesion requires urgent neurosurgical intervention, such as an epidural hemorrhage. Most patients presenting with concussive symptoms, however, do not require neurological imaging studies.
In the emergency department, athletes with concussions often have headaches, nausea, blurred vision and occasionally confusion / altered mental status. If the mechanism of injury is significant and the patient has any of the above symptoms, imaging of the brain is typically performed (usually a CT brain without contrast). This is done to identify any intracranial injuries, such as skull fractures or intracranial hemorrhage. Patients with any intracranial injury shown on CT scans are typically closely observed in the hospital. Rarely, a significant epidural or subdural hemorrhage may be seen and necessitate emergent neurosurgical intervention.
Concussions (defined as mild traumatic brain injury without intracranial hemorrhage) rarely, if ever, require the surgical skills of a neurosurgeon; however, neurosurgeons are typically experts in the effects of trauma on the brain and can provide valuable input to the treatment plan for patients suffering from the effects of a concussion. Neurosurgeons have advanced specialized training in brain and spine surgery and have expertise in areas from trauma and spinal disorders. Neurosurgeons are often part of the multidisciplinary concussion team in assessing and treating patients with these mild traumatic brain injuries (mTBIs).
There's a growing amount of research and data linking repetitive concussions and short- and long-term neurological consequences. These findings have transformed even professional sports, with the implementation of numerous rule changes and increased educational endeavors focusing on concussions and treatment of athletes suffering from concussions. Movies such as "Concussion" have brought into the forefront the diagnosis of chronic traumatic encephalopathy (CTE). CTE is a degenerative brain disease that is thought to be caused by repetitive brain trauma. Hall of Fame football players such as Mike Webster and Junior Seau suffered from CTE, with Seau and many others committing suicide. Although research has uncovered new identifiers and treatments for concussion, prevention remains the ideal strategy for protecting athletes. Continued education of athletes, parents, coaches and health-care providers regarding recognition and management of concussion is of the utmost importance as we continue to research and advance treatments to prevent and/or limit the short- and long-term effects.
Dr. Guthikonda is a professor and director of skull base research in the LSU Health Shreveport Department of Neurosurgery. He has conducted extensive research in the use of radioactive substances in research, diagnosis and treatment of brain tumors. He has produced more than 100 scientific publications and book chapters and presented nationally and internationally at almost 200 conferences, educational courses and clinics. He currently serves as the president of the Louisiana Neurosurgical Society (LANS), is one of two Louisiana state delegates for the Council of State Neurosurgical Societies (CSNS), is a Diplomate of the American Board of Neurological Surgery (ABNS), and is a Fellow of the American Association of Neurological Surgeons (FAANS). He was recently accepted as a Fellow of the American College of Surgeons and will be inducted in October 2018.