Upscale dining experience with an economical price
What we tried:
Triple Dip – Spinach dip, queso blanco and fresh salsa, served with warm tortilla chips. My favorite was the spinach dip.
Deviled Eggs – Traditional dish, served with bacon. How can you go wrong with a giant piece of bacon sticking out of the top?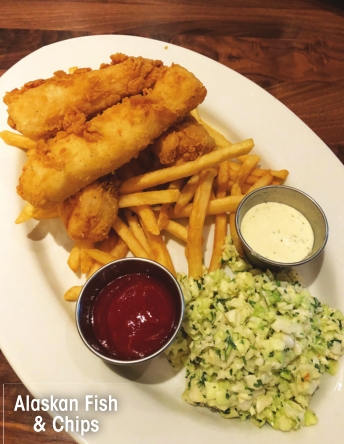 Alaskan Fish & Chips – Beer-battered Alaskan cod, served with French fries and coleslaw. While I'm not British, I have to say that this entrée was quite scrummy.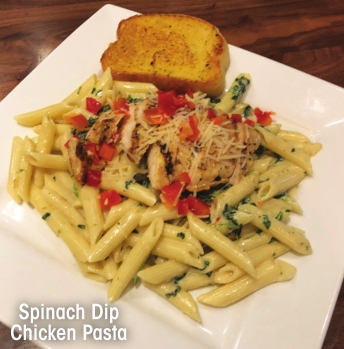 Spinach-Dip Chicken Pasta – Penne pasta with creamy spinach dip, topped with lemon-herb chicken. If you recall, my favorite option from the Triple Dip was the spinach, so this seemed like a good idea. And it totally was. I'm a big fan of Alfredo sauce with pasta, but this creamy spinach dip took things to a whole new level. This entrée, complete with savory garlic bread, was incredible. Because YOLO, we tried both desserts on the menu: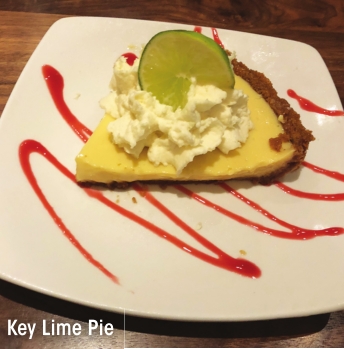 Key Lime Pie – While I'm not a huge fan of KLP, this slice was the perfect tangy flavor. House-made graham cracker crust, fresh key lime filling, all topped with whipped cream.

Hot Fudge Brownie Sundae – Häagen- Dazs vanilla ice cream, house-baked brownie, hot fudge (it's its own giant pitcher!) and fresh whipped cream. It's served in the perfect-sized bowl where you get a bite of all four pieces of this sundae in every bite.
Next Visit:
Brisket Tacos – Slow roasted brisket, queso blanco, grilled poblano, caramelized onion, served inside a corn tortilla.

Filet – I could eat steak every day. The steaks here are served with a dressed baked potato and your choice of one of the eight side dishes they offer.
Vibe: In what was formerly Cheddar's Scratch Kitchen, you'd not know this building wasn't built for Gibbons. The bar has a modern feel, complete with custom margaritas, and the dining rooms have been completely updated and modernized.
Pricing:
Appetizers start at $4.95

Salads & soups start at $3.50

Sandwiches and burgers start at $7.95

Entrees start at $7.50

Desserts start at $4.95 – Mark Crawford
1714 E. 70th Street Shreveport, LA 71106

318.848.7071
Tuesday – Sunday 11 a.m. - 10 p.m.