Fund-raiser to start off with a literal bang
Louisiana troopers know how to start fund-raising off with a bang! The 5th Annual clay shooting fund-raiser will be held on Oct. 6 at the Los Paloma Sporting Range and Event Center in Benton, La.
This annual fund-raiser is not only a fun opportunity for those with shooting experience, but offers a rare and fresh insight into the mission of the Louisiana State Police. All proceeds directly benefit the Louisiana Trooper Foundation (501- C-3) and the Louisiana State Troopers Association (501-C-5).
Lt. Jimmy VanGossen is looking forward to the event. "These organizations serve as charitable facilitators of community service initiatives embraced by your Louisiana state troopers throughout the state," VanGossen said.
Shoot for the Blue is a fun way to raise money as well as have a great time. "Participants that have pre-registered on teams will arrive at approximately 0700 to sign in and grab a coffee and a quick breakfast," VanGossen said. "They'll be provided with gift bags, door prize tickets and golf carts for their teams, if needed. Each team will be assigned a shooting station, and the shoot will begin at 0800."
As an exciting bonus, troopers will be manning each shooting station and visiting with the participants as they move throughout the course. Not only that, but participants will also have the opportunity to view State Police assets, such as the Mobile Command Post, SWAT Bearcat, helicopters and motorcycles throughout the day.
People and businesses alike can participate in several different ways. There are four different levels of sponsorship, along with team entry and door prize donations.
• Founders Club Sponsor – $25,000 and higher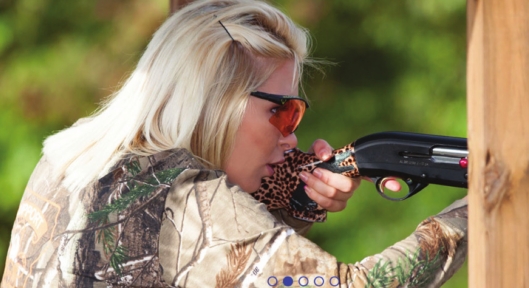 • Colonel's Club Sponsor – $5,000 - $24,999

• Captain's Club Sponsor – $2,500 - $4,999

• Relief Station Sponsor – $500

• Team Entry – $600 per four-person team

• Door Prize Donations

"The sporting clay event normally concludes around 11:30 a.m., at which time participants will be served barbecue provided by Silver Star Smokehouse," VanGossen said. "When shooters return to the main facility, they will be able to check and see if they were lucky enough to win one of our many awesome door prizes!"
Raffle tickets will be available for purchase during the day. Following the lunch, drawings will be held for the numerous valuable items donated through generous sponsors, including products such as guns, barbecue pits, ice chests, cookers, jewelry, gift certificates and more.
"Individuals will also have an opportunity to participate in a live auction of a specially engraved AR-15 rifle," VanGossen said. "At the conclusion of the event, awards will be presented to the first- and secondplace teams, as well as the top male, female and youth shooters."
It's sure to be a day to remember. "We hope through Shoot for the Blue to accomplish a true partnership with our community that benefits the public through our charitable initiatives," VanGossen said.
With 21 years in service, VanGossen loves his career. "My favorite part of my job externally is being able to assist people in need," VanGossen said. "Internally, I love the camaraderie I have with my fellow troopers."
The fund-raiser wouldn't be possible without the help of sponsors. "We're proud to have Willis-Knighton Health Systems as our Founder's Club Sponsor and the support of Mrs. Margaret Shehee, who serves on the board of directors of the Louisiana Troopers Foundation," VanGossen said.
Colonel's Club Sponsors include Yokem Toyota, Rose-Neath Funeral Homes, Fairview Trucking, Roy O. Martin, Testament Construction, Ryan E. Gatti, Attorney at Law, and Bossier Healthcare Foundation.
Captain's Club Sponsors include Republic Services, The Woods Group, Select Energy, Gibsland Bank & Trust, Bruckner's Trucks, Silver Star Steakhouse, Martin Transport, and Clariant Oil & Mining Service.
"We would also sincerely like to thank all our stations sponsors and the many other businesses and individuals that have sponsored teams or donated items for door prizes and raffles," VanGossen said.
Spots are limited to the first 50 teams to sign up, so be sure to get your registration in quickly if you would like to participate! For businesses looking to become a station sponsor or donate items for door prizes and raffles, please contact Lt. Jimmy VanGossen at 318-741-2707.
For more information on the fund-raiser, please visit www.shootfortheblue.com.
– Betsy St. Amant Haddox