Reducing injuries from malfunctioning equipment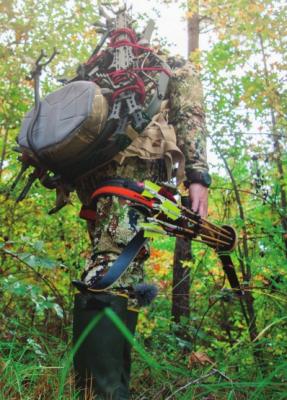 Contrary to popular belief, tree stands, not guns, are the hunter's most dangerous weapon. Falls from tree stands are the number one cause of death and permanent disability associated with hunting. September is Awareness Month, as it is the month most hunters head to the woods to prepare for the upcoming season.
As a health-care provider at a Level 1 Trauma Center, we evaluate and treat a number of these fall-related injuries, of which we have already seen a number of this year. Recent studies at other Level 1 Trauma Centers found that tree stand falls were highly morbid, with 59 percent of fall victims suffering spinal fractures, 47 percent lower extremity fractures, 18 percent upper extremity fractures, and 18 percent closed head injuries. eighty-one percent of accidents required surgical interventions and 8.2 percent of fall victims had permanent neurological deficits. (1) With advancements and proper use of both hunting and safety equipment, these injuries are largely preventable; however, compliance with proper safety harness use is the underlying issue.
The Tree Stand Safety Awareness Foundation (TSSA) is a non-profit organization whose mission is to significantly reduce tree stand accidents through promotion, education and best practices. By following the "ABCs of Tree Stand Safety," hunters can virtually eliminate their risk of falling and injury. Always remove and inspect your equipment before using it. Buckle your safety harness securely. Connect before your feet leave the ground. Studies have estimated that approximately 86 percent of fall victims did not wear a safety harness, and 99 percent of fall victims injured were not attached to the tree or structure.
I am an avid outdoorsman and bowhunter, but more importantly I am a husband and father. Two years ago while bow hunting at a remote location without phone service, miles from the nearest vehicle, I had a close call. I experienced a malfunction of hunting equipment at a 20-foot elevation while setting up my tree stand. Thankfully, my safety harness was tethered to the tree. I fell a couple feet before my safety harness engaged, sustaining minimal injuries. I have pictures of the incident as a constant reminder of what "could" have happened. Without proper use of my safety harness, I know I would have suffered more significant injuries and likely may have had permanent disabilities from that accident. With advancing hunting and safety equipment, I have changed the way I hunt to maximize safety in the hunting woods to ensure that I return home to my wife and son.
There is a continuing need for the education of hunters concerning safe tree stand practices, including education regarding available safety equipment, proper methods of stand placement, avoidance of fatigue and alcohol, and proper methods of stand entrance and exit. I hope this season you choose to practice appropriate tree stand safety and have a safe hunting season.
(1) "Tree Stands, Not Guns, are the Midwestern Hunter's Most Dangerous Weapon." A. Crockett et. al. "The American Surgeon," Volume 76, Number 9, September 2010, pp. 1006-1010(5)
By Alex Fuselier, MD, LSU Health Shreveport. More information from the TSSA Foundation at https://treestandsafetyawareness.org.