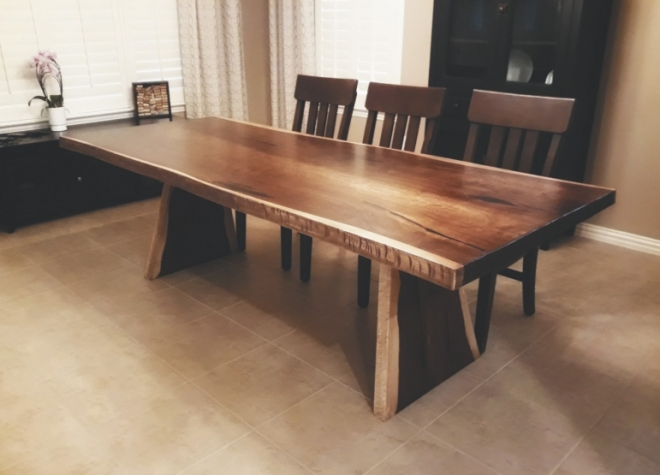 Jimmy Hatfield puts a unique spin on furniture
If you build it, they will come. If they like it, they will buy it. Bossier City's Jimmy Hatfield has 25 years of proof.
In the mid-'90s, Hatfield had a cabinet-making business and received a request from the lady of the house.
"My wife showed me a picture of a farm table in a magazine and wanted one," Hatfield remembered. "When I got around to building her one, all of her friends that came over wanted one. So, I decided, 'Hey, let's just see what happens.' About two years later, we shut down the cabinet business and started building nothing but tables."
A quarter-century later, Hatfield is still building "nothing but tables." The name of his business, Love That Table, is a reflection of what people say when they lay eyes on his work.
"Most women, when they see it, everybody says, 'I love that table!' It's easy for them to remember, 'Oh, where did you get that? I love that table!"' Hatfield, who recently re-married, has no idea how many tables he's made. But he knows he's not making as many as he used to – and that's OK with him.
"I know at one time, we were averaging about 12 to 13 a month," Hatfield said. "Then, the millennials came along, and they were a different buyer. Around 2016, it kind of dropped off a little bit. We're still doing fine, but I'm 63 years old, and if I do eight of them a month, I'm good."
If you can tell Hatfield what you want – or better, show him the table you want – there's a good chance he can make it.
"I'm more of a visual artist," Hatfield said. "I want somebody to give me a picture, give me an idea – not just a bunch of measurements – right down to how much distressing they want on the table. The exact color, the leg style, everything about it."
During all his years in business, Hatfield has never had more than one employee. For the past 10 years, that one employee has been his son, Tanner. Sure, Hatfield could have grown his business by having more workers producing more product. But the bigger you get, the bigger the chance details will get overshadowed, and workmanship will suffer.
"I'm a very hands-on person," Hatfield said. "When I talk with a customer, it's just me making sure they get exactly what they want, instead of passing that off to someone else who may not get it. Plus, I enjoy it. The one thing I've always told my kids, or any other kid, is if you can find something you love to do and can make money at it, you will never work a day in your life. My children all have followed that saying, are very successful and love what they do."
You have a lot of choices as to where to buy a table. Shreveport- Bossier has several furniture stores with something for every budget. But Hatfield offers something those stores don't.
"Dining tables are the one thing you cannot go into a furniture store and say 'OK, I want this color, that size, with those legs,'" Hatfield explained. "You can't mix and match all that. (My) customer can say, 'I like the top on this. Can you do this base, and can we do it this length and this width, with these legs on there?' We're just able to give them exactly what they want versus going to a big box store, and there it is, take it or leave it. You have no options."
Hatfield says all of his tables (members of the Duck Dynasty family are among his customers) are made with natural wood – he doesn't use veneers. Yet, you won't necessarily pay more for his work.
"If you're comparing apples to apples, (the price is) going to be right at, or even less, than some of them – the tables you see at the store. But it's going to be, by far, better quality – the way it's constructed."
And chances are, you will say, "Love That Table!" To learn more about Love That Table, you may search Facebook for "Love That Table."
Hatfield's traditional table is made with care from natural wood.