Brittany Arvie Named Young Professional Of The Year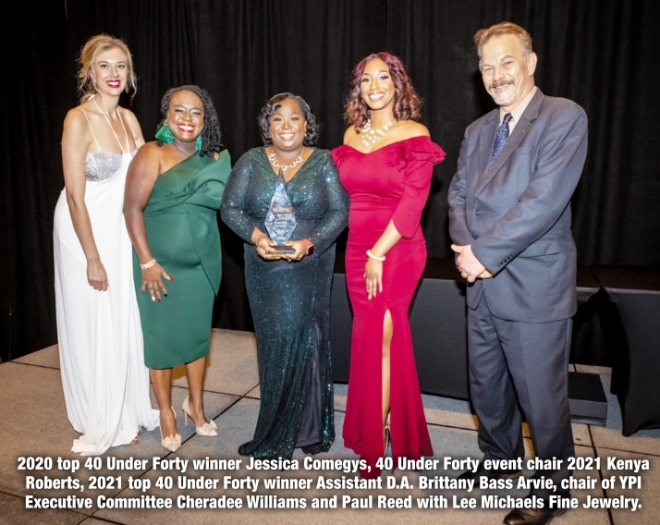 Assistant district attorney demonstrates leadership qualities
Assistant D.A. Brittany Bass Arvie won her case at the 15th Annual 40 Under Forty Awards and Gala presented by Ochsner LSU Health Shreveport when she was named 2021's Young Professional of the Year. The event was held at Sam's Town Hotel and Casino on Thursday, Dec. 2.
The competition is part of the Young Professionals Initiative (YPI) of Northwest Louisiana, a program of the Greater Shreveport Chamber of Commerce. The 40 Under Forty Awards honor professionals under the age of 40 who have excelled in their careers, education, professional development, community leadership and volunteer efforts. One honoree is chosen out of the 40 to receive the Young Professional of the Year Award for exemplary efforts in each category.
This year's best-of-class, Brittany Arvie, is a Shreveport native and a graduate of Caddo Parish Magnet High School. She received her MBA from Southern University A&M College in Baton Rouge and earned her law degree from the Southern University Law Center in 2015.
She works in the Caddo District Attorney's Office. Previously, she was an assistant city prosecutor in the Shreveport City Attorney's Office. She also clerked in the First Judicial District for Judges John Mosely and Ramon Lafitte.
Cheradee Williams, 2021 chair of YPI, said, "Brittany's professional accomplishments and her commitment to the betterment of our community made her an outstanding selection for Young Professional of the Year."
Outside her work life, Arvie is first vice president of the Shreveport Alumnae Chapter of Delta Sigma Theta Sorority Inc., a board member of The Pines to the Gulf Girl Scout Board, member of the Shreveport Bar Association, a member of the Louisiana Bar Foundation Northwest Community Partnership Panel, associate in the Harry V. Booth Judge Henry A. Politz Inn of Court, parliamentarian, Red River Chapter of Jack and Jill of America, and member of Galilee Baptist Church.
Arvie is married to Michael Arvie, and they have two children, Autumn and Adalyn.
In accepting the award, Arvie said, "Being selected as the 2021 Young Professional of the Year is such an unexpected honor. This year's is such a remarkable group of individuals making an impact in our community, and I am so delighted to be a part of this impressive class. It is so important to me to help strengthen our community so that my girls will have a robust and welcoming city to grow up in and so they will have the opportunity to find the kind of personal and professional success here that I have."
"Brittany is a Shreveport native who has not only found professional success here at home but has invested her time and talents in giving back to the community in a multitude of ways," said Dr. Timothy Magner, president of the Greater Shreveport Chamber, in announcing her selection. "She is a great example to young people in our community, and we are delighted to recognize her for her contributions and accomplishments."
In her application to the competition, Arvie stated that if she received the award, she "would work toward the betterment of the Shreveport-Bossier area through the YPI and the Shreveport, Bossier and African-American Chamber of Commerce by helping to host beneficial camps/clinics for the youth of our city. I feel that in order for our city to continue to grow and evolve, we have to ensure that the next generation feels the importance of returning to the city with their gifts and talents. We have to start early teaching them that it's OK to go away and receive your education, but then you need to come home and help to make this city the best it can be. The camps/clinics would encompass STEM education, leadership skills, personal hygiene education, charm clinics for girls and gentlemen's etiquette for boys. I would ask the various business and members of the chamber to donate time, resources and funds to help host these various camps."
The goal of the YPI is to create a network of community leaders under the age of 40 by attracting young professionals to come to and remain in this area to bolster the economic development of Northwest Louisiana.
Since its founding in 1910, the mission of the Greater Shreveport Chamber of Commerce (GSCC) has been to promote economic prosperity, serve as a business advocate, and celebrate the achievements of the Shreveport-Bossier region. With over 1,600 members, the GSCC is designated as a 5 Star Accredited Chamber by the U.S. Chamber of Commerce, one of less than 2% of chambers across the country honored with this distinction.