Women's VNL Preliminary Round
Shreveport-Bossier to host 2022 event

The U.S. Women's National Team will play on U.S. soil for the first time since winning the Olympic gold medal in Tokyo when it competes in the 2022 FIVB Volleyball Nations League (VNL) on May 31-June 5 at Brookshire Grocery Arena in Bossier City.

The U.S. Women are ranked No. 1 in the world and are the three-time defending VNL champions. Their Louisiana stop will kick off three weeks of VNL preliminary round competition and the only preliminary round hosted in the United States. Top teams in the preliminary round advance to the final round on July 13-17.

Other countries that will compete in Shreveport-Bossier City are 2020 Olympic silver medalists Brazil, along with Canada, Dominican Republic, Germany, Japan, Korea and Poland. The United States is ranked No. 1 globally, followed by Brazil at No. 2, Dominican Republic at 7, Japan at 9, Germany at 11, Poland at 12, Korea at 14 and Canada at No. 18.

Shreveport-Bossier City hosted the U.S. Women's last competition in the United States when the team qualified for the Tokyo Olympic Games in 2019.

"We are very happy to return to Shreveport-Bossier City as this is where the magic began," USA Volleyball president and CEO Jamie Davis said. "The fans and the cities were hugely supportive at the 2019 Olympic qualification tournament, and it is only fitting that we come back to celebrate together our first-ever women's Olympic gold medal that we won in Tokyo. The VNL will showcase the world's best teams and will include a rematch of the Olympic final where the U.S. Women defeated Brazil.

"I want to thank the Shreveport-Bossier Sports Commission and the cities of Shreveport and Bossier City for their tremendous support of USA Volleyball. We know that with you behind us, we are destined to win our fourth-straight VNL title."

The schedule for May 31-June 5 at the Brookshire Grocery Arena in Bossier City is as follows:

Tuesday, May 31, 2022
5 p.m. CDT I Germany vs. Brazil
8 p.m. CDT I USA vs. Dominican Republic

Wednesday, June 1, 2022
5 p.m. CDT I Poland vs. Canada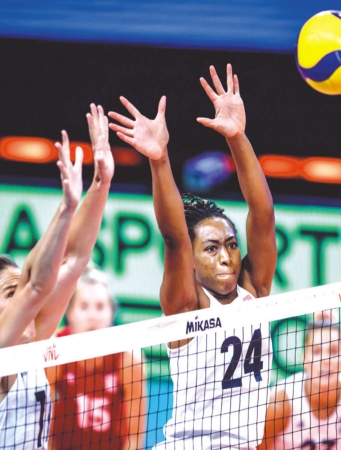 8 p.m. CDT I Korea vs. Japan

Thursday, June 2, 2022
2 p.m. CDT I Brazil vs. Poland
5 p.m. CDT I Germany vs. Japan
8 p.m. CDT I Canada vs. Dominican Republic

Friday, June 3, 2022
2 p.m. CDT I Germany vs. Korea
5 p.m. CDT I Dominican Republic vs. Brazil
"We are excited that Shreveport-Bossier City will host the 2022 FIVB Volleyball Nations League. We look forward to every serve, spike and dig during the competition," said Louisiana Lt. Gov. Billy Nungesser. "Away from the matches, we encourage everyone visiting the area to dive into our cuisine, culture and carefree joie de vivre that is sure to feed your soul. We know everyone will have a special time in Louisiana because we treat you like family."
Bossier City Mayor Tommy Chandler added, "The 2022 FIVB Volleyball Nations League is coming to Bossier City! The best women's volleyball teams on the planet will be playing right here in North Louisiana. Fast-paced and high-level competition coupled with national pride will create an atmosphere that mirrors an Olympic stage. Bossier City is both honored and excited to have the opportunity to host this world-class tournament."
Ticket packages are on sale now at https://go.usav.org/22VNLTix.
All-Session Passes and Weekend Passes are available. The All-Session Pass starts at $198 and will grant access to all 16 matches, with the option to add on a $125 meet-andgreet pass for Thursday, June 2. This oncein-a-lifetime opportunity will allow a limited number of people to meet select athletes and coaches on the U.S. Women's National Team.
The Weekend Pass starts at $156 and allows access to Friday, Saturday and Sunday's matches, June 3-5. Nine matches will be played Friday through Sunday, including USA vs. Brazil, the first time they have played each other since the 2020 Tokyo Olympics, where the U.S. Women beat Brazil for the gold medal.
Single-day tickets start at $35, and group tickets are available if you purchase 10 or more.