The Original Farmers' Market
Festival Plaza turns out food and fun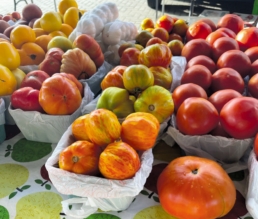 Since June 4, for the 36th consecutive year, the Original Shreveport Farmers' Market has been open for business on Saturday mornings at Festival Plaza in downtown Shreveport. Each Saturday during the summer until Aug. 27, farmers from this area will have their wares on display for sale from 7:30 a.m. to 12:30 p.m.
Over 75 vendors sell a wide variety of homegrown and homemade items. Things like fruits and vegetables share the booths with jams, jellies, bread, pastries, seasonings, sauces, meats and more. But there are also plenty of handcrafted items like jewelry, candles and soaps. Don't worry if you show up hungry; breakfast and lunch options are available for you to sample.
The Shreveport Farmers' Market is the only USDA-approved farmers' market in the Shreveport-Bossier community, which allows for the acceptance of SNAP benefits. The Louisiana Healthcare
Connections SNAP Match program will return this year. Shoppers with a Louisiana Purchase (SNAP) card can receive a dollar-for-dollar match of up to $20 for purchases at the Shreveport Farmers' Market.
There is free parking available close to festival plaza, as well as metered spaces along the street.
If you leave home without enough money, there's an ATM on site, and some vendors are set up to take credit and debit cards.
In addition to accepting Louisiana Purchase (SNAP) cards, some farmers accept Senior Farmers' Market Nutrition Food Coupons available through parish Councils on Aging. No pets are allowed at the market except for service animals, so Fido must stay home.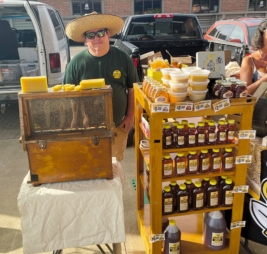 The Red River Revel and Shreveport Farmers' Market have cooked up a special event series this year. It's called "Mimosas at the Market," and it will take place on the fourth Saturday of each month. The first was slated for Saturday, June 25. "Mimosas at the Market" will include a value-priced mimosa and rosé bar where patrons can purchase 8-ounce glasses of mimosas or 6-ounce glasses of rosé for only $3 each. Patrons must be 21 or older to purchase with a valid ID. All sales will be cash only, and proceeds will benefit the Red River Revel, a 501(c)(3) nonprofit organization. Future "Mimosas at the Market" events are tentatively scheduled for July 23 and Aug. 27, pending local and state permit application approval.
The Red River Revel's primary function is to showcase the arts and foster ongoing arts education. Each October, the event attracts a diverse national audience of over 75,000 attendees, 75+ original art booths, and over 30 local/ regional/national live music performances.
Created in 1976, the 46th Annual Red River Revel is scheduled for Oct. 1 – 9, 2022. For more information, visit https://redriverrevel.com or follow the Revel on Facebook and Instagram at @RedRiverRevel.
For more information about Shreveport Farmers' Market, contact Manager Emerie Eck Gentry at farmersmarket@ redriverrevel.com, 318-455-5788, or www.shreveportfarmersmarket.com. The market is a project of Red River Revel Inc. It is supported by the Downtown Development Authority, Slow Food North Louisiana, Bally's Casino and Hotel Shreveport and the city of Shreveport.