Southern Trace Golf Course Re-Opens After $4.2 Million Upgrade
Improvements made to the local golfing experience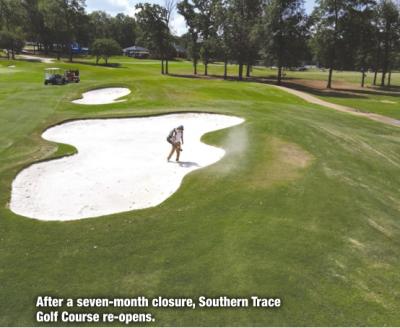 Saturday, July 2.

7:30 a.m.

Eddie Lyons did what he has done so many times.
Lyons planted his golf cleats into the tee box on Hole #1 at Southern Trace Country Club.
He eyed the fairway, gripped his driver and put his backswing into motion.
But to Lyons, this swing was special. Not because of the result, which – as usual – was "right down the middle."
But because it came on Southern Trace's newly renovated course.
Lyons, a long-time Southern Trace member, was in the first group to play the course after a seven-month closure. The redesign was part of a $4.2 million project which began last year and included a new irrigation system, all-new greens and improvements to the practice area.
"I'd give it a 10," Lyons said after his round, which was shortened to 14 holes because of rain. "I think we did everything right. I think this time next year, when we've had a good year for the greens to settle, I think it will be back to normal, where when you hit a ball, it will take a hop and back up, or at least stop right beside the hole."
When Southern Trace opened in 1988, it was considered one of the finest courses in Louisiana. But time – and what some members say was a lack of tender loving care by the corporate owner – took its toll. In July of 2020, the membership purchased the club.
"The primary goal of everything we've done from the beginning of taking over control and operation of the club has been to improve our member's experience. Period," said Alexander Mijalis, Southern Trace vice president and chairman of the Greens Committee. "We believe we now have the top golf course in the state, which is a return to how things were. We think we're there."
Lyons, a nine-time City Amateur champion, agrees.
"I think us and Squire (Creek, in Choudrant) are going to be considerably better than everything else. I was a panelist for Golf Digest and ranked the Top 100 courses for 35 years. We had this criteria. We took that into consideration (when renovating Southern Trace). All those things have been done. We just have to mature as a course and as grass. I think we will be either first or second in the state. We've earned that. We've done things right."
Speaking of grass, gone is Champion Bermuda, of which the greens had been since 1996. In its place is Mach 1, a relatively new strain that Mijalis said was discovered "in Memphis, by accident, as a mutation of some other grass they were looking at."
Southern Trace is believed to be only the third course in the world to use Mach 1.
"It's a truer roll for the ball, because there's less grain in the grass. You're able to cut it at a lower height, without placing it at risk to heat and other elements. For whatever reason, it's less resistant to encroachment by other grass.
You spend less on chemicals. You spend less on maintenance because it takes care of itself."
While each green was replaced, not every hole was redesigned.
"All of the holes will be recognizable from their original design," Mijalis said. "Half the holes were redesigned in some way. From an appearance – a cosmetic standpoint – it looks a little bit different. The green complex may look a little different. We may have moved a tee box here or there. The front nine is going to look much different than what you would have experienced before we closed. Most of the visual changes to the course are on the front nine."
In addition to the course, Southern Trace's practice area and driving range received significant upgrades.
"The teeing ground was doubled in size," Mijalis said. "There is more space from which to hit. We opened up that wooded area to the left of the driving facility, to expose the views to Lake Audubon. We added two chipping greens and a short-game facility that rivals anything you will find anywhere, as far as the variety of shots you can practice and how much time you can spend out there. It's a really first-class facility."
For Lyons, being among the first to play the "new" course was a throwback to 34 years ago. He and former Shreveporter and PGA Tour player Hal Sutton were in the first group to ever play Southern Trace – the day before it opened.
"We've seen this place extremely special before."
Lyons thinks it will be – already is – special again.