Teal Jones Group to Build $110 Million Facility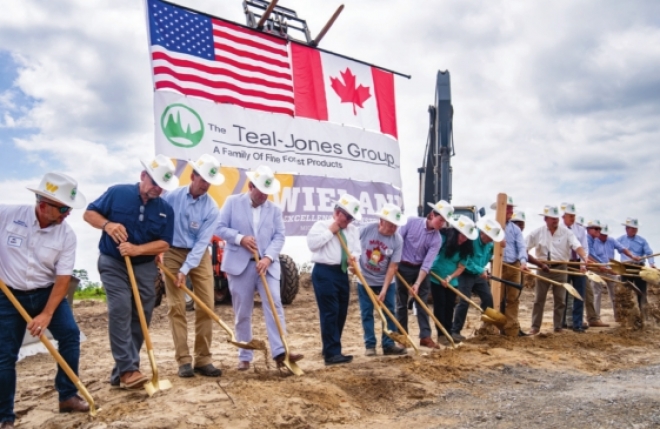 Rich Lamb, Rocky Rockett Make it Happen
Be prepared.
It's not just the Boy Scout motto.
It was key to landing the largest industrial investment, and the largest international investment, in Bossier Parish.
Teal Jones Group, a Canadian forestry products company, broke ground July 11 on a $110 million lumber production facility near Plain Dealing that will create nearly 500 new jobs in the area.
"Louisiana's wealth of timber resources has made it a prime destination for lumber and sawmill business operations for many years," Gov. John Bel Edwards said at the groundbreaking. "We're gratified that Teal Jones has chosen to become a part of that long tradition. This project will stimulate economic activity, create good jobs in Louisiana's northwest region and contribute to the revitalization of our state's rural communities. It is a powerful reaffirmation of the important role our state's agribusiness sector plays in the growth and diversification of Louisiana's economy."
Plain Dealing Mayor Shavonda Gay celebrated the announcement.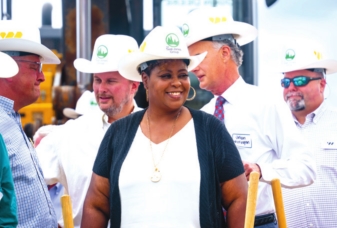 "Plain Dealing is honored to have a new employer locate here," Gay said. "Both our community and the surrounding towns welcome Teal Jones to our home."
The groundbreaking was the culmination of a flurry of activity at the end of 2021 that included economic development and government leaders as well as private citizens.
One of those people is Rich Lamb, whose family is one of many who own timberland in that area.
"Timber harvesting has been a source of job creation and wealth in this area from the beginning," Lamb said.
Lamb was discussing the national shortage of sawmills with Jon Bowlin, who owns Endeco Engineers Inc. in Shreveport. His company designs sawmills, along with frac and sand facilities.
Bowlin told Lamb that Teal Jones was looking for a place in the South to build a new mill. Lamb took that information to Rocky Rockett, executive director and president of the Greater Bossier Economic Development Foundation.
"Rich says, 'I gotta have this amount of acreage, I've got to have this, this, this,'" Rockett said. "I said, 'Don't panic. We'll see what we can do.'"
Rocket was prepared with a site study GBEDF did 2012 to identify what industrial parks could be available in Bossier Parish going forward. Officials knew then that the parish was running out of land that met all the infrastructure requirements for industrial development, such as access to good roads and interstates, water, sewer, electrical and sometimes rail service. That study identified some areas in the parish that could meet future growth potential.
After discussing with Lamb the prospects for the sawmill, Rockett knew the future was now.
"Thankfully within that group of about five properties, this plat was one of them," he said.
From there, the two men went to work to build a coalition behind their idea. Lamb gathered other timberland owners and private investors to help acquire the land. Rockett went to work bringing local, state and public entities on board.
It also was time to bring Teal Jones's leadership from Canada down to see the possibilities. That was a learning experience for everyone involved.
"We invited them down to meet with the landowners," Lamb said. "They showed up wearing flannel shirts, and it was quite warm."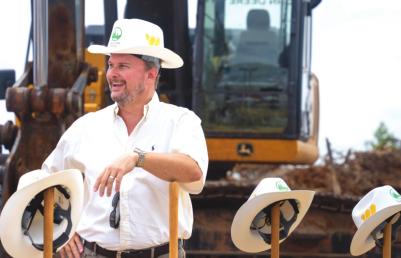 The Canadians acclimated to the Louisiana weather. The Louisianians learned to appreciate the Canadians, too.
"They are a very fun group to be around," Rockett said. "In this gig, you meet all kinds of people. These guys were a lot of fun. I watched them walk through the woods. One of them breaks off a small tree limb and puts it in his mouth. He said, 'These are some good trees you have here. This is fresh growth.'"
Lamb and Rockett were under tight time constraints to acquire the land and secure the necessary commitments from the utility companies and the local and parish governing bodies involved by Dec. 31. And while the task sometimes seemed daunting, Rockett said he encountered few real hurdles along the way.
"It was almost like the clouds parted, the sun shone, and everybody had a window to get this project done," he said.
That could have been in part because everyone involved saw the mutual benefits of making it happen.
"Everybody gasped the idea that we could provide jobs, provide revenue for the town, provide an answer for all the timber owners in the area," Rockett said. "They could see this is becoming a winwin-win all the way around. Everybody grabbed onto it, which was really fun to see."
Rockett said they had to move quickly, but in the end, it did not take a lot to convince anyone to get on board with the project.
"The collaboration between the private partners, the government, the utilities was great," he said. "I didn't have anybody come across my table and question why are we doing this. This is a situation that does not come along often. I have been doing this gig for 15-plus years, and I have only seen a couple, maybe three, in that duration where everybody said, 'You know, that's actually a pretty good idea.'"
Even the harshest critics could see the possibilities.
"One of the hardest guys to typically convince turned to me at one point and said, 'This is a no-brainer,'" Rockett said.
The project is expected to create 125 direct jobs, with average annual salaries of $47,000 plus benefits. Louisiana Economic Development estimates the project will also support at least 369 indirect jobs, for a total of 494 prospective new jobs in Louisiana's Northwest Region. The company estimates up to 120 construction jobs at peak construction.
Site preparation of the 235-acre facility is underway and expected to be complete by the third quarter of 2023.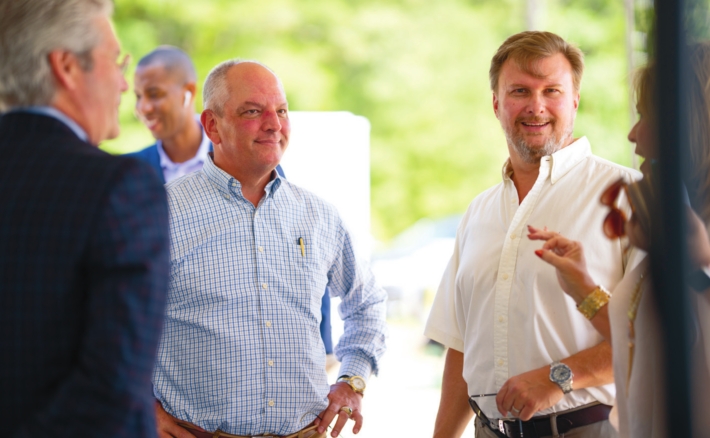 Gov. John Bel Edwards is excited to stimulate economic activity by creating good jobs that will contribute to the rural communities.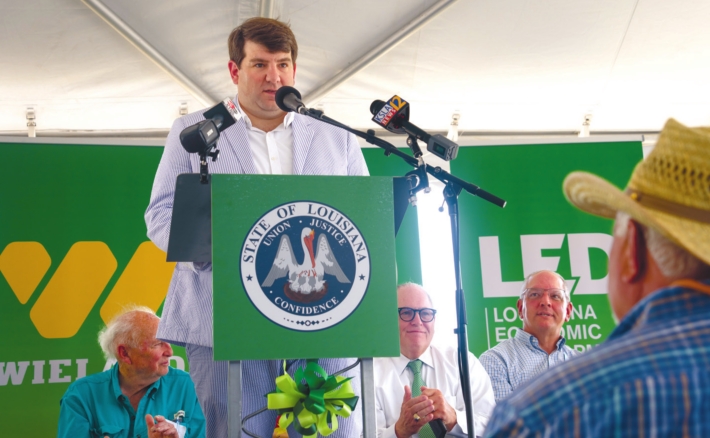 Rich Lamb celebrates being able to bring in timber harvesting since it's long been a source of job creation and wealth in this area.