William Joyce's 'Ollie's Odyssey' Becomes Netflix Series 'Lost Ollie'
Story of a lost toy parallels real-life experiences
The story of "Lost Ollie" began when author William Joyce lost his beloved plush teddy bear on Christmas Day, 1962. That incident led to Joyce's 2016 novel "Ollie's Odyssey." Now, after 60 years, Netflix will air its four-part adaptation on Aug. 24.
"Lost Ollie" is an unusual hybrid of live-action and animation from series creator and executive producer Shannon Tindle, who produced "Kubo and the Two Strings" and "Coraline." Academy Award-winner Peter Ramsey, who produced "Spider-Man: Into the Spider-Verse," is director and executive producer. The cast includes "Frozen" star Jonathan Groff as the voice of Ollie, Mary J. Blige as Rosy, Tim Blake Nelson as the voice of Zozo the Clown, Gina Rodriquez as Momma, Jake Johnson as Daddy, and Kesler Talbot as Billy, Ollie's best friend.
"The story is about a boy named Billy, who loses his favorite toy and vows to find it," says Joyce. "I lost my favorite toy on Christmas Day when I was 5 years old. He just seemed to have vanished. Twenty years later, almost to the day, I found him in my parents' attic in a box of old Christmas wrapping that my mom saved. I was moving out that December to get married. It was a powerful moment finding Teddy. This best friend of my childhood showing up at the moment adulthood was about to truly begin."
"After we won the Oscar for the short 'The Fantastic Flying Books of Mr. Morris Lessmore,' I began touring for 'Ollie's Odyssey.' During that tour, bookstores asked folks to come to the signings with their childhood plushies. I must have met hundreds of 'favorites.' It's remarkable the connection we form with these quiet, noble bits of stuffing, fabric, thread and buttons," Joyce said.
Joyce wrote the book "Ollie's Odyssey," during a very difficult time in his life.
His 18-year-old daughter, Mary Katherine, had died tragically of a brain tumor, and shortly after her death, his wife, Elizabeth, was diagnosed with ALS. Joyce remembers sitting at the kitchen table drawing and writing, waiting for stories to pull him out of his grief. He says he would lie next to Elizabeth, who was in her last year of life and could only communicate with her eyes and read his progress on "Ollie's Odyssey" to her.
"There was a radiant gleam in her eyes that was unshakeable," Joyce explains. "There are a lot of parallels in Ollie that mirrored what we were going through. Towards the end she managed to spell out, 'It's your best.'" Telling the story of loss in "Ollie's Odyssey" helped Joyce get through his own loss. This story of loss also connected "Lost Ollie" creative and executive director Shannon Tindle to want to do the production.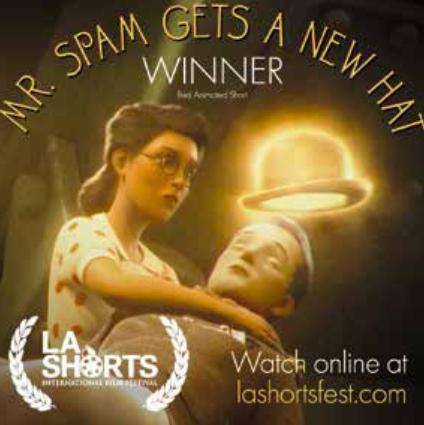 Tindle worked with Joyce on the 2012 animated film "Rise of the Guardians," also based on a book by Joyce, "The Guardians of Childhood." The director of "Lost Ollie," Peter Ramsey, also directed that movie.
Tindle said that Joyce maintained a certain level of whimsy in his novel "Ollie's Odyssey," but he wanted to do something more grounded in Joyce's personal experience.
Tindle says, "'Lost Ollie' is definitely an adventure. It's definitely fun, but I also wanted it to deal with loss; I don't think people talk about it enough. I wanted to have something that talked about it right up front, worn on its sleeve. I know what he went through with the loss of his wife and his daughter. That's what I connected to most in the story: the heart of what he had gone through."
Joyce says, "I started the novel when my daughter was first sick.
I finished just before my wife passed. My business partner, Brandon Oldenburg, helped at the beginning, my editor, Caitlyn Dlouhy, at Simon and Schuster and my dear friend, Arthur Mintz, gave priceless input. It was such a dark time in my life, but I was lucky in one regard: I had friends and family who stood with me every day and helped. The book reflects that. It may be about loss, but it is also about loyalty and friendship. It meant a lot to me that Shannon and Peter took on the adaptation. They are both friends, and they understood exactly what I had envisioned for the series."
"Lost Ollie" is not the only achievement Joyce is celebrating this month. Not only will "Lost Ollie" come to Netflix on Aug. 24, but this week Joyce was informed that his new short film, "Mr. Spam Gets a New Hat," has qualified for Academy Award consideration in 2023. To date, "Mr. Spam" has won five film festivals, including the Cordillera International Film Festival, the 26th LA Shorts International Film Festival, the 46th Cleveland International Film Festival, Spark Animation Festival and New York Shorts International Film Festival. His production of the first animated version of "The Great Gatsby" is in the early stages of production with DNEG Animation.
Over the years, Shreveporters have celebrated our favorite native son, William Joyce, with a ticker-tape parade, lined the streets outside of local bookstores for his whimsical signature on favorites such as "Dinosaur Bob," "Rolli Polie Olie" and "Santa Calls," and mourned the loss of his daughter and then his wife with him. Mr. Joyce has new stories to celebrate.