'Transformational' project for the city
SporTran plans to improve life for its riders, employees and others in the west end of downtown Shreveport by renovating the old Sun Furniture building at 1253 Texas Ave.
Phase One of the development is underway. SporTran General Manager Dinero Washington said the project includes several elements that will be "transformational" for the area. One of those elements is a public food court.
"This location sits within a food desert," Washington said. "That's how this conversation started. A few years ago, there were no eateries in the area. We want to help with the food desert and help riders have food services."
He said the food court would feature some chain restaurants and be similar to an airport food court. He added that Spor- Tran also is working with the MS Kick incubator kitchen on the prospect of having space in the food court for a local startup restaurant.
The food court is part of a larger transit mall planned for the building. Washington said SporTran had hired a real estate consultant to help recruit tenants to the transit mall. It will feature a mix of office space and retail options not currently available in the area, such as a drug store or a fitness center.
"As we built out the concept, we saw the opportunity to be transformational," Washington said. "A drug store would benefit riders and the community, and bring quality food and amenities to the citizens in the area."
Phase One of the project also includes a wellness center for SporTran's employees — something SporTran was unable to include when it built the nearby intermodal terminal.
"Across America, some of the most unhealthy people are (transit) operators. We are working with our insurance provider to provide wellness programs for our employees. They will be able to work out between their splits. And they don't have to pay for a membership somewhere."
The Resource Center also will include a training facility, another component Spor- Tran doesn't currently have space for.
"Right now, we have a little more than 200 employees who are required to do federally mandated training," Washington said. "We have been using different facilities across the city to do that training. This new center will accommodate all our operators at one time. And the technology we are putting in will make that training more interacting and engaging."
SporTran also will have a driver simulator in the building, which will benefit new and existing employees.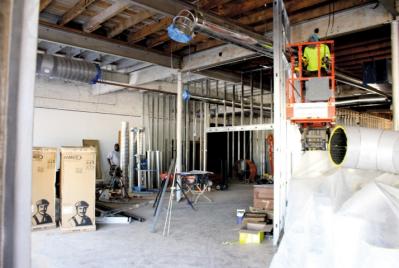 "We can be more open to corrective behaviors before we put drivers on the road," he said. "We also can do retraining when we see issues on the road. We can bring them back to the simulator to correct those issues in a virtual environment."
SporTran also sees the Resource Center as a benefit to neighboring businesses and residents in the Choice Neighborhoods development nearby.
"Right now, we are working with partners adjacent to us for ways to improve facilities in the area," Washington said. "That's a high selling point for leasing space. People don't have to get out and move around. We also are working with the Choice Neighborhoods group on how to commute those riders to this facility. That's been a huge part of this conversation."
While the renovations will transform the building's interior, SporTran is working to preserve a piece of the building's exterior — the Sun Furniture sign.
"The sign was a big issue," Washington said. "It was one of the major issues in the renovations. We allotted a budget to refurbish the sign and replace it. The new sign will say SporTran City on it. It will be upgraded with new lighting. It's a very expensive undertaking."
Phase One of the project is scheduled to be completed in early 2023. Phase Two of the project is set to start late this year or early next year and will be completed in the fall of 2023.
Washington said Phase Two would add technology to improve the safety and efficiency of SporTran's operations.
"One of the things we are putting in Phase Two is new operations control center," he said. "It will have the technol ogy to see buses in real time, and to see the buses' camera feeds. We can tap into different cameras, too, like the LADOTD cameras to identify issues and detour vehicles around accidents and such."
Funding for the $3 million in Phase One renovations comes from the Federal Transit Administration. Washington said those federal dollars are designated to enhance the rider experience and transportation alternatives within the market.
"We see it as a mini-depot," he said. "A lot of people wanted to put that in the intermodal terminal. As we looked at expanding the intermodal, we chose to reinvest in the community and rehab this building to connect it to the intermodal."