Finding Reward In A Job Well Done
Hard work, persistence leads to new dining success
Pepito Munoz is a Mexican immigrant. He is a local success story and has become known as one of the best food merchants in Shreveport. His fans are widespread and readily sing his praises and root for his success.
Born in the town of San Luis Potosi, Pepito grew up in a hardworking Roman Catholic family. San Luis Potosi was once a gold and silver mining hub, dotted with pink-quarry colonial buildings amid a landscape of natural beauty, boasting rivers, caves and waterfalls. He met his wife in Mexico and married there. They struggled, as most in the poor country did. But Pepito always had a dream. A dream to do better. He describes his life in Mexico simply:
"I can say we were middle class in Mexico. The peso was three to one dollar. It went to 250 pesos to one dollar. I said we got to go."
Go, they did. They moved to Shreveport, where Pepito had no job but friends he knew would help him find something. "I started working at Nicky's back in 1994. I started as a bus boy, cleaning up, just to get an extra income. Getting tips. Working early in the morning to late at night."
Pepito and his friends have never been afraid of hard work, he says. But the dreams he kept inside are like fireplaces that must be constantly stoked. "I didn't stop. I kept waiting tables, washing dishes.
I have no problem to sweep the floor. I'm still driving the same 2008 car.
"I've got the feeling that one day I'll get my reward," he said and paused. Then, with a smile and a nod, he added, "I already got my reward, my family. My family is the main thing."
After more than 20 years working at Superior Grill, Pepito has branched out into a place of his own. "We decided to move downtown. With the help of DDA (Downtown Development Authority) and (Executive Director) Liz Swaine, to promote downtown." He opened Pepito's XO on Aug. 22 in artspace downtown (previously Parish Taceaux). "We decided to take this and [worked it out] with artspace. I do all the catering for artspace. Even before we started operating, we had regular customers -- 20 events before we started.
"This is the plan. Build something here, solid, try to create something here for Youree Drive." On Youree Drive is Pepito's next adventure in the old Trejo's space in the 5800 block. There he is creating a new experience with his team of food artists—people like his Executive Chef Raul Rodriguez, whom he calls a master musician in the kitchen.
"We decided to take on the challenge of my own business. Decided to do the right thing the right way. Develop new menus. We came from a Tex-Mex and Mexican tradition. We can cook Mexican food better than anybody. Trust me. No one, no one does real Mexican food. We have two menus. One for lunch, one for dinner because we want to see what's going on."
That kind of day-to-day reaction to the wants of his customers is the trademark that's made Pepito so well-known. "I like to spend time with my customers, with my people," he said.
After one evening of waiting on customers, a grateful – and well-heeled – customer shocked Pepito with a $5,000 tip. When the shock wore off, Pepito used part of the money to replace the broken air conditioner in his car and shared some of it with the cooks and other staff at Superior. Why? He said he didn't make the dining experience that special all alone.
He credits his religion with giving him his sense of right and wrong and his heritage for his hard work ethic. Being an immigrant has given him patience, he says. He cannot be intolerant of anyone; he's never forgotten where he came from and how hard the climb was to get where he's ended up.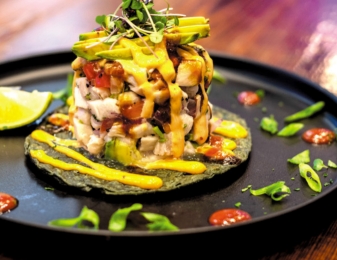 People don't realize how hard it can be, he said. When his wife's mother died, he couldn't take time off because the next day was the restaurant's busiest day of the year. Rather than go without her beloved husband, Pepito's wife stayed in Shreveport.
But that wasn't the only sad outcome. "My father-in-law was very sick. I picked up my son from Captain Shreve, and we started driving to Mexico. It was a 20 hours drive. My mom called me about 10 times," he said, checking on his progress. He went to the hospital and visited. While there, he got a call that his mother wasn't doing well. He drove from the hospital to her
home. When he got there, she had died. While he was there, he went to two funerals.
His father died after that. His sister and two brothers were in Shreveport when they left to see his father. They drove to the border in his brother's car. Pepito's brother is an American citizen but doesn't have a passport. On the other side of the border, Mexican authorities stopped them. They weren't allowed in.
These are the sacrifices they have made for their dreams.
You might expect Pepito to be a morose, introverted Mexican fellow, forced to leave his homeland for better opportunities which were very hard won through perseverance and hard work. He's also had some bad experiences here, but they have not made him bitter, only philosophical.
"How can I make a judgement of people?" He added when he lived in Mexico, "I could afford nothing, I live in America now. I'm living like a white dude on the weekends, because I've never been off on Saturdays and Sundays. My grandbaby said, 'Let's go to Target.' On Sunday with a 2-years-old little girl, you can see me walking around [Target]."
The American dream seems to have a Mexican translation.
" I believe in two things: the good of God, and [that] good people want to help you out. We have thoughts that we can succeed."
It's the people whom he has touched that have made his work worth it. "And the people, they touch you. People say, 'Pepito, how you know those people?' I say, I grow up with those people. I feed them."
And this might sum up the life and work of Pepito Munoz better than any words from anyone else: "We've got a nice relationship here. I want to succeed. We can do better."