Something Fun This Way Comes
The 2022 State Fair ramps up for 15 days of entertainment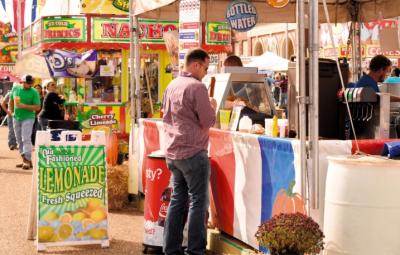 The 2022 State Fair of Louisiana opens on Oct. 27, and the list of attractions, events and amusements is long to jam into one article but here goes.
First, some housekeeping: The fair will be closed for Halloween, Oct. 31, Nov. 1 and Nov. 7. The hours are 12 noon to 10 p.m. Gate admission is $12, P.O.P. and the Fun Pass are $100.
There are special promotions and discount prices on several days, and you can get much more information at the fair website: www.statefairoflouisiana. com.
This year's special days include the Senior's Day & Expo, Thursday, Oct. 27; Latino Day at the State Fair, Sunday, Oct. 30; Veterans & Military Appreciation Day, Sunday, Nov. 13; and Latin Night at the State Fair, Sunday, Nov. 13.
Senior Day offers free parking and admission to the Senior's Expo with exhibitor booths, entertainment, free health screenings, flu and pneumonia shots (with Medicare card), COVID-19 vaccine shots, contest game shows, educational presentations and door prize drawings for eligible attendees who visit 80% of the exhibitor booths. In addition, there will be a special Grand Door Prize valued at more than $1,000. You must be present to win. Senior Day is sponsored by "The Best of Times" magazine.
There are plenty of free attractions for fairgoers in this 116th edition. There's the State Fair Zoo, Circus Hollywood, The Wild World of Animals Show, Sea Lion Splash Show, Friesian Horse Exhibit, a reptile show, the Hollywood Racing Pigs, Belmont World of Magic Show and Cycle Circus Live Freestyle Motocross. The attractions are free with gate admission and perform several times a day. General Manager Chris Giordano said, "For the gate admission you get a pretty good value of entertainment you don't have to pay for."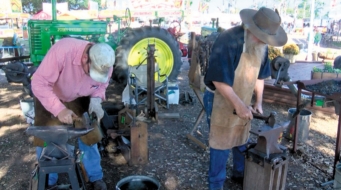 Also performing several times a day will be Rock-It Robot, Dallas the Fire Guy, Flo the Clown, Nick the Escape Artist and World Stage Productions' "An International Breakdancing Show."
Timberview Helicopter rides will, once again, provide the aerial point of view for those who want a bird's eye view of the festivities.
The free concert series performs at various times throughout the fair. Entertainers on tap include Tipsey the Band, Shayliff, Lizzy Lashes, Ponchito y Chayito Show, Word of God Ministries en Espanol, Kraig Parker's "Ultimate Elvis Tribute," Tasha Mac, Jeter Jones & the Perfect Blend Band, Bluez Boyz, Shana D & Friends, DJ Scott Presents, Cody Cooke & the Bayou Outlaws, Windstorm, and Latin Night with the Coloa Show Band. That's just a sample. Check out the website for the full rundown.
Crabtree Amusements is presenting the carnival midway for this edition of the fair, boasting the largest midway in the state. It features over 50 rides, games and food opportunities. There are varying height requirements for some of the rides to ensure your safety, so be sure to check before boarding.
On Nov 4-6, Hebert's Town and Country, the S.B. Sports Commission, and RAM RODEO powered by Cinch Jeans and Shirts present the LRCA Finals Rodeo, which is always a big draw for the fair. Cowboys and cowgirls of the LRCA will be competing for the championships of the LRCA Finals and over $250,000 in cash and prizes. LRCA Finals events include Bareback, Steer Wrestling, Team Roping, Saddle Bronc, Tie Down Roping, Barrel Racing, Breakaway Roping & Bull Riding. Rodeo clown Dusty Myers will be entertaining the crowd at each performance.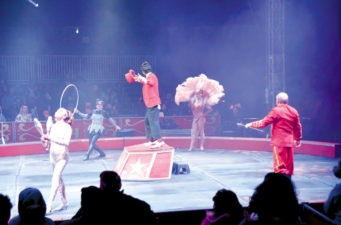 Check the website for times and pricing. Tickets are also available at Cavender's Western Outfitters, Topp's Western World, Paul's Farm & Garden, Greenwood Feed & Hardware, the website and at the gate.
Also on tap is the 19th Annual Antique Tractor Show & Pull, Friday, Oct. 28, and Saturday, Oct. 29, from 10 a.m. to 6 p.m. The State Fair Cheer & Dance Showdown will start Saturday, Oct. 29, at 10 a.m. The 4-H Talent Contest is slated for 11 a.m. on Oct. 29, and the 4-H Livestock Quiz Bowl will be held at 2 p.m.
New, too, this year is the State Fair of Louisiana Cornhole Tournament on Sunday, Oct. 30, at 10. a.m. "It will take place in Hirsch Coliseum on Sunday, Oct. 30," Giordano said. "We're working with the Shreveport Bossier Cornhole Association. We have a $5,000 guaranteed payout, no matter how many teams sign up. We hope to get to 150 to 200 teams. Additional entry fees will be added to the prize payout, so the minimum is $5,000."
The State Fair B.B. Gun Competition will be held Saturday, Nov. 12, at 10 a.m. for youth ages 9 to 19.
The 13th Annual State Fair Car Show will be held Sunday, Oct. 30, from 10 a.m. to 2 p.m. on Hudson Avenue near the Fair Office.
The ALTAC Jr. Livestock Sale begins Wednesday, Nov. 2, at 9 a.m. with champions and animals that have placed well in their shows will be offered for bid by their 4-H and F.F.A. owners. Sponsorships are available, and interested companies should contact the Ark-La-Tex Agricultural Council at 318-987-3769 or info@ALTAC.org.
And what would the fair be without the concessions and saltwater taffy? Each year, the fair brings concessionaires from all over the U.S. to the midway to offer their wares. Those wares include both traditional and new fair foods. You'll find cotton candy, corn dogs, funnel cakes, turkey legs, candy apples, barbecue, hamburgers, ice cream and more. You can also sample Wisconsin cheese, gator-on-a-stick, bacon-covered caramel apples, cricket pizza, scorpion pizza, fried cheesecake, deep-fried honey buns, deep-fried smores, chocolatedipped bacon on a stick, Jamaican jerky and lots more. Fair admission does not include treatment for overeating.
And, as usual, the commercial exhibit building will host exhibitors from all over the country showcasing their products and services in the Commercial Exhibit Building.
Magic Money Credits are $1 each, and carnival rides accept three to 10 credits depending on the ride Armbands are $35 each ($25 each on Wednesdays, Thursdays and Tuesday, Nov. 8) and are good for unlimited Crabtree Amusement carnival rides. The armbands are only good for one day and one person and are non-transferrable.
The State Fair Fun Pass is $100 and includes gate admission plus carnival armband each of the 14 days that the State Fair is open. Once you are through the gate, go to the Crabtree Amusements Office for your Fun Pass ID. It's good for one person only and is non-transferable.
The only real challenge post-covid, according to Giordano, is inflation. "Everything we do costs more today. Everything from office supplies to maintenance supplies to utilities to insurance. Anything we purchase is dramatically higher. Now, we have not raised our prices. They are the same that they've been for the last five years. The first day of the fair we're going back to a $1 promotion. It's a dollar to park, gate admission is $1, and the rides will be $1 each. The admission and gate discount applies after the normal daily free admission period."
There's a lot to this year's fair, a lot to cram into one newspaper article, but you have the advantage of having 15 days to fit it all in.