Singing Shreveport Music's Praises
Former owner reconnects with vendors, customers
Don Teach is back for an encore performance at Shreveport Music Co.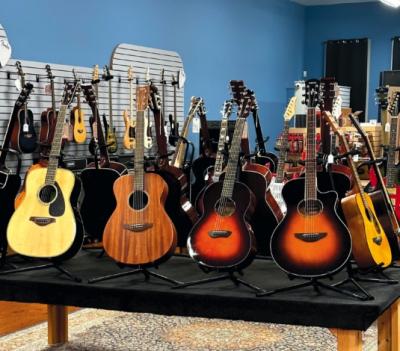 Teach, whose family owned the music store from 1961 until he sold it in 2019, returned about a month ago to lend his experience to the staff and reconnect with the vendors and customers he knew and worked with for years.
"Don offered to help us out," said Jim Malsch, who bought the business from Teach with partner Ken Jacobs. "Ken and I haven't had the time to put into it, nor did we know what we were doing."
"I've been coming by here since they bought it," Teach said. "I could say that I was bored sitting at home, but I wasn't. I've got three jobs, plus this one."
Since returning to Shreveport Music, Teach has re-established his connections with vendors and manufacturers. He said some of those vendors' representatives have been around for 40 or 50 years.
"A lot of them are still around," he said. "I am amazed at the reception I have gotten from them. They have bent over backward to get us merchandise that nobody can get."
Teach's work as a liaison with the manufacturers has helped improve the inventory at the store. But he also has worked with general manager Starbuck Langley and the rest of the staff to improve the appearance of the store as well.
"It's been a welcome return," Langley said. "We've had an uptick in foot traffic. We've had increased volume of sales. We've had increased volume of inventory. I feel like it's been an improvement."
Malsch said Teach's input already had had a definite impact on business.
"It's kicking butt now," Malsch said. "The word's getting out."
Teach said he had enjoyed his return to Shreveport Music.
"I've been out of it a long time," he said. "So I don't really know what to do. I have to depend on the guys who are here and talk to my manufacturer rep buddies and go, 'You screw me, you're dead.'"
That part is just like old times for Teach.
It's part of what helps him get the most he can for the vendor reps.
"I'm kind of known for being blunt and up front," he said. "I'm real up front with them and tell them what's going on and what I expect. I have the faith they're going to be honest with me."
Teach said the store is getting inventory other stores in Shreveport can't get. That's because the store has a tradition of catering to the more experienced musicians.
"We're looking for the guy that's more of a serious player," Teach said. "And a serious player is going to be looking for the better stuff. I've got better stuff. I know what to buy, who to buy from and how to get it."
Teach said Shreveport's music community is noticing, too.
"It's the most humbling experience I've ever had," Teach said. "I am seeing people I haven't seen in 10 years. They say, 'Man, I am so glad you're home. Great!' We're starting to rock."
Malsch, who plays bass guitar, said he was a customer of Shreveport Music starting at age 14. He and Jacobs bought the business in 2019 partly because they wanted to preserve its legacy in Shreveport's music scene.
"In the heyday, this was the store to go to," Malsch recalls. "You hung out here hours at a time."
Jacobs, who plays and collects guitars, said that was a big part of welcoming Teach back to Shreveport Music.
"We wanted it to remain a part of the community," he said. "It's been part of the business fabric for 110 years. It was a passion project. (Malsch) and I at the time didn't know how much we didn't know. Even if we did have the time to learn it, we could never be what (Teach) already was, which was 40 or 50 years of experience, not just in the business but in this store."
Teach looks forward to building a new chapter in that legacy.
"I hope it keeps rocking," he said. "Shreveport needs a local, homegrown store that caters to the local people. That's what we're trying to do."