CHRISTUS BOSSIER EMERGENCY HOSPITAL CELEBRATES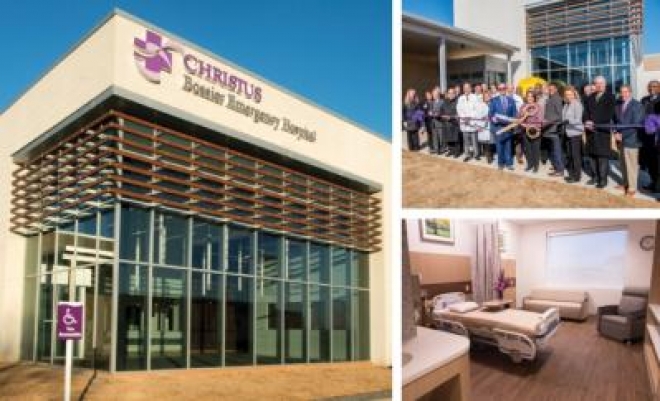 Five Years of Serving the Community
Since opening in 2018, CHRISTUS Bossier Emergency Hospital has seen solid growth in service to the Bossier community. The facility, located on Viking Drive, is a licensed hospital by the state that includes a full-service emergency room, short-stay inpatient beds, advanced diagnostic imaging and laboratory services. For the mother who is caring for a child with high fever or dehydration in the middle of the night, for the family of a young teen injured while playing school sports, for the man who injured his leg on the job and for the woman who needs her annual mammogram, the team of expert emergency room doctors, nurses and support staff at CHRISTUS Bossier Emergency Hospital stand ready to serve.
CHRISTUS Bossier Emergency Hospital was built to provide access to care where people live and work and to make health care more convenient. The Bossier community wanted more options, and CHRISTUS brought that choice. Anchored by a 24-hour, nine-bed, full-service emergency room, the 25,000-square-foot facility is also equipped with six short-stay inpatient beds used for patients requiring admission directly from the ER or their physician's office for additional treatment and diagnosis.
"CHRISTUS Bossier Emergency Hospital is a real ER, not an urgent care," said Jennifer Varnadore, hospital administrator. "We treat patients with acute problems like chest pain, open wounds, bone breaks, head injuries, high fevers, severe pain, severe vomiting and seizures. We have the ability to admit patients to the short-stay inpatient beds when they need observation, ongoing monitoring, diagnostic work up or IV therapy. Because we are a hospital, not a clinic, our staff can handle any kind of emergency and ongoing care patients may need, providing immediate access to quality physicians, technologies and services."
In addition to the skilled emergencytrained physicians, CHRISTUS works with Dr. Will Maranto and his practice partners at Bossier Family Medicine who serve as inpatient hospitalists. The facility also features outpatient services for laboratory and radiology for patients coming straight from their physician office to have outpatient lab testing, X-ray, MRI, CT, digital mammography or ultrasound.
Beginning this spring, the facility will offer bone density testing, as well as palliative care services and inpatient hospice care.
"Our commitment to Bossier is strong," Varnadore said. "As we celebrate our fifth birthday, we are bringing new services not available anywhere else in the Bossier community, including the liver multi-scan MRI to assist in diagnosing fatty liver disease. We also offer the only cancer care in Bossier in our adjacent Healthplex building."
At CHRISTUS, care is centered around treating the patient, not the diagnosis, and at the heart of that care is the CHRISTUS mission to extend the healing ministry of Jesus Christ. Since its opening on Feb. 15, 2018, through Dec. 31, 2022, the CHRISTUS Bossier Emergency Hospital team has cared for more than 75,000 ER visits, 1,600 inpatients and 6,000 ambulance arrivals. CHRISTUS is also a designated Children's
Miracle Network Hospital and about 18% of emergency room care at CHRISTUS Bossier is for pediatric patients. Outpatient services performed during that same time period include nearly 7,000 CT scans, more than 4,000 MRI scans and over 5,800 ultrasounds, among other outpatient services.
"These numbers clearly show there is a need here in Bossier City and beyond," said Dr. Steen Trawick, CEO of CHRISTUS Shreveport-Bossier Health System. "The hospital was purposely built in the most growing corridor of our community, in the center of our busy lives and where we live and work. We are so grateful for the community's response as we live out our mission to extend the healing ministry of Jesus Christ by providing these much-needed services."