10 years of epidermal designs
"I tattooed Woodstock, the little bird from Snoopy, on a guy's butt one time."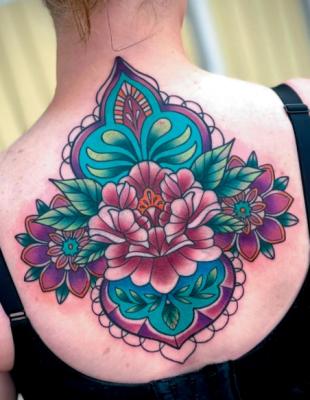 Did that get your attention? It got Nicole Shore's attention.
Shore owns at 3650 Youree Drive in Shreveport, celebrating its 10th year. During that time, Shore, a tattoo artist, has been asked to do a lot of designs.
On a lot of different people. In a lot of different places. "I've definitely been asked to do things that I've turned down," Shore said. "I'm a pretty modest person. I have turned away things that just made me feel uncomfortable, or on people who have made me feel uncomfortable – as well as subject matter. I've never wanted to do anything that was gang-related or very negative in its meaning."
Shore considers herself an artist. She graduated from Louisiana Tech with a degree in fine art/photography. It just so happens that Shore's canvas is someone's body.
"I think over the past 15-20 years, (tattooing) has grown into being respected as a part of art and not something separate," Shore said. "It was its own little thing and viewed negatively by a lot of people. Now, it's kind of been more inclusive as an art form."
By design, Voodoux Tattoux looks more like an art gallery than a tattoo parlor. The store sells hand-made art, antiques and oddities.
"I was an artist before I started tattooing, just like most of my coworkers," Shore explained . "Most of us have done other forms of art for a long period of time before we learned to tattoo. I guess this is kind of going back to roots in having a lot of involvement in a lot of different art forms."
But there is a big difference between myself in an artistic way and allow the a piece of artwork and a tattoo. artist to express herself using my skin,"
"Whenever I do a painting or another Clawson said. "It's just cool to be able art, I can do that piece of art with the to wear someone's artwork literally on intention of just doing the art how I see fit, or how I want to do it. But when I do a tattoo, it's a collaboration. It has to be something the person wearing is going to love, or enjoy, or want."
Nikki Clawson is a walking advertisement for Shore's work.
"Too many to count," Clawson's said when asked how many tattoos she has. "Honestly, I have no idea."
Most of Clawson's tattoos – "I have both arms almost completely full. Both of my legs have some stuff on them" – have been done by Shore.
"The last big tattoo she did on me was a floral piece on my left calf," Clawson said. "It was based off a vintage suitcase that I had. … It's really cool. It's got vintage blues and oranges and stuff like that. It's really fun."
And then there is the "gypsy lady on my right arm she did for me. It has a big moth underneath it. That one's super fun and colorful."
Clawson, who is 32, got her first tattoo a week before she turned 18.
"For me, tattoos are another way to express my body."
According to the History of Tattoos website, 36 percent of Americans between 18-29 have at least one tattoo. Seventy percent of those have more than one tattoo, while 20% have more than five tattoos.
The United States has 20,000 tattoo parlors – and the number is growing.
"If you're good at what you do, everybody is staying extremely busy," Shore said. "It's almost to the point to where we have to turn down people. There are a lot more new artists learning how to tattoo and getting into the industry. It definitely, as a whole, has grown – and is still growing."
Before Clawson became a hairdresser, she had jobs where showing tattoos were frowned upon. So much so she was made to cover them up. But tattoos – while still frowned upon by some – are more widely accepted.
"Since being a hairdresser, I've never had any issues having a place to work," Clawson said. "I feel like creativity is kind of our thing. If I had lost out on customers because of having tattoos, they're not my people. I would have never done their hair anyway. People know my heart. They know I love what I do. If they can't look past my tattoos, then they're not the customer for me."
To learn more about Voodoux Tattoux, you may visit www.voodouxtattoux.com.