The Uneeda Artists Lofts Open

The Uneeda Lofts is now welcoming tennants.
Artists, creative professionals have new place to call home
For two years, professional artists, makers and creators eagerly watched the construction at 711 Milam Street, waiting for the long-unused, six-story building to be transformed into the Uneeda Biscuit Artist Lofts. Last week, one of those artists got her wish. Her new home is 700 feet from her Andress Artist and Entrepreneur Center studio space. On Oct. 5, at 2 p.m., she and many others will be celebrating the grand opening of the long-awaited Uneeda Lofts.
The location has been a big draw for the 22 creative professionals who have already leased one of the 32 one-bedroom, one-bath units. The Uneeda Lofts are located in the nationally awarded creative placemaking community, Shreveport Common.
They are steps from Central Artstation, Artspace, the Andress and other galleries, studios, retail, makerspaces, indoor and outdoor venues, the Robinson Film Center and the new Caddo Common Park.
Karen La Beaux, a professional artist working in Shreveport Common, says she is excited to live within a short walk from her workplace and added, "The tall ceilings and natural light from the large windows are ideal for artists to create their art, and the beautiful mezzanine will be the perfect place for rotating exhibits." Each unit features large windows, high ceilings, versatile floor plans, appliances including washer/dryer and shared space on the mezzanine overlooking the grand lobby."
"This is the very best of Shreveport Common, adding live/workspace artists told us they wanted and needed in Shreveport Common," said Pam Atchison, the executive director of Shreveport Regional Arts Council. "We are so grateful to Edward Taylor and Wayne Brown for making this dream a reality."
The handsome brick building, with a reddish hue attributed to the Red River, is easily recognized by its once-faded, now-restored Uneeda Biscuit mural. The building stands tall on Milam, a favorite downtown, tree-lined street between Common Street and Louisiana. Originally, it was the Vordenbauman-Eastham Company building and later the Marcus Furniture store. The restoration, particularly the interior, has been dramatic, saving the building from total ruin. At one point, the roof had fallen through all six floors, adding a full structural reconstruction to the project.
Developer Edward Taylor, managing partner for Fairfield Properties, is excited about the opening of Uneeda Biscuit Artist Lofts and its long-term potential. "It will bring more activity to downtown Shreveport," he says, "and will help support small businesses like Rhino Coffee and others with foot traffic. It will help support other activities downtown and will provide a unique residential option – there's not anything much like this."
This project was a huge undertaking with difficult challenges, not the least of which was Covid and its impact on materials and supplies. However, Fairfield Properties, Brown Builders and Newman Marchive Inc. have persevered, and Shreveport is the winner.
"The owners had a vision, and at one point, they thought it might not be possible to save the building. They stayed the course," said the project architect, Lauren F. Marchive III. "They gave us the opportunity to help them repurpose the old building into a modern living community."
The repurposing of 711 Milam brings the total public and private investment to $58,000,000, with 33 construction projects completed in the nine-block area of Shreveport Common since 2011. Three buildings are currently under construction, and three more blighted properties are expected to start major construction within a year.
According to Renee Wiggins, senior asset manager for Fairfield Properties, the units are leasing from $875 - $1,042 a month. "We have been leasing for three weeks and are already 70% leased. We are excited to be the new home for artists and creative professionals and are looking forward to having resident functions, showcasing residents' art, and having a great place for artists to live, work and mingle." Wiggins said the remaining units are half-market rate and half-affordable rate for those who meet the requirements.
The Uneeda Biscuit Artist Lofts are taking applications for contemporary and well-appointed apartments ranging from 592 square feet to 753 square feet with flexible layouts. For more information, visit www.UNEEDALOFTS.com.
Wendy Benscoter is the executive director of Shreveport Common Inc.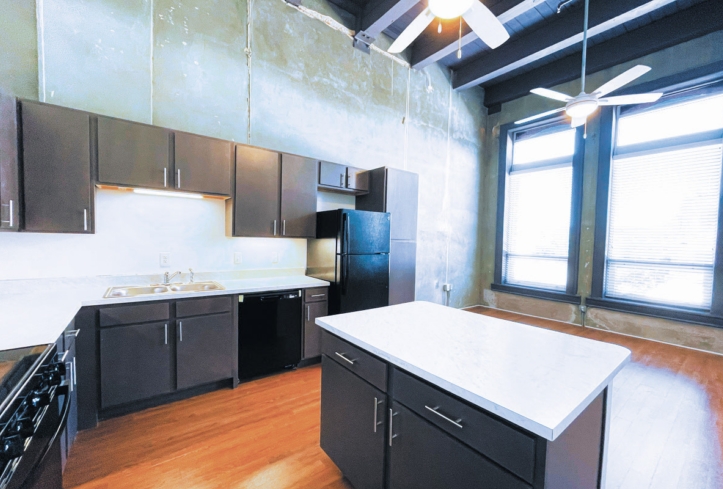 The contemporary-style apartments at 711 Milam Street features an open floorplan, secondfloor lofts, and include washers and dryers. All apartments are one bedroom, one bath.