The American Rose Center will be aglow with Christmas lights and new displays.
Roseland welcomes new events
In 2024, The American Rose Center celebrates 50 years in Shreveport, providing a national venue for studying, cultivating and appreciating that fragrant and showy blossom.
They celebrate another milestone anniversary this Christmas season, the 40th annual edition of Christmas in Roseland.
According to the Center's interim executive director, Claire Bissell, they're bringing back the old favorites and adding some new events to make December a season to remember.
As well as being part of the Holiday Trail of Lights, which wends its way across the landscape, Christmas in Roseland will add several special events to the menu this year. "The most exciting is our four fireworks shows," Bissell said. "We'll be having them every Saturday night in December."
Also, more than $25,000 worth of new lights and lighted displays will help brighten the season.
For a complete list of events and times, consult the website at www.christmasinroseland.org. The Center particularly notes that Christmas in Roseland is a walking event only, and no carts are available. However, the buildings and paths are handicap accessible.
The Center is just off I-20, Exit 5, at 8877 Jefferson Paige Road in Shreveport. Admission is $10 per person or $30 for a Family Four Pack. Ages 2 and younger are free.
You can purchase tickets at the gate with cash or card, or online at www.outhousetickets.com.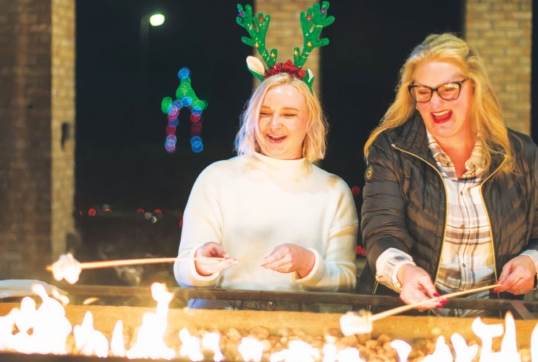 Christmas wouldn't be complete without toasted marshmallows.
Discount coupons are available at Garrison's Home and Garden Showplace. Visit Shreveport-Bossier, Town of Greenwood and Chick-fil-A (Youree Drive only).
There are also going to be some special discount nights during the season.
Friday, Dec. 1, will be First Responders and Medical Field Appreciation Night, offering $5 off admission with a work ID.
Roseland will honor all active duty and veterans with $5 off admission with an ID.
Dec. 15 is Postal Workers and Delivery Driver Appreciation Night, offering discounts with an ID. It's also Scout Appreciation Night, so wear your uniform for $5 off admission.
Santa will be in the gardens every night from 6 to 9 p.m. for photos at $10 each, and the Roseland Express Train will roll through the roses for $5 a ride.
This year's other special events will be a visit from Miss Merry Christmas, Mardi Gras in the Gardens, featuring some of the local krewes, and a Nature Ornament Workshop in conjunction with Walter B. Jacobs Nature Park.
Also returning, according to Bissell, "We have some of the old favorites, like our Christmas vendor market we do every year. That's going to be the 8th through the 10th.
"We have our Princesses in the Park. They'll be here every Sunday night in December. That's the 3rd, the 10th, and the 17th. That's always a really popular one, especially with the little girls.
"This is our largest fundraiser that we do for the American Rose Center. We're hoping that this year will be the biggest one ever," Bissell said.
That fundraising goes not only to the natural environment but also to the new lighting and other renovations at the Center. "We just did a big renovation that finished up this past year," she said. "We did a $2 million great garden restoration project. We are in the process right now of remodeling our administration building, which is the one building on the property that was original. So, it's 50 years old. It was the first building built when we moved here to Shreveport.
"We plan to put a new museum to showcase our history, especially here in the Shreveport area. We'll be having a celebration around that."