KaDavien Baylor, Wonda Gertin, Chris Henry and Meagan McDuffy Davis
Locations courtesy of Fairfield Manor and C&C Mercantile & Lighting.
Each year, the Greater Shreveport Chamber's Young Professional Initiative highlights 40 of our region's most dynamic and accomplished young professionals who are engaged in our community in business, family and service. Over the years we have recognized more than 500 individuals with many from previous classes going on to become our local leaders in business, politics and public service. 40 Under Forty is our chance to celebrate our best young leaders by spotlighting those who are excelling in their profession and making an impact on and for our community.
"We are truly impressed with the class of leaders and professionals that have been chosen as honorees for the Young Professional Initiative's 2023 top 40 Under Forty," Dr. Timothy Magner, president of the Greater Shreveport Chamber. "The chance to partner with the 318Forum to highlight these individuals and then celebrate them at the December Gala is one of the highlights of our year. We enjoy recognizing the energy and impact that these individuals bring to our community today and getting a preview of our leaders for the future."
The judges also select a Young Professional of the Year as the individual among the 40 who exemplifies the spirit of 40 Under Forty. The decision is always a tough one, as each class of 40 brings their unique talents, experiences and contributions to our community.
"The 2023 40 Under Forty Class has been amazing to work with," said 40 Under Forty Chair Sara Nelms. "They are a great group of accomplished young professionals and I am so excited to celebrate their achievements at the Gala on Dec. 1!"
As the profiles in the following pages will demonstrate, this year's class continues the tradition of excellence, comprising a group of highly engaged, change agents. This diverse group includes artists, entrepreneurs, physicians, lawyers and school leaders, as well as managers, owners and directors from the private and non-profit sectors. Each of them deserves recognition for what they bring to our community. Take a look at the following pages to see the range of talent and breadth of commitment we have in our community. Who would you pick as our Young Professional of the Year? Make your choice and come out to celebrate them on Dec. 1, when we'll all find out whom the judges selected!
– Timothy Magner, ED.D., President, Greater Shreveport Chamber of Commerce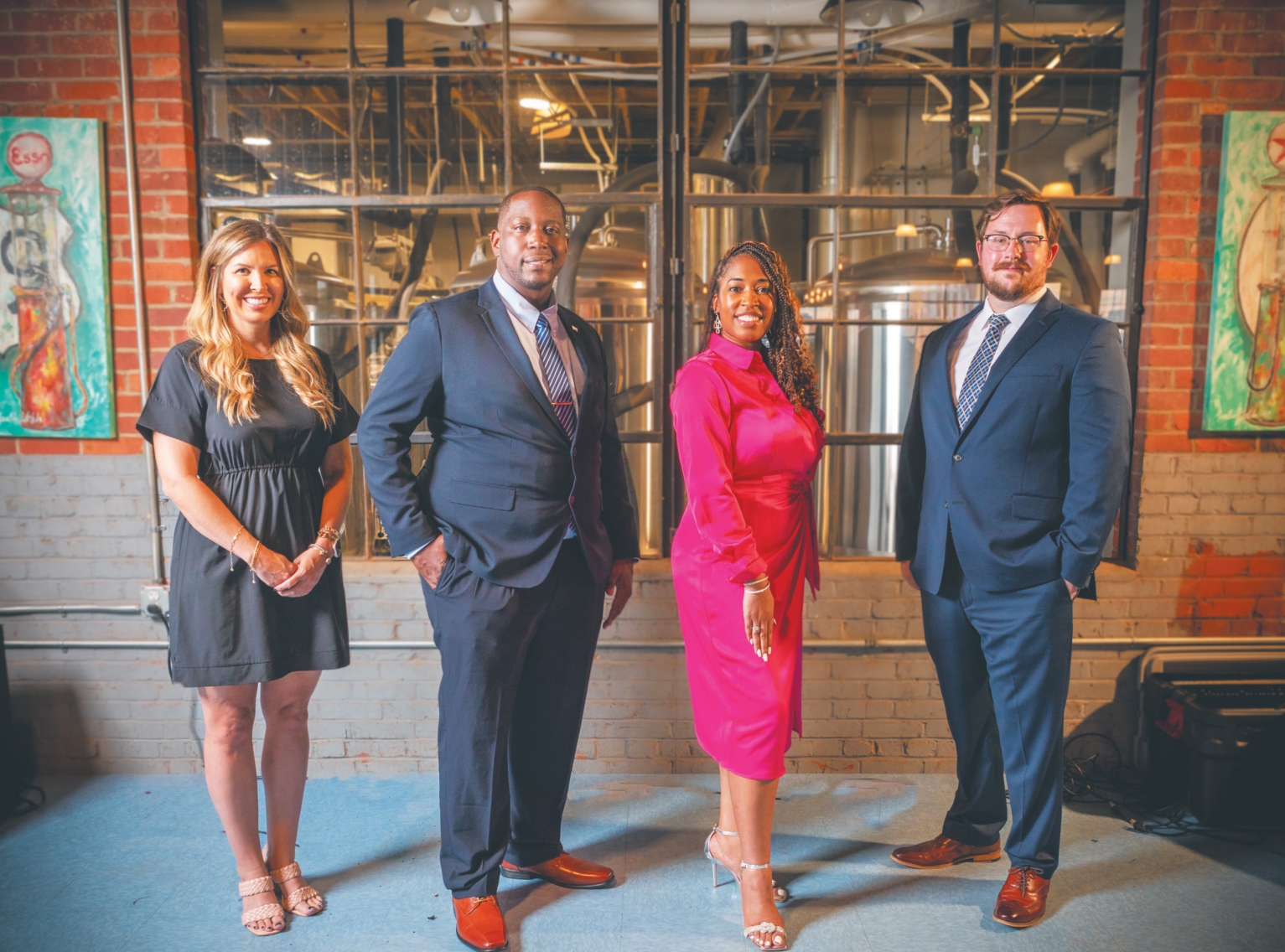 Krysta Cyr, Rodjerick Larry, LaToria Stewart and Shawn McNeil
KaDavien Baylor
KaDavien Baylor is a renowned public artist recognized for his vibrant murals. His creations grace locations such as the Valencia Park Community Center basketball court, Galilee's Stewart-Belle Stadium brick wall in the Allendale community, Linwood Public Charter School's interior and the Marshall Street Underpass.
As a member of the 44th Greater Shreveport Chamber Leadership Class, he transcends conventional definitions of an artist, embodying the roles of visionary, entrepreneur and humble change agent. His murals serve as conversation starters throughout NWLA, fostering vibrant neighborhoods that people yearn to inhabit and nurture.
Baylor's journey has been highlighted in publications such as The New York Times, USA Today and The Artist's Magazine. After earning a Bachelor of Fine Arts in liberal arts from Louisiana Tech University, he embarked on a three-year public art period in Houston, Texas. This experience fortified his commitment to leveraging creativity to inspire youth and commemorate history.
Liz Buhler
A 2009 graduate of the University of the South with a BFA, Liz moved to Charleston, S.C., to begin her career as a graphic designer for Gulfstream Communications, publisher of five East Coast magazines and the producer of large, regional events. A Louisiana native, she and her husband, Owen, returned to Shreveport in 2013. She continued her career path in marketing at Holy Angels Residential Facility. In 2015, she joined Heard, McElroy & Vestal as marketing coordinator, where she has contributed to the accounting firm's growth internally and within North Louisiana and East Texas communities. When not at work, she serves as a board member and volunteers for various local organizations and spends time with the three sons she shares with Owen and extended family and friends.
Jeremy Burge
Jeremy Burge is the chief operations officer for Louisiana Truck Stop and Gaming. He is known for his exceptional work in the truck stop and gaming industry. Born and raised in Haughton, La., Jeremy has been an asset to his company for 17 years, demonstrating his expertise and commitment to his work on a daily basis.
As COO, Jeremy oversees all aspects of the truck stop and gaming establishment, managing a team of employees and ensuring that all operations run smoothly. He is a natural leader who holds himself and his team to high standards and is passionate about providing excellent service to his customers.
Beyond his work, Jeremy is married to his loving husband, Joseph Moore, and enjoys spending time with him and their family and friends.
He is also an active member of his community and is dedicated to giving back through various charitable causes and volunteer work.
Kirandeep Chahal
Dr. Kiran Chahal was born and raised in Toronto, Canada. Her parents are first-generation immigrants from India. She is the first in her family to finish elementary school and high school. She completed her Honors Degree in psychology at York University and received her medical degree at the Medical University of Americas in St. Kitts and Nevis in the Caribbean. She has lived in New York, Chicago, Florida and Louisiana to complete her medical school training. She completed her physician training at LSU Health Shreveport. Dr. Chahal was then an attending physician and assistant professor of internal medicine at LSU Health Shreveport, where she was vice chair of academic societies at the Medical School. Dr. Chahal is continuing her love of medicine and is now working with the Willis Knighton Health System. Dr. Chahal works with patients from all walks of life and backgrounds with all types of health problems. She loves being a doctor and loves taking care of her patients. Her heart and soul are right here in Shreveport.
Kelli Cole
Kelli Cole is the owner of Good Granoly, a granola and snack manufacturer in downtown Shreveport. For nearly a decade, she's grown her food business from being sold locally at farmers' markets to now being distributed to grocery stores throughout Louisiana and the Gulf Coast region. They also ship nationally through her company's website.
Kelli enjoys collaborating and providing encouragement and mentorship with other food producers. Alongside entrepreneurship, she enjoys volunteering at Grace Community, Common Ground and her daughter's school.
Kelli is a graduate of Louisiana State University in Shreveport. She is an avid reader and loves spending time with her husband, Montgomery, and their two wonderful daughters, Luna and Nova.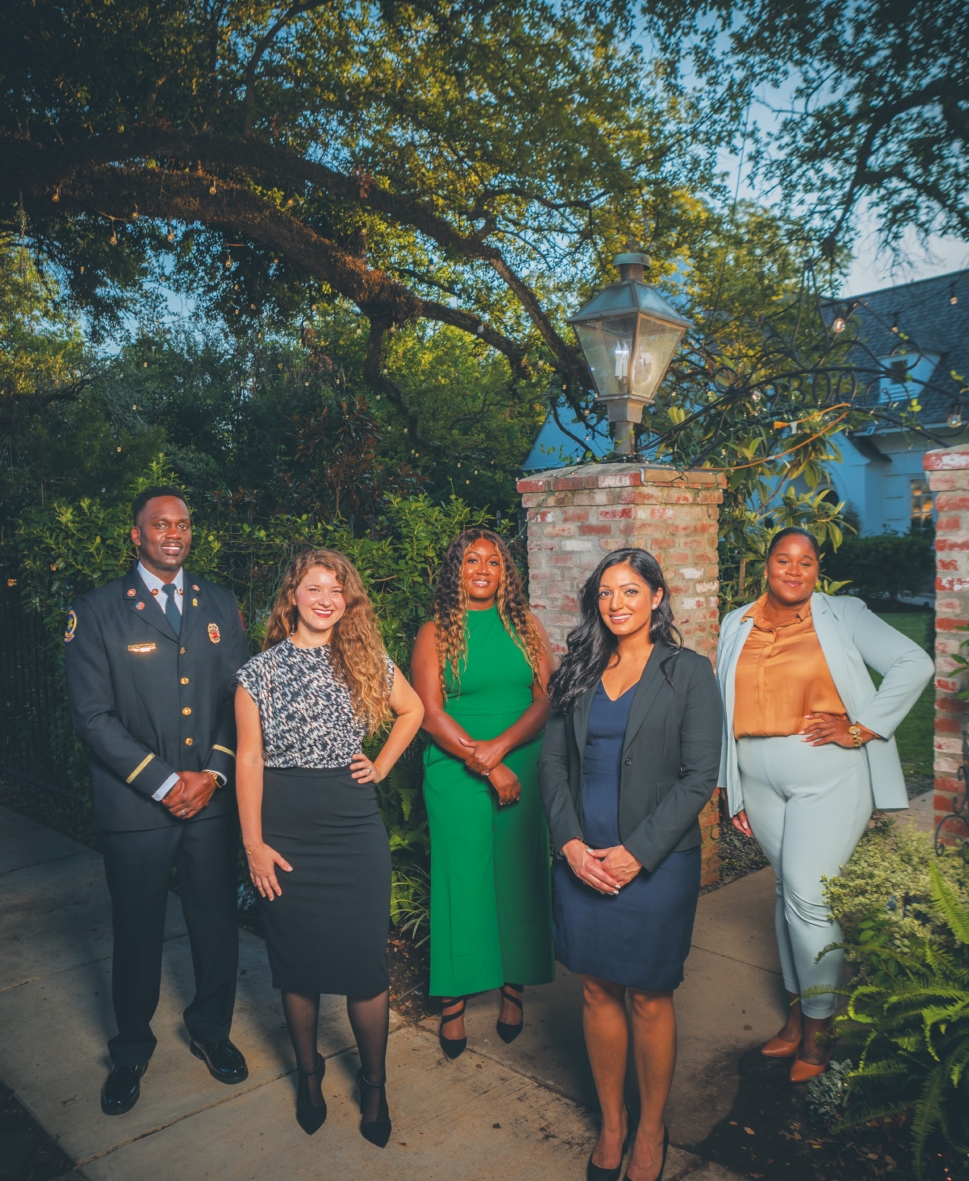 Clarke Jackson, Cory Joy Craig, Dominique Horton Washington, Dr. Kiran Chahal and Shocker Creal
Cory Craig
Cory Joy Craig, Louisiana music educator and professional saxophonist, was a foster youth in California who was "accidentally" placed into the band class, where her life was changed through music. She graduated from Louisiana Tech with a bachelor's in instrumental music education. Over Craig's nine years of teaching in Louisiana, she was named Caddo Parish Middle School Teacher of the Year Finalist in 2017, LMEA District VIII Middle School Band Director of the Year in 2017 and 2023, LMEA Outstanding Young Music Educator in 2019, Golden Star Award in 2021 from Bossier Parish Schools, Alumni of the Year at the Louisiana Tech University College of Music in 2022, Louisiana State Middle School Teacher of the Year in 2023 and Grammy Music Educator of the Year Nominee Finalist for 2022, 2023 and 2024. She accepted the role of Community Partnership Music Teacher Leader in Caddo Parish Schools 2017. She is currently the band leader of Everett Street Jazz, LAJE Middle School Jazz Chair, LMEA Music Educators Mentorship Chair, Louisiana Bandmasters Chairperson and teaches band at Benton Intermediate School with 600+ students in their program. She and her students have raised over $50,000 for needed instruments and lead their Tri-M Junior Honors Society in community service projects across Bossier City and Shreveport. Today, she continues to reach and inspire her students and the community at large through quality music education, advocacy, live music and community service.
Shocker Creal
A proud native of Shreveport, Shocker Creal is the daughter of Clarence and Darlene Creal, a devoted mother to Ethan Fields, and serves as the chief technology officer for the city of Shreveport.
Shocker has over 13 years of experience in the field of Information Technology, stemming from her time in the United States Navy as an electronics technician. While in the Navy, she became passionate about helping others, simplifying processes and improving operational efficiency.
Appointed to the CTO position by Mayor Tom Arceneaux, Shocker is determined to support her colleagues by updating and simplifying outdated processes and leveraging the city's technological resources to improve citizens' lives.
Shocker's leadership extends beyond the CTO role, as she sits on multiple influential boards, including the Government IT Congress Advisory Board, IT Symposium Board and Bossier Parish Community College Advisory Board, where she continues to pave the way for a brighter, tech-driven future.
Krystal Critton
Krystal Nicole Critton is the program director at Junior Achievement of North Louisiana. A Shreveport native and alumna of C. E. Byrd Math/Science Magnet, Krystal earned her bachelor's in communication studies with minors in public relations and French from LSU-Baton Rouge.
With a rich background in education and community involvement, Krystal dedicated nine years as an elementary educator. Her passion for empowering young people led her to join Junior Achievement.
Her commitment extends beyond her professional role, as she is a member of Alpha Kappa Alpha Sorority Inc., Junior League of Shreveport-Bossier, Junior Achievement Young Executives Society and Light Hill Baptist Church.
Krystal cherishes her family roots as the proud daughter of Mary Ann Walker Critton and the late Willie J.C. Critton. During her leisure, she enjoys moments with family, friends and her beautiful daughter, Aliyah.
Krysta Cyr
Krysta Cyr, a proud alumna of Phi Mu at LSUS, is an involved professional making a remarkable impact in her career and community. With a decade-plus tenure at Red Ball Oxygen, she has risen through the ranks, starting as an administrative assistant and now serving as the director of human resources. Outside of her thriving career, Krysta is actively involved in various organizations in the Shreveport-Bossier area. She currently serves on the board for the Shreveport Bossier Phi Mu Alumnae Chapter and the Shreveport Metropolitan Ballet, where she currently holds the position of president. Additionally, she dedicates her time to Phi Mu Fraternity on the local and national level with her ongoing commitment to sisterhood and leadership.
Krysta Cyr stands for the values of Phi Mu. She continues to inspire others through her leadership, dedication and unwavering commitment to making a positive impact in both her professional and personal endeavors.
Meagan Davis
Meagan Davis is a Bossier City native, a doting mother to Mkalan, Javian and Arya and wife to Daniel. She is a business analyst at Centerpoint Energy, an Iraqi war veteran and a member of the Louisiana National Guard with over 16 years of service. She holds a bachelor's degree in business administration and a master's in business analytics. Meagan brings a strong educational background to her professional career. Additionally, she holds the position of vice chair at the Shreveport-Bossier African American Chamber of Commerce, actively contributing to the growth and success of the local business community.
Biskie Duncan
Biskie Duncan is the evening anchor for KSLA News 12 in Shreveport. Originally from Tennessee, Biskie moved in 2014 when her husband, Josh, was stationed at Barksdale Air Force Base. In her time in Shreveport-Bossier, we've seen her do a little bit of everything! She worked at the River 95.7 as a co-host to "Loveable" Larry Ryan. She tried her hand at every shift before becoming the program director responsible for the music and commercial production. In 2020, she made a career switch and hosted "Loving Living Local" before moving to KSLA, first as a morning anchor alongside Domonique Benn and then to evenings. Even with the changes, a few things have remained the same. Biskie firmly believes that you should always make where you are the best it can be. Being a voice to those who need it most is Biskie's passion, along with Josh and their three furbabies, Dottie, Khan and Minnie.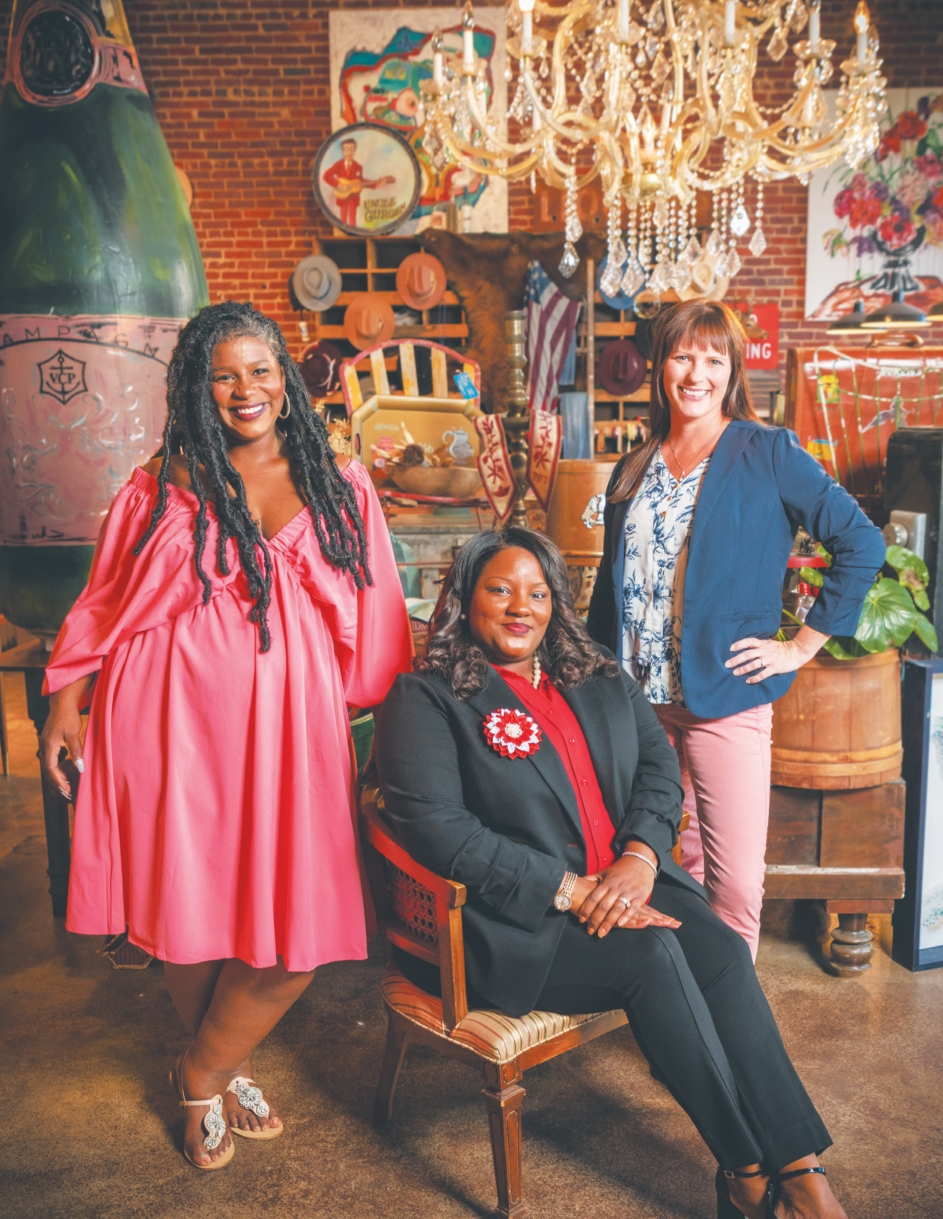 Brittany Willis, Lariana Graham-Taylor (seated) and Dr. Sierra Pollock
Lakeisha Florence
Lakeisha Florence isthe program administrator at Providence House with years of experience in helping homeless families with children. Specializing in human services, Lakeisha uses that experience to ensure that every family she encounters has the tools and resources needed to successfully live independently and re-enter society.
By focusing on breaking the homeless cycle, through education and workforce development, Lakeisha has been able to put her bachelor's degree in human services to good use. Over the years, Lakeisha's strengths at Providence House has garnered some recognition for creating the Providence House-BPCC Workforce Development Program. Lakeisha is also a member of the 2023 Shreveport Chamber Leadership Class, and in April of 2023 she was sworn in as a TBRI Advocate for the Juvenile Courts in the state of Louisiana.
When she is not at Providence House, Lakeisha is an avid servant in the community and loves spending time with her children.
Christena Francis
Christena Francis is a Shreveport native and graduate of Louisiana Tech University and is currently achieving a Master of Education at Centenary College of Louisiana. With roots in corporate training, she has over 14 years of experience in customer service and quality risk management. She lives by the motto, "Love what you do and do what you love." Christena exhibits this daily as a middle school mathematics and art teacher at Magnolia School of Excellence – Upper. She is also the owner of Christena De'Angielo Designs, where she designs jewelry and teaches others to design.
Christena is a member of Alpha Kappa Alpha Sorority Incorporated.
She has over 20 years of volunteering in Northwest Louisiana with organizations like the Bossier Regional Arts Council and is a board member of the Highland Jazz & Blues Festival. She is one of four coordinators for Highland Open Studio Tours.
Wanda Gertin
Wanda Gertin, the dedicated CEO of Berkshire Hathaway HomeServices Ally Real Estate, is more than just a leader; she's a visionary. Wanda's relentless commitment has driven her to lead Berkshire Hathaway HomeServices' largest-ever startup to achieve market dominance in Northwest and Central Louisiana. Before her remarkable tenure at BHHS Ally Real Estate, Wanda excelled as a relocation director in South Carolina, earning her the title of Relocation Director of the Year at the 2014 Century 21 Global Conference in Washington, D.C. Beyond her professional achievements, Wanda is a driving force in real estate associations. She serves as the 2023 Membership Chair for the Women's Council of Realtors and the 2023 NWLAR Young Professionals Network Secretary. Wanda's determination, drive and leadership are her hallmarks. Beyond her career, she treasures moments with her husband, Scott, and her son, Isaiah.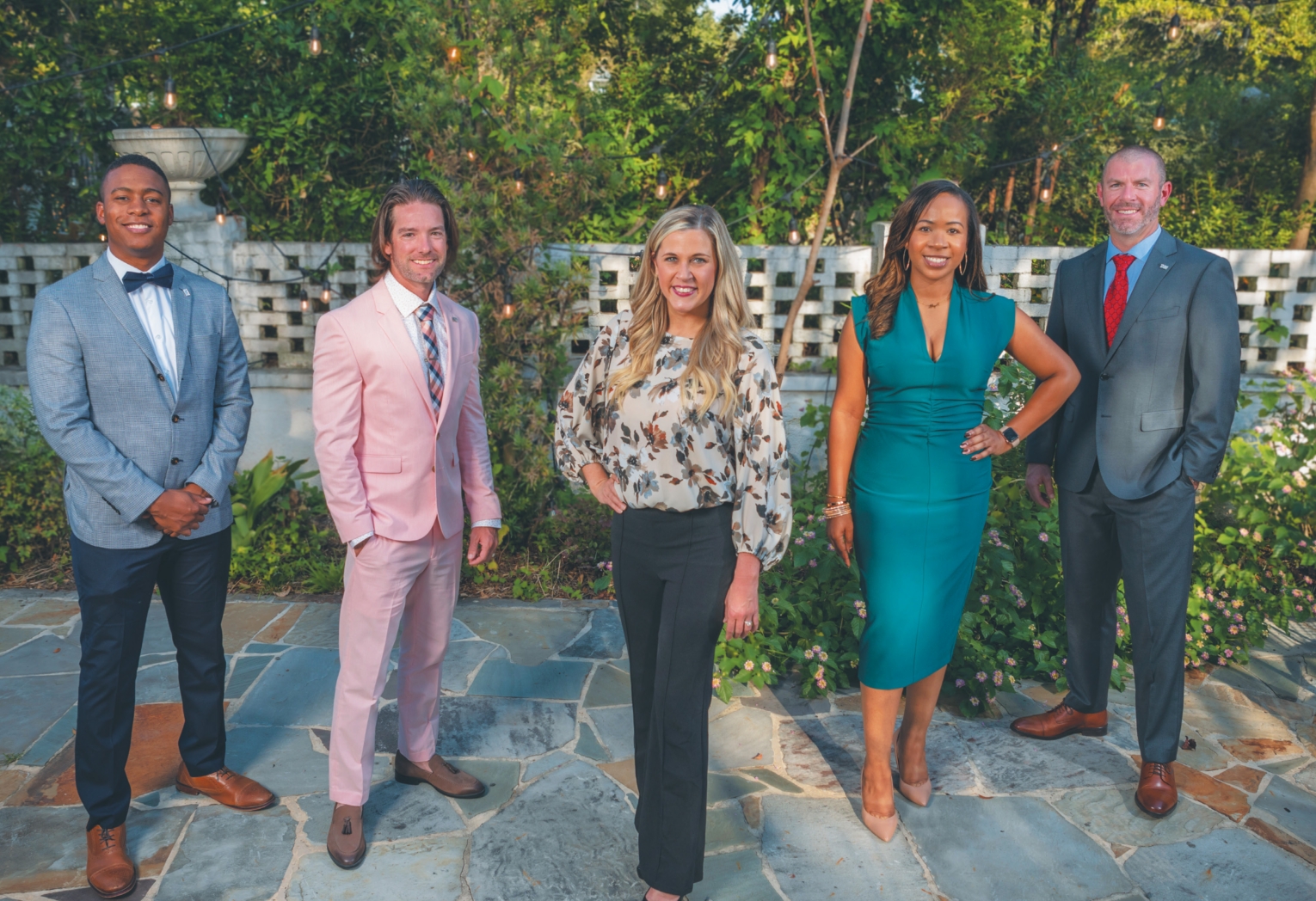 R.J. Johnson, Lucas Morgan, Erin Johnston, Krystal Critton and Matt Oates
Bridgetta Giles
Bridgetta Giles, the first clinically trained sexologist in North Louisiana, has called Bossier City home since 2009. Bridgetta is a devoted mother to her son, Braylon, and her beloved YorkiePoo, Twilight.
At Choices Coordinated Care Solutions since 2013, Bridgetta has served as the practice support specialist, excelling in training staff to excel in the model of Wraparound Care Coordination. Her coaching empowers midmanagerial staff to provide high-fidelity Wraparound services through staff development.
As a clinical sexologist, Bridgetta educates and empowers clinicians to address sex and sexuality in a sex-positive manner and create safe spaces for LGBTQIA+ clients. She also supports BIPOC women and couples in nurturing loving, intimate relationships, emphasizing intimacy, pleasure and sexual mindfulness. Bridgetta's holistic approach fosters healthy relationships.
She is a trailblazer, actively pioneering an avenue for more individuals to enter the field of sexology in Louisiana, ensuring its continued growth.
Lariana Graham-Taylor
Lariana Graham-Taylor is a licensed clinical social worker and board-approved clinical supervisor in Louisiana with over 18 years of social work practice. She is the deputy chief of the Mental Health Service Line at Overton Brooks VA Medical Center. She is the founder and owner of Christopher Counseling Services in Shreveport, a private mental health agency that provides clinical services. She has over 10 years of experience in leadership, management, growth and development of mental health services programs. Her previous leadership roles include program coordinator for the Intensive Community Mental Health Recovery Services Program at OBVAMC; founder, co-owner and CEO of Social Work Professional Services; clinical director for two behavioral health service provider agencies. She is a member of the National Association of Black Social Workers NL Chapter, National Association of Social Workers, Shreveport Alumnae Chapter of Delta Sigma Theta Sorority Inc. and Word of God Ministries. She is the mother of three children and wife of retired Navy veteran John Taylor Jr.
Tamika Hayden
Tamika Hayden currently serves as accounting coordinator at LSUS. She has a passion for service and commitment, community service and making an impact in the lives of others. Tamika earned two associate degrees from Southern University at Shreveport, a bachelor's from Wiley College and a master's from Grambling State University. She is also a certified etiquette consultant. Tamika is the youngest daughter of William and Linda Hayden. She has one sister, Sherrea'. She is the proud mother of Tra'vion Hayden. Tamika has served with numerous organizations in the Shreveport area. She founded Destined for Greatness Dance and Leadership Development Inc., a 501(C) (3) nonprofit organization mentoring young girls. Tamika aspires to always serve as a role model to younger women and wants to show them it is OK to be their authentic selves. She loves the quote from Dr. Seuss: "Why fit in when you were born to stand out?"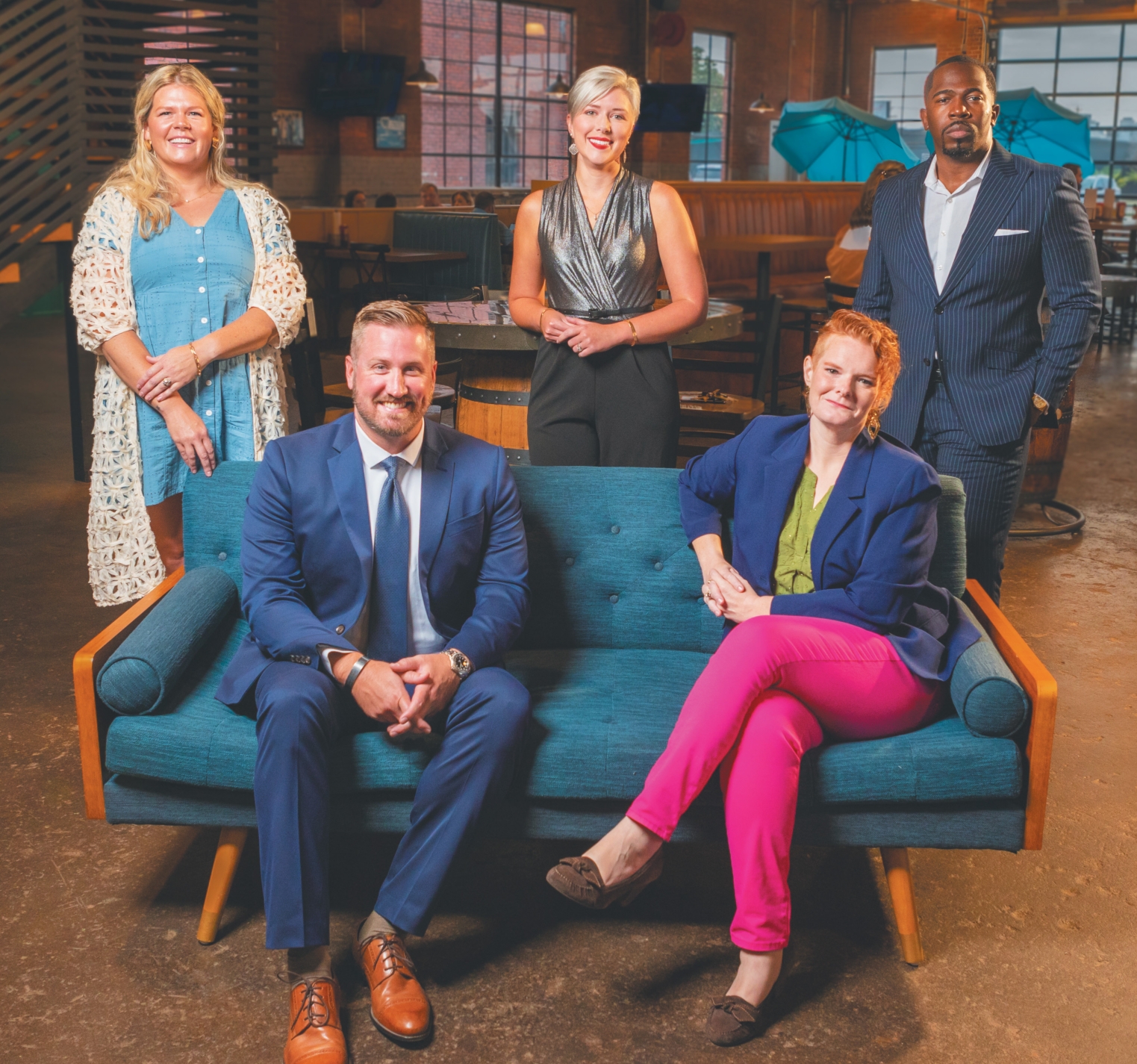 Kelli Cole, Dr. Ryan Jacobson, Biskie Duncan, Allison Richardson and Dr. Jimmy Jones
James Christopher Henry
Chris Henry, a medical dosimetrist at Willis-Knighton Cancer Center, creates photon and proton treatment plans for cancer patients. He has been an invited speaker to multiple national dosimetry education workshops and serves on the AAMD Foundation Scholarship Committee. He has authored clinical Python scripts used at cancer centers across the country. He enjoys competing in international radiation treatment planning challenges, including placing fifth overall in the first-ever World Treatment Planning Championship.
Chris finds fulfillment in staying involved in the community. He teaches Sunday school and serves on the youth leadership team at his church, the Pentecostals of Haughton. He is a member of the Shreveport-Bossier Cancer Foundation. He also assists with the Common Ground Community food pantry and enjoys watching the Cedar Grove Chargers play basketball. He is married to his loving, supportive wife, Lynn. Their three children, Chrislynn, Andrew and Sam, keep them busy.
Dominique Horton Washington
An LSUS alumna born and raised in Shreveport, Dominique has an intimate understanding of the city that can only be possessed by one with a Shreveport lifeline. She has helped the city increase its social media presence as the first person to hold the position of digital marketing specialist in 2019 and later becoming the digital media manager in 2022. To help stay abreast of the social media impact of the government, she serves on the council of the Government in Social Media ("GSM") organization. Aside from her work for the city, Dominique diligently works in her local church as a youth mentor and worship leader and volunteers her time as social media manager. She organizes community service for her local church to pack food for the homeless and the annual back-to-school drive to provide kids with backpacks and school supplies. Her motto is, "Breathe in courage, breathe out fear."
Jodi Hutto
Jodi Hutto is a proud mother of three amazing children, a dedicated wife and a hard-working, driven businesswoman. Jodi was born and raised in Shreveport/Bossier City. Jodi is a 2007 graduate of Louisiana State University of Shreveport, where she earned her degree in early education and taught elementary school for nearly 10 years. Jodi is currently a top-producing Realtor in Northwest Louisiana, helping her clients realize the dream of home ownership and guiding them through the buying and selling process. Jodi takes tremendous pride in volunteering locally and finding ways to pour back into the community. Jodi has spent her life in Northwest Louisiana, teaching hundreds of children, raising her family and now showcasing our city through real estate. She is proud to call Shreveport/Bossier City her home!
Clarke Jackson
Clarke Jackson is a Shreveport native and former collegiate athlete in the area attending Centenary College and LSU-Shreveport. With an extensive background in fire and EMS, he is a dedicated professional with a passion for helping others. Clarke has been employed by the Shreveport Fire Department for 10 years. Clarke has made a significant impact in the field, saving lives and ensuring the well-being of the community.
Clarke's commitment to community involvement extends beyond SFD. Clarke engages in initiatives with his fraternity, Alpha Phi Alpha Inc., serves as an adjunct instructor at SUSLA and coaches/mentors with The HeartWork Institute and Boy Scouts of America. Clarke is a huge advocate for youth sports and youth mental health.
Beyond his professional roles, Clarke is also a Christian, loving husband to his wife, Jacquelle, and father to their children, Brooklyn and Chase. Clarke's family is a constant source of inspiration, fueling his unwavering dedication to inspiring kids and young professionals.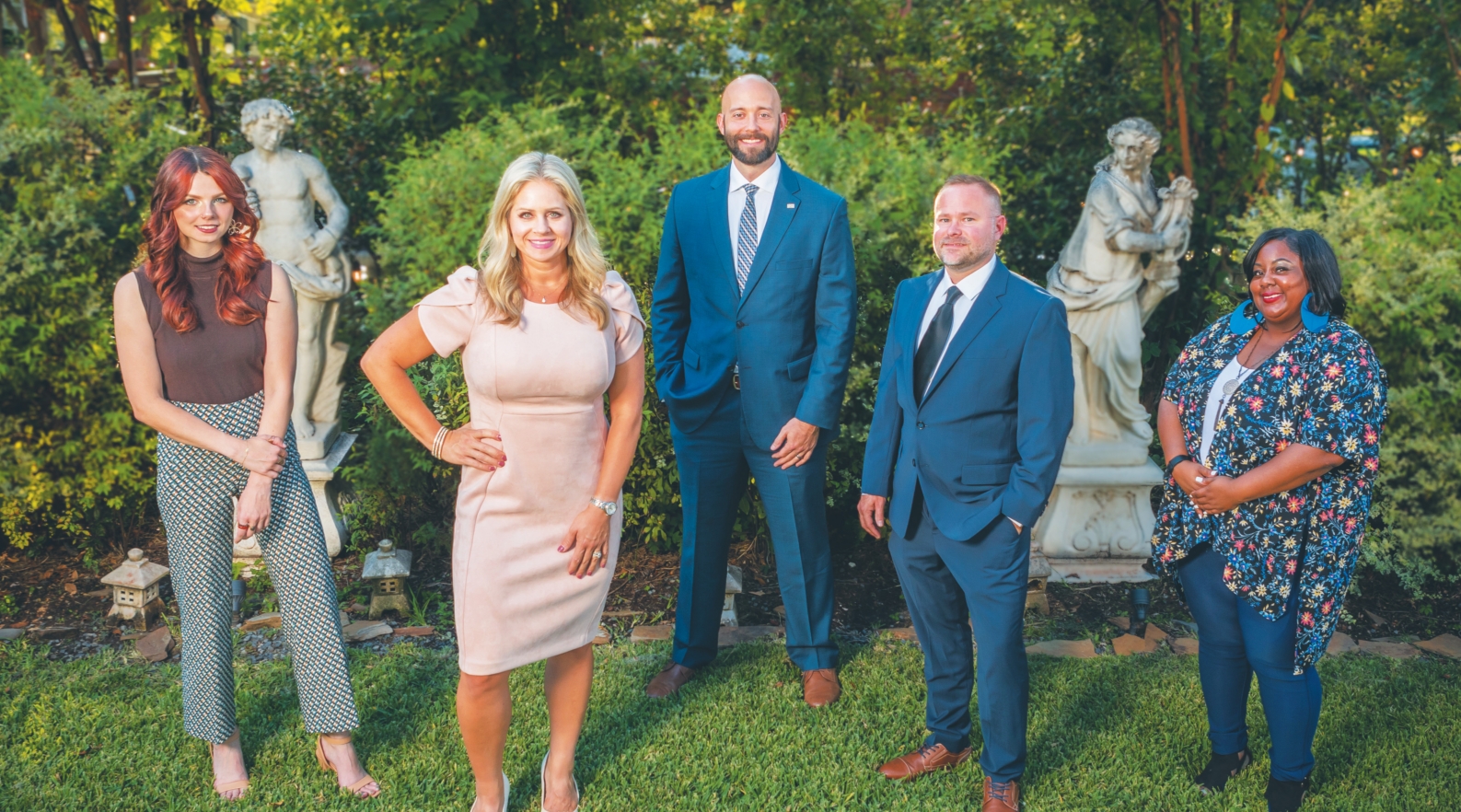 Paige Melton, Jodi Hutto, Matt Stephens, Jeremy Burge and Tamika Hayden
Ryan Jacobsen
Dr. Ryan Jacobsen, DNP, RN, serves as Iraq and Afghanistan veteran program manager at Overton Brooks VAMC. A highly sought-after professional speaker, he has provided keynote presentations, seminars and workshops for over a decade. He completed his Doctor of Nursing Practice from Chatham University. He was selected as the LSNA Clinical Nurse of the Year for 2016, Combat Soldier of the Year for 2004-2005 after serving in Operation Iraqi Freedom as a Cavalry Scout and Purple Heart medal recipient for being wounded in action.
Dr. Jacobsen currently serves as a board director for the largest credit union in Louisiana. He has served on boards of health care associations. He operates a real-estate business under Call It Closed International, helping others to invest/buy/sell or lease residential and commercial real estate. He enjoys coaching youth sports, hunting, traveling, watching his children's numerous activities and attending church. Dr. Jacobsen is a proud husband to Carly and father to Claire and Jordan.
Rodney Johnson
Originally from Topeka, Kans., R.J. moved to Louisiana to attend Grambling State University, where he graduated with a degree in marketing. While at Grambling, he was a member of the American Marketing Association and the Radio Broadcast Network. R.J. landed a career in finance, which led him to relocate to the Shreveport-Bossier area. R.J. has worked in the finance industry for over 10 years and is currently the corporate credit manager of McElroy Metal.
R.J. serves as the co-chair for community outreach on the YPI board, assistant keeper of records and exchequer for Kappa Alpha Psi Fraternity Shreveport Alumni Chapter, advisor for the Guide Right program, Elizabeth Baptist Church Logistics Committee, and is a member of the GSU National Alumni Association. He is the co-founder of Johnson Rental Properties & Investments, LLC. RJ is married to Kristin Johnson and is the proud father of Omari, Kendall and Jae.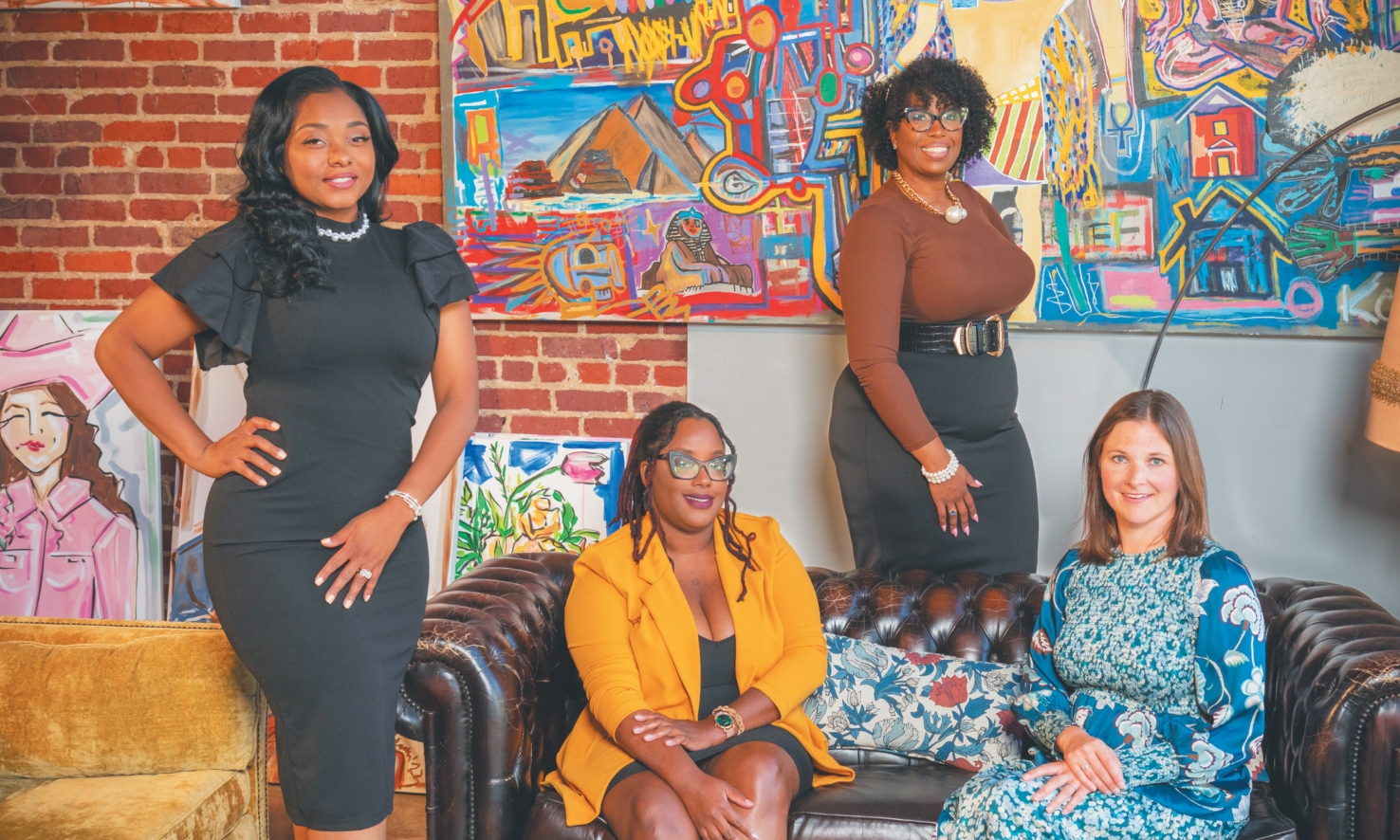 Nikura Tucker, Bridgetta Jene' Giles, Christena Francis and Liz Buhler
Erin Johnston
Erin Johnston is the owner of Healing Minds, a private therapy practice in Shreveport, La. She is a graduate of Northwestern State University with degrees in both psychology and addiction studies. She obtained her master's in counseling from Louisiana Tech University. Erin has been a part of many startup companies, helping three local treatment facilities open their doors. She is one of few in Northwest Louisiana with the title of crisis interventionist. She plans to use this to help local law enforcement implement strategies to assist people in mental health crises. Erin has been asked to speak locally, statewide and in Canada to share her knowledge of recovery from mental illness and addiction. Erin also volunteers her time by holding a SMART recovery group to educate the city on addiction and resources. She enjoys volunteering with the Shreveport Junior League, traveling and spending time with others.
Dr. Jimmy Jones
Dr. Jimmy Jones Jr. grew up in Shreveport. After graduating from Huntington High, he attended the University of Arkansas-Pine Bluff, receiving a bachelor's degree in biochemistry. After obtaining his MBA from LSUS, Jones was appointed to a managerial role at CDM Smith-Clean Water Shreveport. He assumed duties of evaluating infrastructure projects, wastewater overflows, contracting and procurement, and utility coordination. Dr. Jones has taught adjunctly at BPCC for nine years. He has lectured on construction, engineering, mechanical building systems, statics and materials, and OSHA. Jones presently holds the position of president and chief executive officer at Axom Development. He obtained his Ph.D. from Jackson State University, conducting specialized research in renewable energy integration and thermochemical conversion. Dr. Jones, a published researcher, has provided valuable contributions to the field of clean energy alternatives through publication in the Journal of Education & Social Policy. Dr. Jones serves on the African American Chamber Board, Sci-Port Advisory Board, Democratic Party Executive Committee, Mayor Arceneaux's Small Business Task Force and Mayor's Transition Team.
Rodjerick Larry
Rodjerick Larry is the engineering manager for Alloy Piping Products (a Texas Pipe & Supply Company). He was born and raised in Shreveport, where he graduated from Northwood High School. He furthered his education at Northwestern State University, receiving his Associate in Electrical Engineering Technology and bachelor's degree in industrial engineering. He later graduated from Louisiana Tech University, earning his master's in engineering management. He has worked in the engineering field for over 15 years. He is a proud son, husband and father to his family. He is a member of Alpha Phi Alpha Fraternity Inc., where he serves as the vice president of the local chapter. He also serves as chairperson for the Alpha Esquire Mentoring Program, which mentors local male youth in the Shreveport-Bossier community. He is an avid sports fan and a volunteer basketball coach for his two children.
Shawn McNeil
Shawn McNeil, MD, is a physician at LSU Health Shreveport and the associate CMO at Louisiana Behavioral Health. He serves as director of the psychiatry residency and director of neuroinformatics research at LSU Health. He is triple board-certified in psychiatry, child and adolescent psychiatry, and addiction medicine and has been a physician in the Shreveport-Bossier area for over a decade.
Dr. McNeil works part-time as a deputy coroner for Caddo Parish and treats veterans at the Overton Brooks VA Medical Center, where he previously staffed their PTSD clinic. He is on the Journal of Addiction Medicine board and hosts their podcast, "Addiction Medicine: Beyond the Abstract." He is past president of the Louisiana Psychiatric Medical Association.
He is happily married to his wife, Laura, who is a Shreveport native with a degree in counseling. They have two wonderful children and love to travel and attend church together.
Paige Melton
Paige Melton is the associate director of communications for United Way of Northwest Louisiana. Since she was young, she has always enjoyed things that gave her a creative outlet, which is how she fell in love with communications. Paige has a passion for drawing, photography, videography and graphic design. She feels lucky to get to do all these things and more through her position at United Way, allowing her to have fun in the fight to make a difference in our community. Paige is a Shreveport-Bossier native and graduated cum laude from the Louisiana State University of Shreveport in 2019 with a Bachelor of Arts degree in mass communications and a concentration in public relations. She serves on the board of directors for the Public Relations Association of Louisiana (PRAL) Northwest Chapter and volunteers regularly, serving our community's nonprofits and organizations.
Lucas Morgan
Lucas Morgan is a Kansas native who relocated to Shreveport in 2016 when he was hired as the director of athletics at LSUS. The Athletic Department has seen unprecedented growth under Morgan, as he has spearheaded major developments and driven further success for the program at the conference and national levels.
Morgan has been focused on creating a championship atmosphere for student-athletes academically, athletically and socially. Under his leadership, the department has steadily increased their overall GPA each year and finished the previous semester with a seventh consecutive semester with over a 3.0 GPA. In competition, LSUS has been a force claiming 25 conference championships while rounding out their three-tiered approach of serving Shreveport-Bossier by completing thousands of hours of community service to help improve our local community.
Morgan resides in Bossier City with his wife, Savoeun. He is the proud father of Nash, Amaya and Alexis.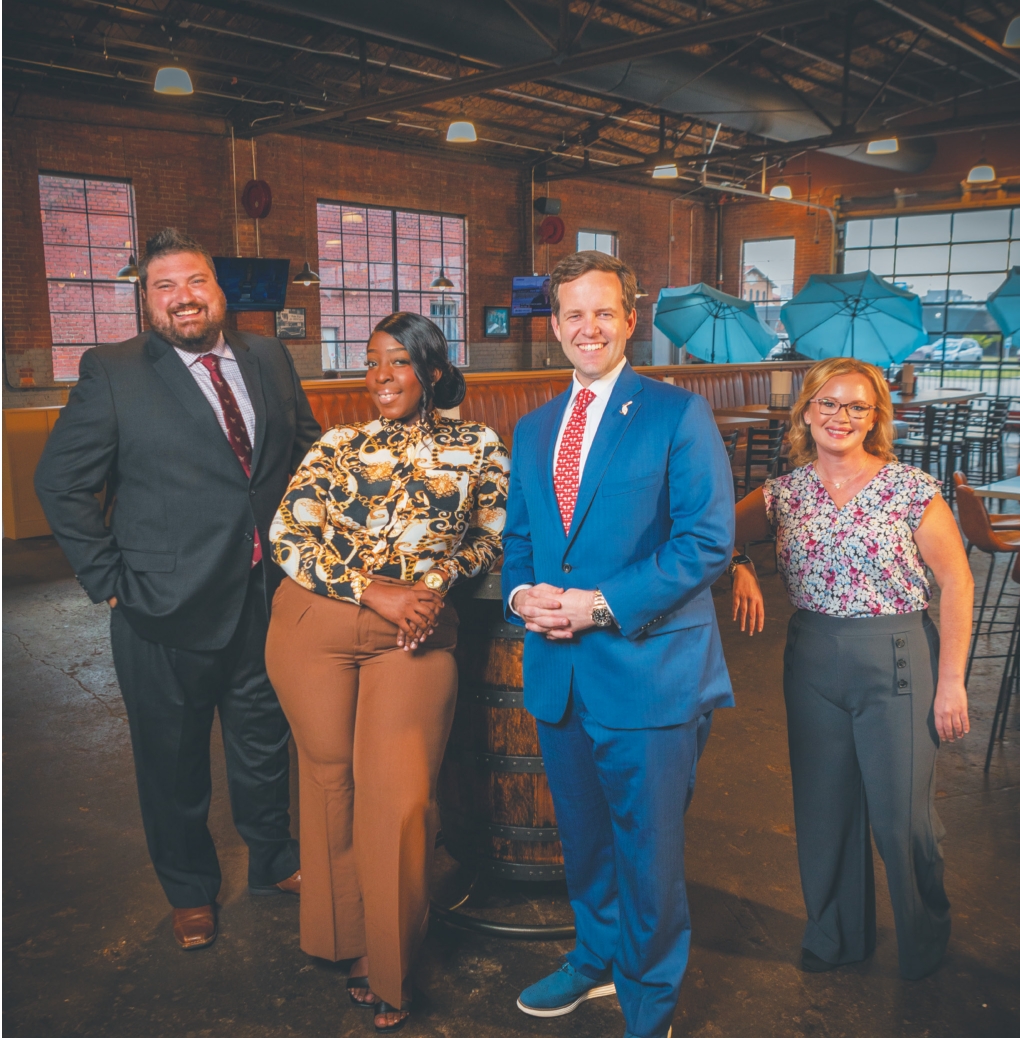 Jason Shidiskis, Lakeisha Florence, Thomas Pressly and Krista Queen
Matt Oates
Matthew Oates was born and raised in Diboll, Texas. He went to college at Stephen F. Austin State University in Nacogdoches, Texas, on both academic and Division I athletic scholarships.
Matt was a four-year men's golf team letterman and graduated with a Bachelor of Business Administration in management. Freshman year, he met his best friend and future wife, Shreveport-native Mary Harrison. Matt moved to Shreveport in 2010 and began his professional career at Home Federal Bank, got married and started a family. Matt has worked for Home Federal Bank for over 12 years, and aside from marrying his wife, he says making that career choice has been the best decision he's ever made. Outside of watching his two children love life, play their favorite sports and grow into incredible individuals, Matt loves to travel the world with Mary and play golf any chance he gets.
Corrie Parker
Corrie Parker is the assistant director of habilittion at Holy Angels Residential Facility. Corrie received her Bachelor of Science in kinesiology from ULM and her Master of Science in health promotion from Ole Miss. Shortly after, she started her career at Holy Angels Residential Facility, working with individuals with intellectual and developmental disabilities.
Corrie is enthusiastic about spreading the gem of Holy Angels throughout the Shreveport-Bossier community. Corrie's goal is to continue providing services that enhance her residents' lives and ensure they are living their very best lives.
She is a native of Monroe, La., but has lived everywhere from the Northeast Coast to the South. She married her best friend, Seth, who shares a son, Luke, and a baby girl, Lorelie. She enjoys traveling, working out and making core memories with her family. Corrie believes "God's plan for my future is far greater than my fears."
Sierra Pollick-Durov
Dr. Sierra Pollock was born and raised in Virginia, where her love for animals blossomed at an early age. She attended Virginia Tech and received an undergraduate degree in animal science with a business/equine minor.
She spent five years working in the industry as a mixed animal practice veterinary nurse before attending an international veterinary school, St. George's University. Following graduation, she started at University Veterinary Hospital in Shreveport, La., as an associate veterinarian with Dr. Adam and Catherine Foret. Their focus on progressive medicine, its incredible culture and its priority to empower and educate clients is what drew her to this practice. In 2022, she was promoted to medical director of University Veterinary Hospital. Outside of work, she actively engages with the Interscholastic Equestrian Association, traveling to shows throughout the school year and helping coach young and enthusiastic riders.
Thomas Pressly
Thomas Pressly is an experienced attorney, public servant and leader in Northwest Louisiana. As a civil litigation attorney, Thomas zealously advcates for his clients and spends time mentoring younger lawyers. He has given back to our profession as the president of the Young Lawyers Section of the Shreveport Bar Association as well as the chair of Law Day. Thomas has also been an active member of the broader community since moving back to Shreveport in 2010. He has served on the board of the Robinson Film Center, the Shreveport Bar Association and the Young Professionals of Community Renewal International. He is a frequent speaker on various issues facing our community and state. Over the past four years, he has fought for our region as a Louisiana state representative. He works tirelessly to bring people together and find common ground while remaining true to his principles and beliefs.
Krista Queen
Krista Queen, Ph.D., is the director of viral genomics and surveillance in the Center of Excellence for Emerging Viral Threats (CEVT) at LSU Health Shreveport. With a research background in virology, pathogen discovery and sequencing applications, Dr. Queen focuses on genomic surveillance of respiratory viruses and emerging pathogens, including wastewater surveillance. Before her current role, Dr. Queen worked at the U.S. Centers for Disease Control and Prevention from 2013 to 2021, where she played a vital role in the sequencing activities for MERS-CoV and SARS-CoV-2 while also focusing on pathogen discovery and detection. Dr. Queen gives back to the scientific community by volunteering her time and expertise to the GISAID Initiative as a member of the Database Technical Group and Faculty. In her free time, Dr. Queen enjoys reading, baking and spending time with her husband, Josh, son, AJ, and their two rescue dogs, Cash and Frank.
Allison Richardson
Allison Richardson works for Volunteers for Youth Justice as the TBRI® Program case manager in the Caddo Juvenile Court Calming Studio. She is a longtime advocate of children and families, having worked in the child welfare field since 2007.
Before joining VYJ's TBRI® team, her work in the CASA program helped her cultivate the skills needed to advocate for children's best interests through the court system. She assisted with training volunteers, continuing education opportunities, recruiting prospective advocates, coordinating the CASA Superhero Run and assisting with additional VYJ fundraising events.
As TBRI® Program case manager, she tracks case information, helps volunteer advocates and provides training and support to volunteers, program staff and community members. Allison is a Trust Based Relational Intervention (TBRI®) Practitioner, a fierce advocate for teens in the community, a life member of the Texas Exes and a board member for the Highland Jazz and Blues Festival.
Jason Shidiskis
Jason is a NWLA native through and through. Jason grew up in Minden, attended undergrad at Louisiana Tech University and is currently enrolled in LSUS' MBA program. Jason has been living and working in Shreveport for almost two decades and currently serves as the human resources and recruiting coordinator for Praeses. This software development company has been operating in Shreveport since 1987. Jason is an employee advocate in this role, promoting initiatives that ensure a safe, welcoming workplace for all. One of his passions is helping young professionals and students develop the soft skills needed to succeed in the workplace and providing ad hoc resume review and interview practice to university students.
Jason's community evolvement includes serving as an ambassador for ALTERED NWLA, on the Advisory Panel for Renesting Project Inc. and as a volunteer for Stage Center.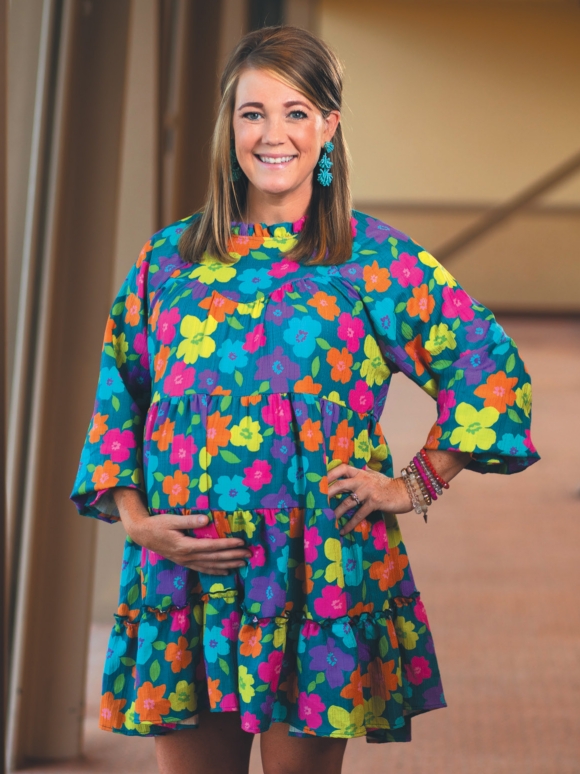 Corrie Parker
Matt Stephens
Matt Stephens is the owner and founder of Willow Chute Financial, a financial advice firm located in Bossier City. Matt has worked in financial services for the last decade, including operating his firm and internal consulting roles within the wealth management industry. Matt is a Shreveport native and serves his community in several ways, including volunteering his time with Holy Angels, a local organization with resident and non-resident programs for those in our community with special needs. Matt is also a commissioned officer in the Army Reserve with 15 years of experience. In his current assignment, he is a civil affairs team chief with the 412th Civil Affairs Battalion (Airborne) in Columbus, Ohio. Additionally, Matt serves the local community of combat veterans by volunteering with the Veterans of Foreign Wars Post 4588 in Bossier City.
LaToria Stewart
Ms. LaToria Stewart was born and raised in Monroe, La. She attended LSUS, obtaining a bachelor's degree in biological sciences and a master's degree in health care administration. Ms. Stewart received an additional Master of Arts in teaching from Northwestern.
Ms. Stewart began her educational career in 2010 as a biology teacher at Green Oaks. Since then, Ms. Stewart has held the positions of mentor teacher, content coach, master teacher and assistant principal of instruction, where she contributed to a turnaround impact at several schools in Caddo Parish.
Ms. Stewart serves as principal of the Broadmoor Stem Academy, where they are ReClaiming Bulldog Excellence. Ms. Stewart also owns the Ultimate Financial Boutique, where she assists clients in turning financial dreams into realities. Throughout all her recognitions and awards, Ms. Stewart's proudest accomplishments are her two amazing children, Camryn and Caden.
Nikura Tucker
After the loss of an entire generation in her family due to cardiovascular disease and poor medical management, Mrs. Tucker was critically inspired to make a difference in health care for suffering underserved communities. Mrs. Tucker has since completed her bachelor's in cellular/molecular biological sciences, bachelor's in nursing with an associate's in general studies, and master's in nursing as a family nurse practitioner. She has secured roles as a rural-based PCP, a certified compensation and pension examiner for veterans, and a medical provider for Community Care Partners Inc. and Natchitoches Medical Center. She has also collaborated with Cigna/Evernorth Healthcare and her business, A&L Health and Wellness, to provide in-home health risk and preventative task assessments. She is working toward her doctorate in nursing practice with a certification in psychiatric mental health, all while establishing a private medical practice to serve as a PCP to the disproportionately underserved community.
Brittany Willis
Brittany R. Willis is a Shreveport native who has traveled the globe in the pursuit of bettering every community she can.
A graduate of Louisiana State University, A&M in Baton Rouge, she began her career as a chemist over 13 years ago and has worked in the fields of food flavor chemistry, petrochemistry and, currently, water purification for the city of Shreveport while obtaining her MBA from LSUS. She serves her community through organizations like Volunteers of America and Crowning Achievements and participates in multiple 5K races with altruistic causes.
Brittany also volunteers through her firm, Power + Play Interactive Science, making science a sensation! Power + Play's interactive demonstrations aim to make infotainment accessible at all socioeconomic levels.
As a mother-to-be, Brittany hopes to see Power + Play grow and positively impact the Shreveport area as an example to her daughter of how dreams can come to life.