Pulling Out All the Stops
Sheppard's uses available resources to please
A picture might be worth a thousand words, but it does little to fully display the beauty of Sheppard's Countertops' recent Cristallo Quartzite home project.
Sheppard's Countertops offers a wide range of products and services, including everything from cabinets to backsplashes.
"We pretty much do it all," Justin Sheppard, sales/custom projects at Sheppard's Countertops, said. "We also have a line of sinks and faucets that we sell. For the countertops we offer: granite, Cambria, silestone, santamargherita, LG Hausys, Quartz Master, Zodiac, Corian solid surfaces, Hi-Macs, Laminates, and more. We also offer a full range of wood and tile flooring, everything from your basic tile to the waterjetted mosaics. We can pretty much accommodate anyone here!" Sheppard is the son of owners Jamie and Alisa, who opened the family business in 1990.
Sheppard, who has worked at the company part time since 2000 and full time since 2006, loves his job and the opportunities it provides.
"I grew up in this industry," Sheppard said.
"My favorite part of what I do is the interaction with my customers, and helping them with their design to try to keep them as up to date as possible with all the awesome new things that are available."
The project featured was a big favorite of Sheppard's.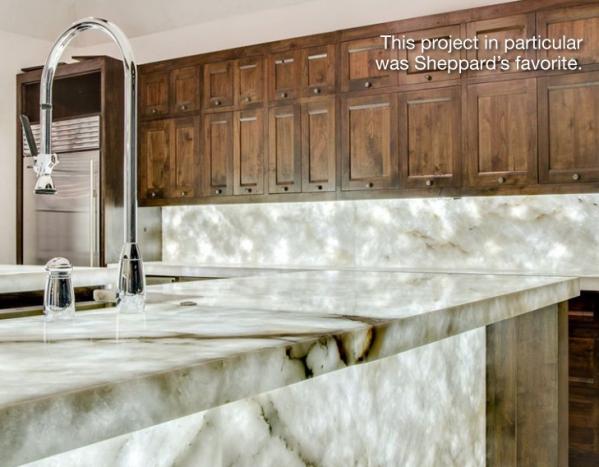 "This particular job was by far one of my favorites," Sheppard said. "We were able to pull out all the stops to create an incredible backlit kitchen. We took the time to select the slabs that we could mirror the seams like seen in the island, to keep the grain of the stone running together. The homeowner was a true pleasure to work with; he let me show him the backlit LED panels we offer and what we could achieve with the product. He was sold from the beginning with the idea of having a one of a kind kitchen, second to none."
Cristallo Quartzite is gaining in popularity because of its unique appeal. "The Cristallo Quartzite is a very unique look because of it's rarity," Sheppard said. "You will not ever find another slab that is as 'clean' as these slabs. Most of the Cristallo has much more veining through it than these particular slabs had."
"As you can see in the pictures, we 'miterfolded' all of the edges to conceal the lighting panels," Sheppard said. "All the edges are 3 inches thick. We also did the same thing to the waterfall edges on the second Island, and we provided all of the natural marble flooring throughout the house."
One of the most stunning features of the project is the impression of the waterfall.
"The waterfall look in the photo is achieved by mitering the entire length of the edge and letting it continue to the flooring," Sheppard said.
"Once installed, we polish the seam onsite to make it appear as though it is one solid chunk of stone."
"It took us around three weeks to do these countertops," Sheppard said. "A project like this one is definitely not one to be rushed. We can do a normal kitchen this size normally in about [a few] days, but this one was very tricky, so we took our time. The homeowner was very patient with us, so we could make it turn out perfect!" When it comes to this beautiful, one-ofa-kind look, you are most certainly going to get what you pay for.
"Cristallo Quartzite is not something you can do on a budget," Sheppard said. "It's not for the faint at heart. It is almost the most expensive material you can use per square foot."
But the end result can be well worth the investment.
"This is a very trendy look," Sheppard said. "A lot of the designers and architects are specifying this look for a lot of their current projects. And we can help make it come to life!" Learn more about Sheppard's Countertops at sheppards-countertops.com/ or find them on Facebook and Pinterest.