IDEAL PLACE TO ENJOY LOCALLY SOURCED MEALS
Where:
What:
We had the great fortune to try several delectable items from the menu:
Tomato pesto sandwich: sliced tomato and mozzarella with house-made basil pesto on a toasted, crunchy ciabatta bun. (If you're feeling extra adventurous, add bacon. I totally will next time!) Vegetarian quiche: A perfectly flaky pastry shell filled with egg, cheeses, onions, basil, carrots, tomato and spinach, served with a side salad with homemade dressing. Hazelnut latte macaroon. By far the best macaroon ever. When you go, get several. One isn't enough.
Salted caramel oat bar: There's salted caramel, there's a mixture of oats, there's chocolate. You won't be disappointed with this dessert.
As a special treat, we were served a smoked chicken pistolette: diced grilled chicken, house-made pesto and Parmesan cheese all wrapped together with a side of sour cream for dipping. We also got to try a new smoked salmon appetizer, served with dill cream cheese and toasted baguette slices. These are two of the new menu items that will be served at Rhino's new downtown Shreveport location. More on that later.
Drink:
The 318 – Dr. Pepper, half-n-half, raspberry and vanilla syrups. I'm a big of fan Dr. Pepper and of half-n-half. How could this not be spectacular?
Breakfast: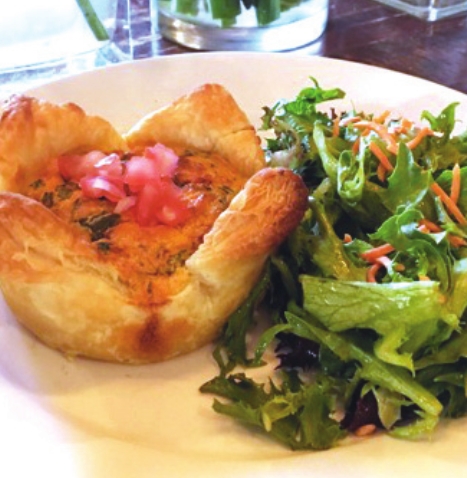 (Yes, they have a FULL breakfast menu!) Cinnamon toast: whole wheat toast with cinnamon spread and sliced apples. Reminds me of breakfast when I was a kid.
Lunch/Dinner:
Smoked Chicken Salad – House-smoked chicken with mixed greens, tomatoes, chopped red onions, shredded carrots, tomatoes, Parmesan cheese, with a side of balsamic and croutons. That's the same chicken that's used in the smoked chicken pistolette, which means this might be one of the best salads I'll ever eat.
Popular:
There's a tie: The lavender latte and the white mocha. The only way to settle the tie is to try both beverages.
Vibe:
Casual place to relax and sip your favorite coffee drink, do homework, host a small business lunch meeting or go on a first date.
Cost:
Coffee bar beverages start at $1.89. Breakfast menu items start at $2.59. Lunch & Dinner menu items start at $8.59. Salads start at $5.99.
Fun Fact:
A new location will open soon in the new Lofts @ 624 on Texas Street in downtown Shreveport. In addition to the superb coffee drinks guests already love, that location will also serve alcohol. Cheers to that!
721 Southfield Road • Shreveport, LA 71106 318-828-2671
Sunday - 8:00 am to 8:00 pm • Monday - Saturday - 7:00 am to 9:00 pm