MARK your calendars; check your watches! No serious party-person will want to be late for this very important date at Shreveport Regional Arts Council's biennial event, Christmas In The Sky.
"Alice's Adventures in Wonderland" (commonly shortened to "Alice in Wonderland"), which celebrates its 100th birthday this year, is the catalyst behind "We're All Mad Here," the theme for a huge SRAC-hosted party to take place from 7 p.m. until 3 a.m. Saturday, Dec. 10, at Harrah's Louisiana Downs.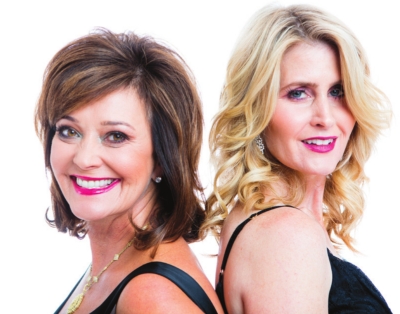 "Our goal with Christmas In The Sky is to completely transform your sense of reality," SRAC Executive Director Pam Atchison said. "From the moment you pull into Harrah's Louisiana Downs all the way through 3 a.m. – in that eighthour period of time – nothing that you thought was true is true. You've entered the story and become a character for that one night. You're in Wonderland with Alice. Everything is a miracle, and anything is possible."
Now, Wonderland may be a magical place, but it takes more than magic to produce an event of this magnitude.
Production of Christmas In The Sky requires an organization comprised of 25 separate volunteer committees working tirelessly throughout the year to secure auction donations and corporate sponsorships, as well as design and create sets, properties, costumes, invitations, food displays and entertainment venues.
Christmas In The Sky chairperson Waynette Ballengee put together a team of more than 500 volunteers producing the event over an 18-month production period.
"I'm over the chairmen of the committees, such as auction, sponsorships, all the people that work on publicity," Ballengee said. "It is my responsibility to keep all these committees moving over the long period of time that we work on the event."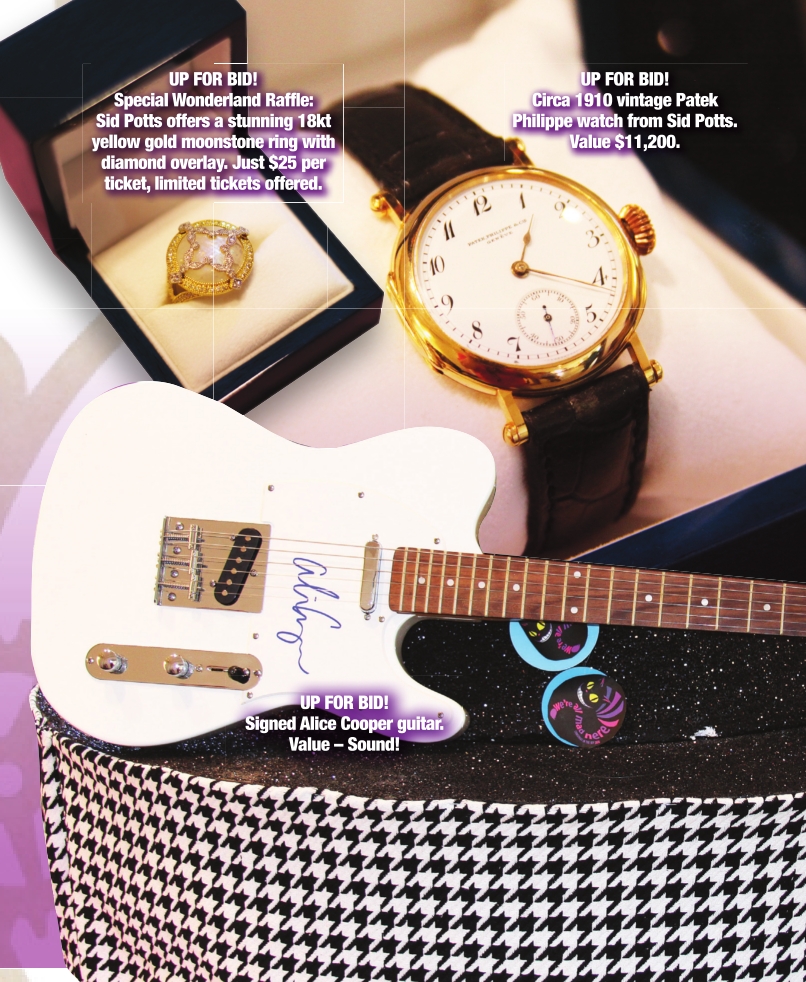 Monthly meetings began in April and for weeks, volunteers have spent every Tuesday and Wednesday from 5 until 9 p.m. at Christmas In The Sky workspace at the Downs, assisting the designers and production team with creating the sets for the big event.
Volunteers are currently in the process of transforming the entire venue from the valet parking area through the lobby and two floors of the racetrack. There will be
16 auction areas – featuring a live and silent auction – 10 stages, 12 bars and 11 themed buffets.
Christmas In The Sky is created by a team of 18 professional designers, headed by Linda B. Goldsberry and Donna Poimboeuf. It includes artists, interior designers, architects and department store display professionals from all over Shreveport and Bossier who volunteer their time to bring the event to life.
"Even though the overall theme is Alice in Wonderland, it will be interpreted in so many different ways," Ballengee said. "The volunteer designers are the entire party. They build every single thing you will see out there."
Ballengee said many design meetings took place ahead of time.
"All the ideas are discussed, sketches are presented, and it's a mutually agreedupon path that they are going to take with their designs."
Much of it is built "on site" because each piece of every set averages 16 feet tall by 8 feet wide, and 10 separate Diesel Driving Academy 18-wheelers are required to transport.
On the night of the event, costumed characters and entertainers dazzle guests and encourage high bidding. The gala showcases the Harrah's Louisiana Downs' creative culinary team, ice sculptures capture the overall theme of the event, and fabulous buffets beckon guests to dine on hot and cold hors d'oeuvres that are designed to mirror the theme of the event.
"We have several chefs who are joining Chef Ryan Gillespie, and they are, together, forming the Wonderland Culinary Team," Atchison said. "Several of them are Golden Fork prize-winning chefs like Blake Jackson, who won the Golden Fork this year."
The team, under Gillespie's direction, represents Drake Catering, Stone Forks, Blue Southern Comfort, KI Mexico, Bossier Parish Community College, Julie's Catering, Whole Foods and Steven Catering.
A special treat – spotlighting a martini bar – will be ice carvings by Chef Eddy Mars with the Petroleum Club.
"This is Wonderland, where everything was really small, so there will be foods that you can just pop into your mouth, including a thousand pounds of boiled shrimp, prime rib, tenderloin, turkey – there are four different carving stations about the event," Atchison said. "We also have a dessert station being prepared by Julie Dupont of Bossier Parish Community College's pastry program."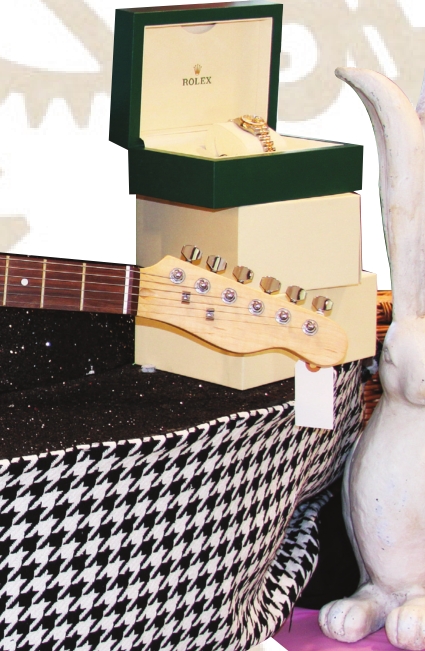 A corporate community of more than 200 businesses and individuals contributes $500,000 to underwrite this gala. In addition to the sponsorships, more than 900 area businesses, artists and individuals have donated items or services for the silent and live auctions.
"Overall, our auction this year is one of the most exciting that we've had since I've been working on this event," Ballengee said. "I am consistently amazed at the generosity of the merchants in Shreveport and Bossier."
One of her favorite silent auction items is a group of dinner parties to be hosted in private homes, cooked by local chefs.
"We have paired 10 dinners with Golden Fork chef finalists in different homes across the city," she said. "You can choose the type of party and food you want."
Co-chairperson Heidi Kallenberg aids Ballengee in bringing in sponsorships and auction items and then uses her natural creativity to, along with a committee, display more than 1,000 auction items among 17 themed sections.
Kallenberg said one of her favorite items is a media room experience provided by Dave Bushnell with Sound Minds.
"He is donating a media room with three Samsung 4K televisions, in-house automation with controls for subwoofers, lighting, security – all the music and videos in your house," Kallenberg said. "It's amazing. You can control your house with the touch of a button. It's the ultimate media room experience."
Kallenberg said Sound Minds is not only donating the items but also installation.
For the silent auction, Kallenberg, who makes jewelry, is partial to a special jewelry section.
"We have beautiful jewelry in the Mad Hatter's Market," she said. "We have a gorgeous 18-carat gold necklace with aquamarine beads on it that is just exquisite … that is from Sid Potts Inc."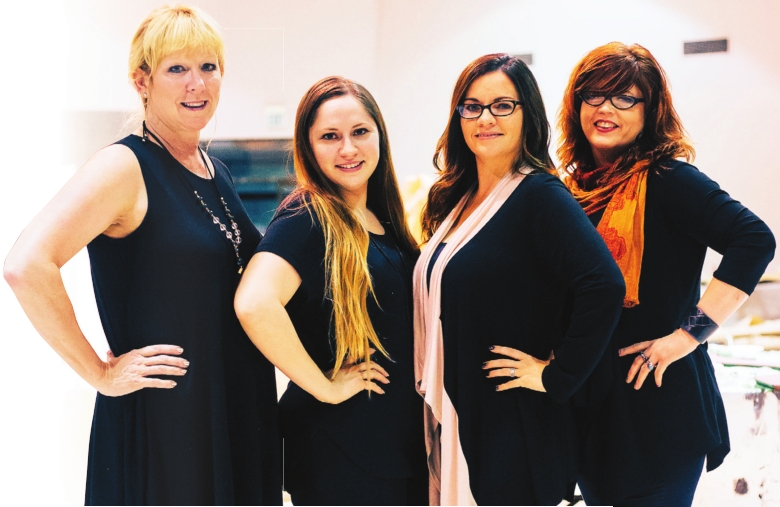 Other local jewelers, such as Lee Michaels and Louisiana Coin donated several pieces of jewelry that Kallenberg anticipates will make beautiful displays for the silent auction.
Trips, musical equipment signed by famous artists, sports memorabilia and many other items are listed, but one of the highlights, according to Atchison, will be the Golden Paddle raffle.
"This is new for this year's event," Atchison said. "One hundred people will have the opportunity to purchase a $200 raffle ticket. Of those 100 people, one name will be drawn at the start of the auction, and the winner from that drawing will get a $10,000 credit to win any one item in the live auction."
According to Ballengee, ticket sales for Christmas In the Sky are "booming," and more than 2,000 guests from across the country – New York, San Diego, Los Angeles, San Antonio, Dallas, Fort Worth, Little Rock, St. Louis, as well as locally, are expected to purchase tickets at $280 each to follow Alice down the rabbit hole.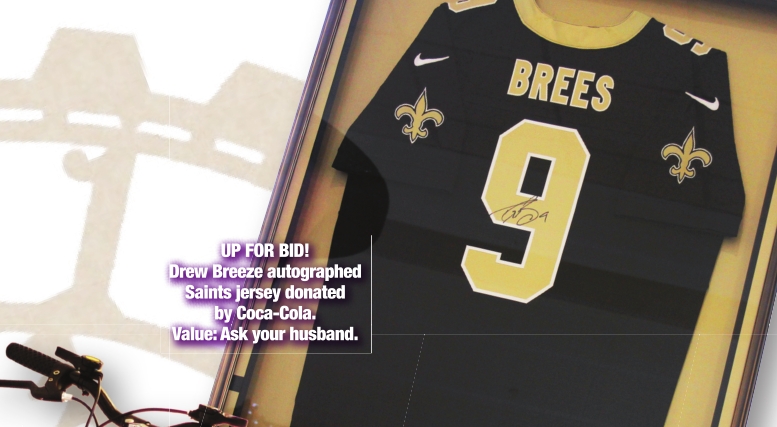 "As of (Nov. 16), we are ahead of where we have ever been at this point in the process," Ballengee said.
Atchison said she anticipates a "sellout" one week before the event.
"We are limited to 2,500 guests this year," she said. "We want everyone to have a comfortable and exciting experience."
For ticket information, visit SRAC's website at shrevearts.org.
The annual economic impact of the nonprofit cultural arts community in Northwest Louisiana is $90 million dollars, with 2,400 full-time job equivalents, $55 million in household income and returning $13 million in local and state government revenue.
Atchison said Christmas In The Sky makes up a significant portion of SRAC's programming budget.
"We work hard to make the most of a one-night event every two years," Atchison said. "In turn, we provide two years' worth of free and accessible arts programming throughout Northwest Louisiana."