Bossier gym offers fellowship and family atmosphere
Bossier gym offers fellowship and family atmosphere
Charlie Nichols, owner of Pro27 Athletics located at 3700 Old Shed Road in Bossier City, didn't set out to start a full-blown fitness gym.
"I actually started a ministry for young kids that were going down the wrong path, and we were trying to entice them into the gym with mixed martial arts and fitness and obstacle training. We would do a quick devotional after every workout," Nichols said. "It kind of turned into, 'We need to open our own
gym! I wonder how much this would cost?'" Asking those questions turned Pro27 Athletics into reality.
"We were really able to open it up to the public and start doing some hard core cardio classes and TRX and cross training. We've expanded out from just [serving] teenagers now. We are open to everyone."
Originally from Shreveport and with a strong background in sales, Nichols said he always had a passion for fitness.
"My friends that started the ministry with me, we got bored with the same old workouts.
We were bored with weights," he said. "We decided to do our own gym with rock walls and cardio and weights."
Having branched from his ministry work, Nichols gave his burgeoning business an appropriate name.
"Pro27 Athletics is actually named after one of my favorite Bible verses Proverbs 27:17 'An iron sharpens iron, one man sharpens another.' That's what we are here to do; we try to help each other out, and when someone sets fitness goals we just want to help them reach those goals," Nichols said.
"We are very one-on-one and will hold you accountable. It motivates you to be in a class because other people hold you accountable."
Nichols said he offers a different style of workout at Pro27 for his members.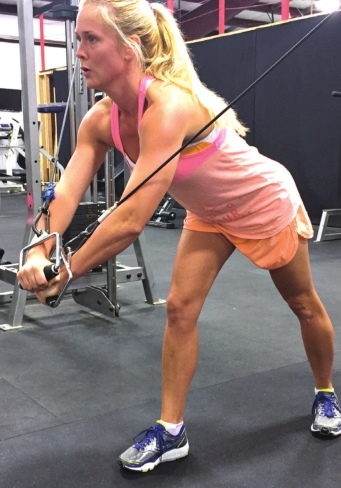 "We don't have a bunch of equipment where we say, 'Come be a member and work out.' That's not really how we do it. We are still constantly improving things in the gym; we do a lot of crazy obstacle course training," Nichols said. "We have a class that we incorporate all of our obstacles into, and it's like the show American Ninja Warrior, and we have quite a few people interested. We have two guys that are avid rock climbers that go all over the country that are teaching the classes, which is right up their alley with the rock climbing and swinging from obstacle to obstacle."
Pro27 Athletics also offers their own special cross training class.
"ProFit is basically a fitness class that's kind of like CrossFit, but they're a franchise.
We wanted to add more to cross training, like a rock wall and obstacles, so we decided to call it 'ProFit,'" he said.
Nichols said they are working toward offering classes for the whole family.
"We are fixing to start a kids class that will be at the same time as our adult classes, so while you're working out, your kids will be in a fitness class, too. We are really excited about getting that cranked up," she said.
"Rock climbing is a big deal at our gym; we have people that come and train on our rock wall because there's no one in the Ark-La- Tex so we are excited about that."
Pro27 Athletics also offers children's parties or end-of-year parties for sports teams on Saturdays and Sundays.
Standard memberships start at $45 a month, which includes every class.
"We always advise beginners to try different classes to see which one they like the best and that fits them. We have teacher discounts, military, police and fire discounts that drops it down to $36 a month," Nichols said.
–Mandy Byrd
learn more:
For more information about Pro27 Athletics, call them at 918-7501 or go to their Facebook page.