HoneyBaked offers meats, catering, dine-in café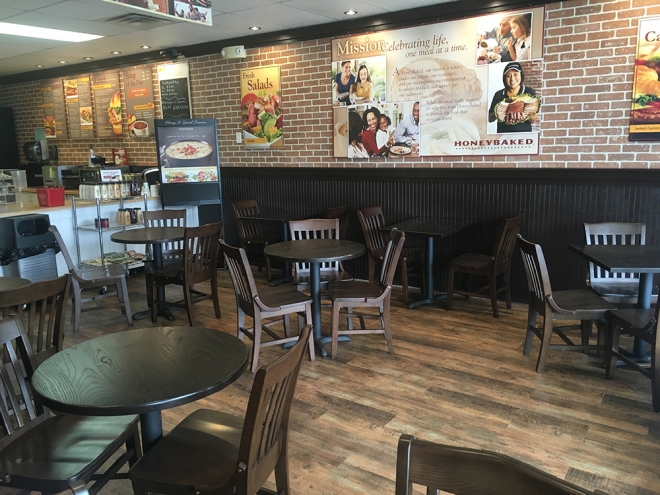 HoneyBaked offers meats, catering, dine-in café
William and Cindy Smith were trying out something brand new when they took over HoneyBaked Ham Co. and Café in Shreveport a little over five years ago.
Owners of Kalmbach Smith Meadows advertising agency, the Smiths purchased the restaurant in 2010, about six months after it changed from Heavenly Ham to HoneyBaked Ham.
"We had been in the advertising business for years and decided to just diversify a little bit," William Smith said.
"We had never been in this business at all, so we kind of took a chance."
HoneyBaked Ham offers catering services, a dine-in café and the sale of quality hams and turkeys.
In the first five years of owning HoneyBaked, Smith said they have doubled the store's revenue.
"It's worked out well," he said. "Our background of owning an advertising agency has come in pretty handy in this business in knowing how to market and how to grow a business."
Smith also credits his employees for making the business a quality experience for his customers.
"I've got a lot of good people working for me, some great employees," he said.
"My manager Andrea Tillman is a big reason we've grown up here as well. She does a good job for me and works hard, knows my customers, knows what my customers' preferences are, and when we make mistakes she tries to fix them the right way."
Many times when one goes out to eat, it's not certain if the establishment cares whether or not its customers have a good experience, Smith said.
"We try really hard to make sure our customers know we appreciate their business," he said.
HoneyBaked's café is open for lunch and offers a variety of sandwiches, salads, soups and sides.
The most popular sandwiches for lunch-goers at HoneyBaked are the ham and turkey classics, Smith said. A close third favorite is the chicken salad.
"What we're most known for is the quality of our meats – people buy those hams and put them on their table at Christmas, and that's the same meat we make all our sandwiches from," he said.
"The meat quality is the best in town in a sandwich shop."
Favorite deli sides include the broccoli bacon bliss and the mandarin pineapple dream, Smith said. Other sides offered are potato salad, pasta salad, tomato and cucumber and potato chips. The shop has menus that includes calorie counts for its individual items.
HoneyBaked is also known for its catering services. Buffet trays and buffet salads are offered, as well as vegetable and fruit trays. "Mostly people know us for our boxed lunch," Smith said. "We have the cheapest boxed lunch for what comes in it in town. [Competitors] do a sandwich, a side and a cookie for a similar price as us, but we add the drink to it, so we're typically looked on as being the best deal in town."
The most lucrative portion of the HoneyBaked business, though, is the sale of hams and turkeys, particularly around the Thanksgiving and Christmas holidays. "Probably 60 percent of my annual revenue comes from holiday sales of hams and turkeys," Smith said.
"When people buy a premium ham or turkey, they typically come to us."
The next holiday anticipated to spike interest in HoneyBaked's meats is Easter.
The fully-cooked hams and turkeys are ready-to-be-served.
Despite extensive renovations taking place over the past year, the shop has not had to close its café at any point, Smith said. The changes are almost complete.
–Sarah Crawford
LEARN MORE:
HoneyBaked Ham, located at 5739 Youree Drive, is open 10 a.m. to 6 p.m. Monday through Friday and 10 a.m. to 4 p.m. on Saturday. Go to www.honeybaked shreveport.com, www.facebook. com/HoneybakedShreveport or call 865-4411.