ARCHITECTURAL VISIONARIES
TEG Architects firm has decades-long relationship with Willis-Knighton Health System
TEG Architects firm has decades-long relationship with Willis-Knighton Health System
With $71,000,000 in construction resulting in 440,000 square feet of new construction last year and $14,000,000 in firm revenue, TEG Architects is recognized as one of the largest architectural firms in the United States specializing in health-care facilities.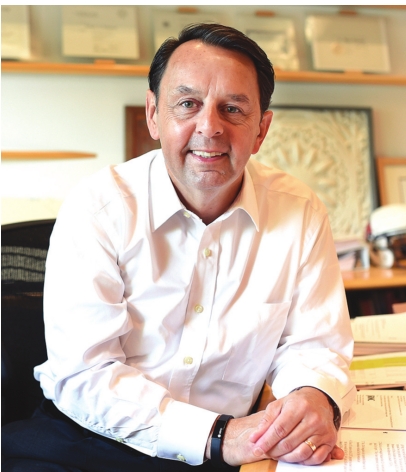 "Hospitals are incredibly complex buildings that must operate 24 hours a day, 365 days a year and always be prepared for the unexpected," said firm founder and president R. Wayne Estopinal, who started the limited liability company in Shreveport in 1989. Willis-Knighton Health System was his first client. Innovative healthcare construction and design represents approximately 88 percent of the firm's work, and WK is still its largest client.
With 51 employees, eight of whom are in the Shreveport office at One Bellemead Center, TEG combines planning, architectural visualization and interior design to showcase their work. TEG has kept its technology current with Studioe, its animation studio that allows the client and architects to envision their creation through photo realistic imagery as they work together from inception to finished construction with an eye on future expansion and regulation.
"TEG has many LEED professionals on staff. We have one LEED Silver project and numerous LEED Certified projects across the country," he said. "Health care has been slow to adopt LEED, but every TEG facility is designed with LEED strategies engrained into the design." LEED, an acronym for Leadership in Energy and Environmental Design, is the official label for green building practices.
Along with Estopinal, who divides his time equally between Shreveport and TEG offices in the neighboring cities of Jeffersonville, Ind., and Louisville, Ky.,
Jessica Harris and Cory Hoppmann are the architects in the Shreveport office.
"Jessica is an incredible story in herself. She came to Louisiana from Jakarta as a foreign exchange student, attended LSU and then joined TEG as a graduate. She is now a registered architect, a great collaborator with our clients and an inspiration to anyone who decides to pursue their dreams. Cory joined TEG directly after graduation. He attended Louisiana Tech and is becoming a great leader in our firm. He is growing in his health-care capabilities and is a valued member of our project teams," Estopinal said.
The firm has three projects in Shreveport – WK Medical Center ICU/Surgical Addition and North Caddo Medical Center Replacement Hospital are under construction, with WK South Medical Center near completion.
TEG design and construction can be found across the country, including Good Shepherd Medical Center, the only hospital for two Texas counties, located in Marshall. Their largest project was "in Lafayette … Our Lady of Lourdes, with 200 beds and a staff of 1,300," he said.
The firm also designs sports facilities, fire stations, commercial buildings and parks. TEG won the AIA Kentucky Merit Award for designing the beautiful Big Four Station Park, which incorporates an 1895 railroad bridge linking Louisville and Jeffersonville with beautifully landscaped green space. The 2,525-foot bridge had remained closed for years until 2014 when it was reclaimed as part of the innovative park for gatherings, a farmers' market, biking and walking across the Ohio River. It's a go-to place between the two cities and has revitalized both historic downtown areas.
One recent challenge was designing a building to house the WK's $17,000,000 cyclotron and patient treatment module designed by IBA of Belgium. It was the "first IBA Proteus One Proton Therapy in the world," Estopinal said.
"At TEG, we have developed a healthcare planning and design strategy titled 'Efficient Design+Productive Care,'" Estopinal said. "Delivering health-care services of the future will involve more complex technologies, unified patient care strategies and facilities that are part of the health-care delivery solution. Too many hospitals today were designed and built in the 1960s. Delivering care with facilities that are not taking advantage of current planning and design strategies is like trying to win the Indy 500 in a 1960s station wagon."
-Kathleen Ward