Chattanooga developers to polish early 20th Century downtown gem
Chattanooga developers to polish early 20th Century downtown gem

With its gleaming white-glazed terra cotta and white ceramic-glazed brick architectural detailing, 509 Market Street looks like the top of a threetier wedding cake. At 10 stories, it was the symbol of successful commerce and the tallest building in town when it was built in 1911.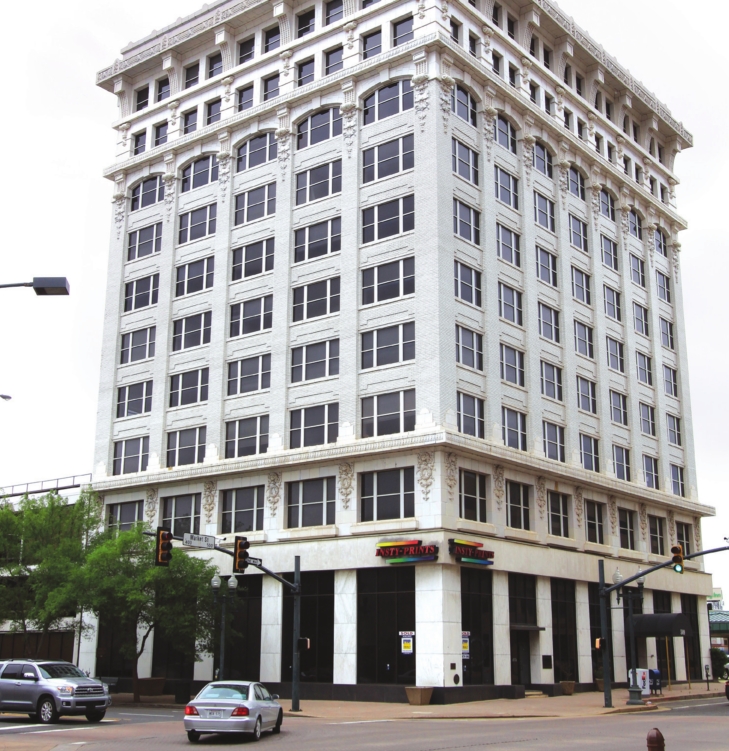 Fashioned in the popular Chicago style of that period, it towered over Texas and Market streets. It remained Shreveport's largest skyscraper until 1925 when the Slattery Building was built.
Currently empty, the building was recently sold to an out-of-state company with plans to spend around $10 million to return it to its former glory. You will be able to shop, dine or even live there. So will your dog.
ViaNova Development is a Tennessee entity with offices in Atlanta and Chattanooga. Principals Neil Kapadia, Vic Desai and Nirav Shahwho all have acquisitions and development experience. Recent projects include a Holiday Inn Express, Comfort Inn and Rodeway Inn.
The group is moving away from underperforming hotel properties and toward restoring unique old buildings as multifamily, mixed-use development, said Kapadia. They recently acquired a property in St. Louis and plan to make that property and 509 Market into lofts featuring innovative modern technology, comfort and convenience while retaining and restoring the architectural features that made them unique and beautiful. The mix will be 90 percent housing and 10 percent retail, he said.
"Our firm has a focus on gorgeous old buildings that have a rich history and wonderful architecture, and we found a gem in Shreveport. Shreveport reminds us a lot of our home city of Chattanooga … a smallersized city on a river that is poised for growth, and we can't beat having one of the best addresses in the heart of such a lovely city," said Kapadia.
Their renovation of Chattanooga's Clemons Building, a beautiful 1918 property originally built as a department store, increased the value of that building 33 percent. The Clemons has 54 one-, two- and three-bedroom lofts, a rooftop terrace with a mountain view and dog-friendly walking area, as well as an on-site deli and fitness center. 501 Market, formerly known as the Mercantile Building or the CNB Building, will also feature a rooftop terrace and dog walking space, Kapadia said.
"Our aim is to preserve all of the historical elements of the building. That includes a restoration of the exterior facade to repair cracks and graying. The finished building will feature luxury apartments on the upper floors and retail space on the ground floor. The units will feature a modern, urban feel and will include upgrades such as quartz countertops, soft-close cabinetry, and Nest Learning Thermostats," said Kapadia.
"I think they are committed to doing the very best they can," said Mark Williamson of Somdal Associates, the local architectural firm chosen by ViaNova for the renovation.
"We are going to do what we can to expose" the original architectural features, but "we can't see what it is right now. Some of the original features are covered up. The issue right now is to see how to get to them," Williamson said.
"In the late '70s, they renovated and took out a lot of stuff that was special to the building. There are several generations of mix of architectural styles," said Williamson. "The bank area has lots of features. We have to be careful on how to restore it." The firm is currently drawing up the plans and renderings for their new client.
"We generally like to work with local teams," said Kapadia. "We even secured our financing locally though BancorpSouth." Beth King of Sealy & Company was the agent.
The upper floors will be divided into living spaces ranging from studios to two-bedroom 1,200 sq. ft. lofts. The basement, mezzanine and ground floor will be used for retail, a fitness center and dining. Those areas retain much of their original design.
"The elevator lobby was beautiful," Kapadia said. "We always like to mix the old with the new. We will do our best to preserve the historical elements while modernizing all of the comfort features of the building. We are excited about becoming a part of the fabric of Shreveport. So far, we have been met with a lot of warm hospitality, and we look forward to returning the favor and doing our best to preserve this part of Shreveport history."
– Kathleen Ward