ORDER, THRIFT AND FUNCTIONALITY SERVE YOUNG HIGHLAND COUPLE WELL WITH HELP OF DESIGN FRIEND SETH TAYLOR.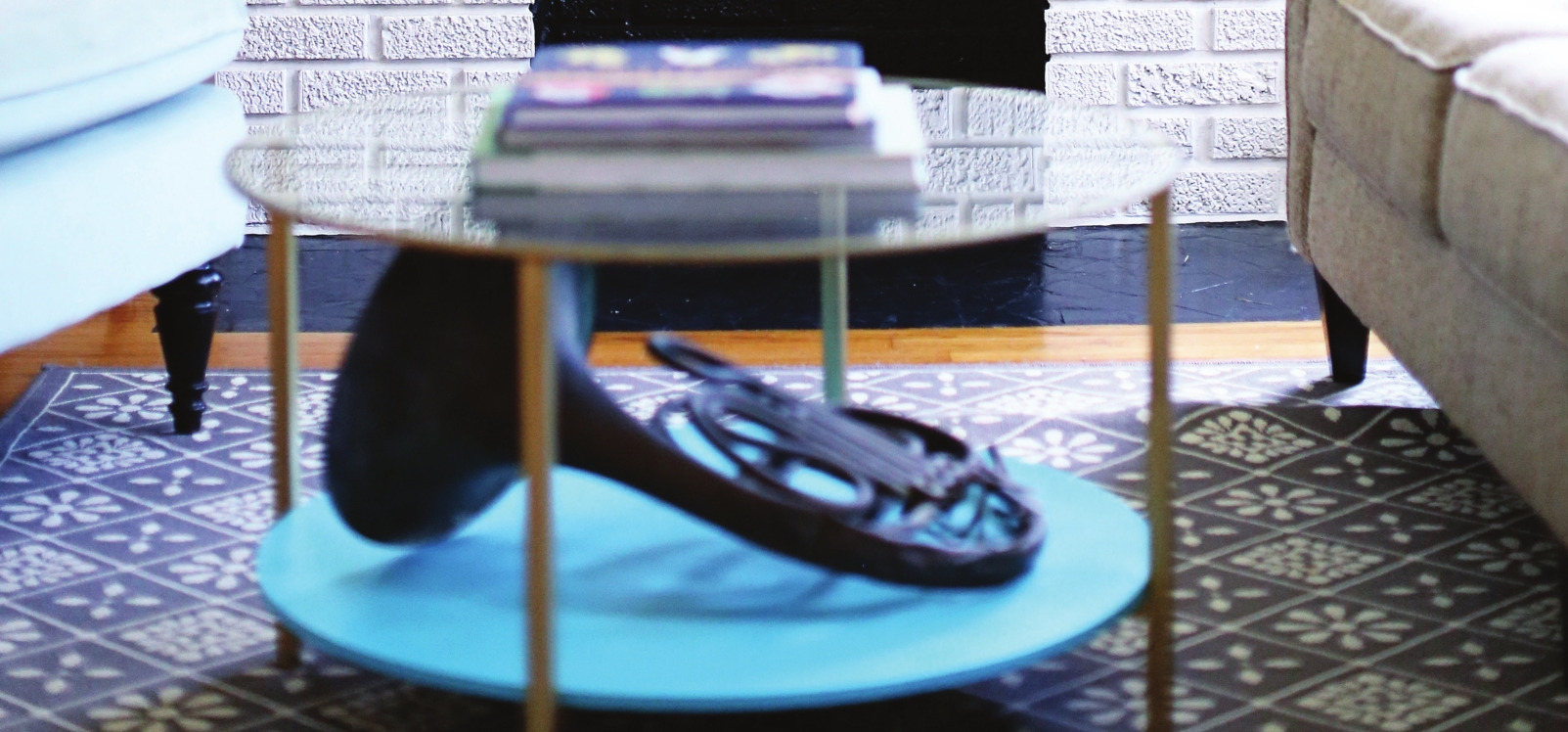 Comfort and Composition
ORDER, THRIFT AND FUNCTIONALITY SERVE YOUNG HIGHLAND COUPLE WELL WITH HELP OF DESIGN FRIEND SETH TAYLOR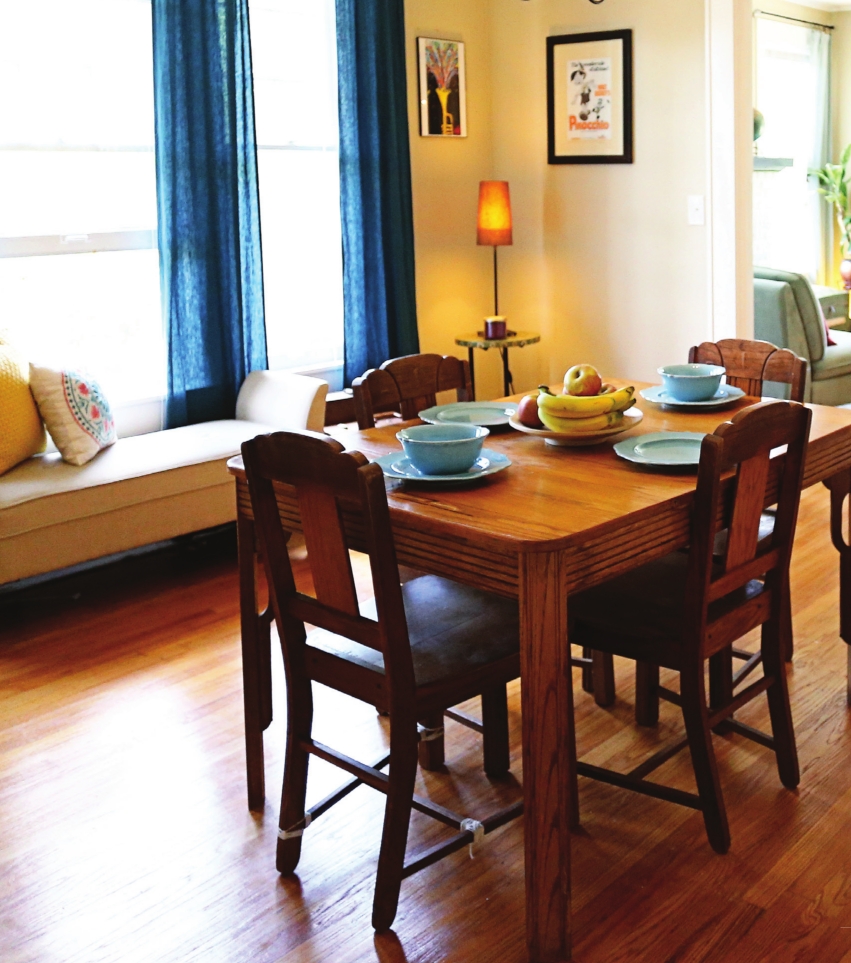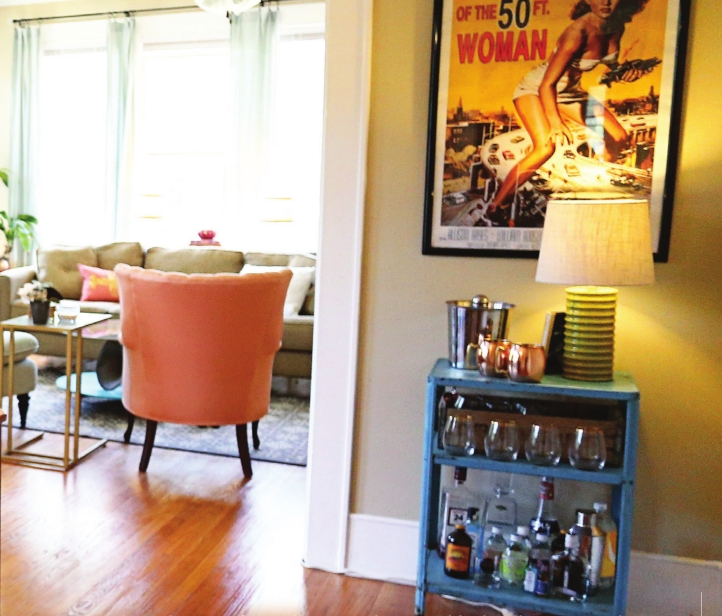 An abundance of windows and natural light illuminate the home located on Centenary Boulevard in Shreveport. Katy Allred and Emily Kitchens have filled their apartment with art, literature and music. While the couple had a treasure trove of furniture and decorative pieces, they wanted help showing it to its best advantage. They turned to designer Seth Taylor.
The friends are all part of the Stage Center family, with Allred recently portraying one of Ariel's mersisters in "The Little Mermaid." Taylor, who wears many hats for Stage Center (including director of education for its school of performing arts, casting director, and voice lesson instructor), performed as Jesus of Nazareth in "Jesus Christ Superstar."
Prior to Allred and Kitchens' move to the apartment, the rooms were bathed in a fresh coat of ecru paint. The home's hardwood floors gleam merrily. "The bones of the apartment were already there," Taylor said.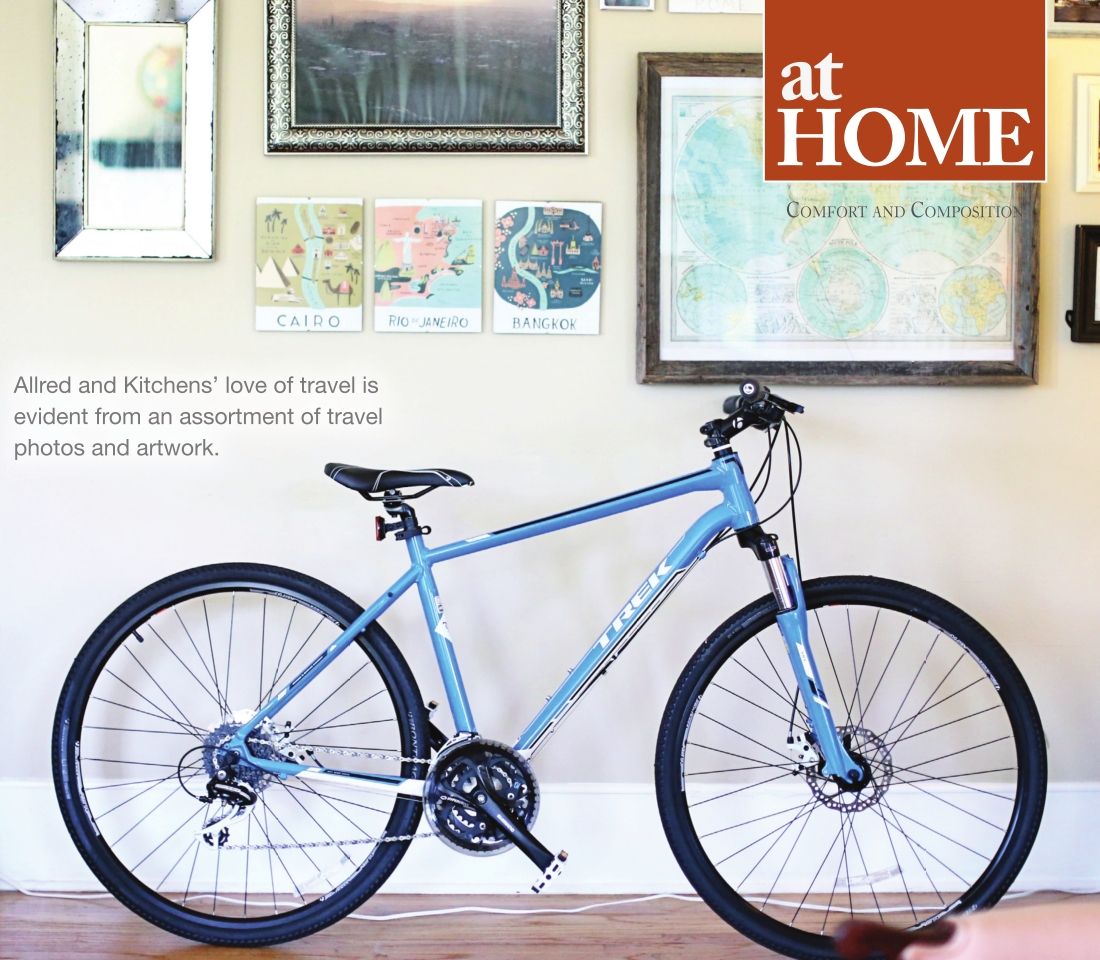 The living room is the first room that is encountered upon entry into the space. The couple's love of travel is highlighted with an assortment of travel photos and artwork. Allred, who enjoys the artwork in Rifle Paper Co. calendars, removed pictures from a calendar of world cities and placed them in glass clip frames from Pier 1 Imports.
"We actually did this wall before we did anything else, and that kind of set up our color scheme. We wanted it to be feminine, but not prissy," she said.
A canvas print from IKEA of a swimmer hangs on an adjacent wall. The small table beneath it holds a framed piece of an Anthropologie quilt that belonged to Allred. The quilt was her first adult purchase in college, so she kept the piece after the quilt fell apart. Several books are stacked on the table.
A neutral couch from Haverty's is positioned near the fireplace. A set of chairs face the couch – one salmon estate sale find and an armless sea foam purchased at World Market. The coffee and end tables from IKEA were spray-painted gold. Taylor said the clear-topped table gives the room more visual space.
"We decided we wanted to add gold into their color palette, and since the actual framework of those tables is very small, we decided that would just be a way to enhance that," Taylor said.
An old French horn Taylor found at Kings Antique Mall in Shreveport rests on the coffee table's shelf. The shelf was spraypainted turquoise to make the old French horn, with its turquoise patina, pop.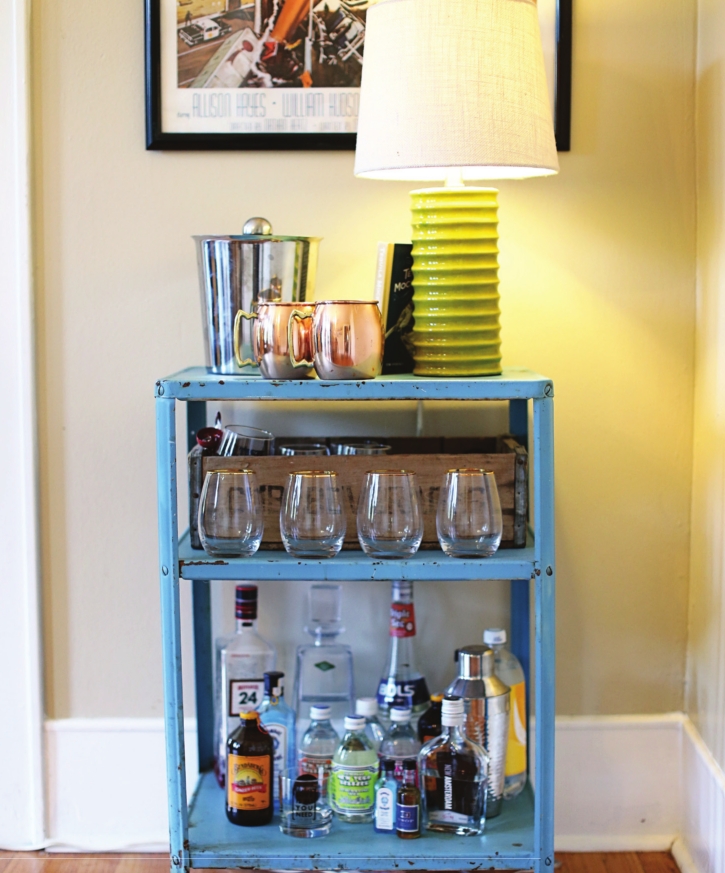 "I knew that I wanted to feature that French horn because both Kate and Emily play French horn, and met in high school band," Taylor said.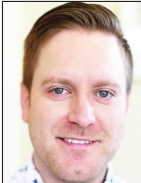 Taylor made the curtains in the living and dining rooms. He also built the console table located behind the couch. "I design and build sets for our theater company that we all work on together. I picked up enough carpentry skills from my dad and working on sets, that I can do small projects," he said.
Originally crafted for his own home, Taylor said the piece no longer worked after furniture was rearranged and new pieces purchased. Allred and Kitchens liked the console table, so he gifted it to them.
A white brick fireplace's mantel display includes a wooden Louisiana-shaped cutting board from Bed Bath & Beyond and a globe that was once a Stage Center prop. A large, round mirror from IKEA hangs above.
The living room flows into the dining room. A dining table and chairs fill the center of the room. An upholstered bench from Target sits beneath a window. The bench is more than just a spot for the couple's cats to sit and look outside. Taylor said it could be used for additional seating at the table when the leaf is used to extend it. A trio of suitcases by the bench came from an estate sale and were also used in a Stage Center production.
"The good thing about (Allred and Kitchens) is that they had a lot of great art. I didn't buy one single piece of art," Taylor said.
Allred took the artwork out of another Rifle Paper Co. calendar about national parks. Originally, Taylor considered having them framed, but said it can be expensive. Instead, he hung string on a dining room wall and clipped the art to it. Allred said those national parks are on her list of places she would like to visit.
The other art in the room are pieces that Allred created. One charcoal drawing in the living room and another in the dining room were hung with curtain clip rings.
Allred and Kitchens requested a bar cart in their dining room. Taylor found a distressed blue table at Kings Antique Mall and repurposed it into a mini-bar. The bar's accessories include a pair of copper Moscow Mule cups, gold-rimmed stemless wine glasses from West Elm, and an ice bucket. Kitchens' whimsical framed movie poster for "Attack of the 50 Foot Woman" hangs above the mini-bar. "This is one of my favorite things," Allred said. "It's just so ridiculous."
One of the most unique features of the home is a small reading nook. "I told Seth I really wanted this to be a little reading nook, because I love, love, love to read," Allred said. "This is what he came up with, and I love it."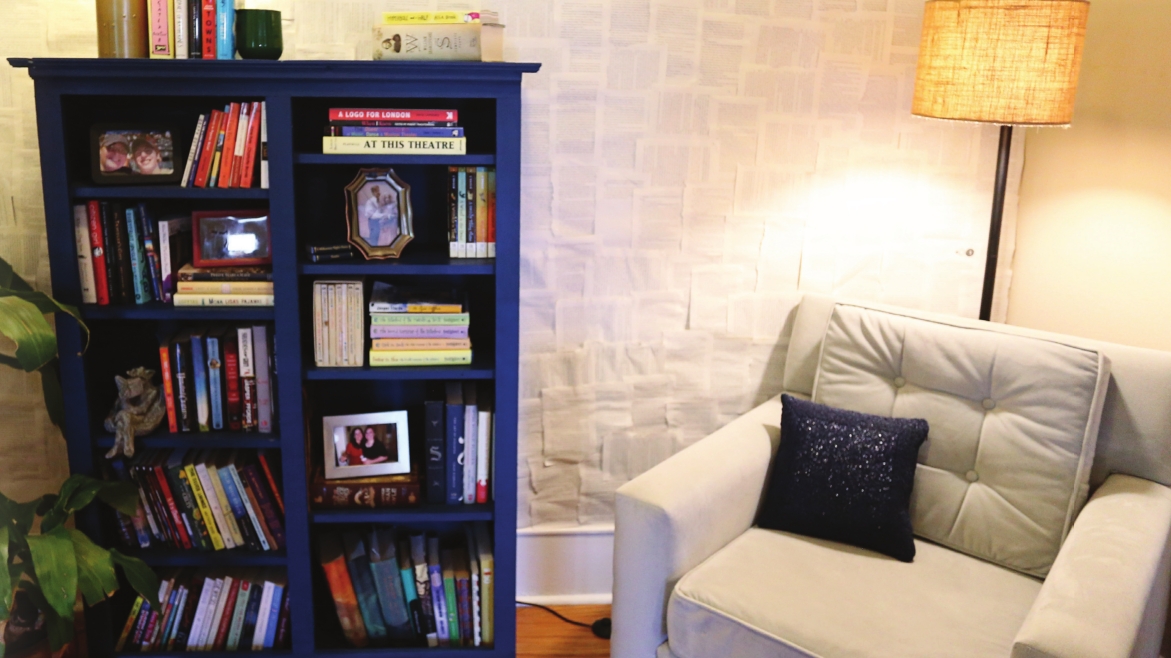 The wall of the reading nook has an unusual covering – book pages. Taylor got the idea to attach book pages to the wall from a display at Kings Antique Mall. Two copies of the first book in the "Hunger Games" trilogy were used. "It's actually just scotch-taped to the wall," Taylor said. "I was going to staple it in, but I didn't want to damage the wall."
A bookcase was painted "Tardis" blue with Annie Sloan paint. "My favorite TV show is "Dr. Who," and his time machine is the Tardis," Allred said. Books on the shelves include works by Shakespeare, C.S. Lewis, J.K. Rowling and Sir Arthur Conan Doyle. The Lichtenstein print, "Drowning Girl," a diagram of Sherlock Holmes' apartment, and a framed shopping bag from a visit to Leavesden Studios, where the "Harry Potter" films were made, adorn the reading nook walls. A Target chair and lamp complete the look.
Taylor placed uplighting behind plants in the apartment corners, so they could have a wash of light behind them. "Regardless of the style of your space, it always looks better with lighting," he said. "Lighting is everything, and that's a surefire way to make anything look better."
Taylor completed the work on the apartment for less than $2,000.
"You can still have nice things, you just have to look in different places," he said.